« Daily Tech News 13 August 2021
|
Main
|
Mid-Morning Art Thread »
August 13, 2021
The Morning Report - 8/13/21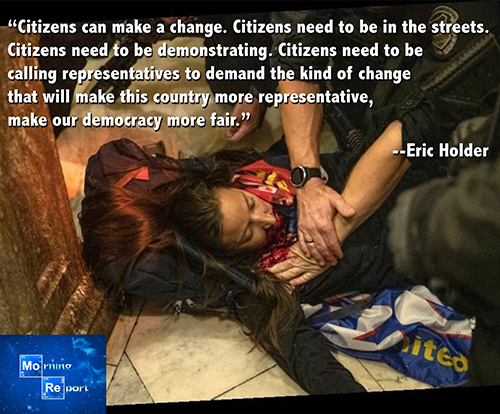 Good morning, kids. The weekend is here and it's bad enough to try and come to terms with the forcible "fundamental transformation," as in "overthrow," of the United States into a socialist serfdom. But to hear what one of the key architects and implementers of that plot said yesterday was just the bitter end, especially in light of the subject being discussed.
Former Obama administration Attorney General Eric Holder said Thursday on MSNBC's "The Rachel Maddow Show" that protesters needed to be "in the streets" getting arrested in the political fight over voting laws. . .

. . . Holder said, "Power concedes nothing without demand. We too often underestimate the power we have as regular American citizens by marching, by protesting, by raising our voices. That's a really important part of the thing that I'm leading, The National Democratic Redistricting Committee. We have a big advocacy campaign to get American citizens involved in this fight. If we make our voices known if we demand the kind of change, the fair change we're seeking, I think it will help in the process."

He added, "Raising the consciousness of people by demonstrating, by getting arrested, by doing the things that ending segregation. If you asked people back in the 1950s, do you think marching, demonstrating will bring down a system of American apartheid? You probably would have said, no, that won't happen. We shouldn't lose faith right now. We shouldn't lose faith. Citizens can make a change. Citizens need to be in the streets. Citizens need to be demonstrating. Citizens need to be calling representatives to demand the kind of change that will make this country more representative, make our democracy more fair.
Aside from the fact that, for the umpteenth time, we are not a democracy but a representative republic - or we supposedly were one - and the concept of making it "more fair" and "more representative" is inane since it either is or isn't in both cases, the utter unmitigated chutzpocritical temerity to go on about citizens protesting and taking to the streets to demand change is just beyond belief. Mostly because that is exactly what happened in DC on January 6th when in the face of what we now know and have really always known was a stolen election, thousands of citizens peacefully gathered to demand Congress do its duty and reject the results of a tainted Electoral College.
Scores of innocent people, a few of whom at worst were guilty of nothing more than misdemeanor trespassing are still rotting in jail as political prisoners accused of insurrection for daring to do what you, Eric the Red, are now encouraging people to do. And lest we forget that whatever "rioting" or violence that occurred was perpetrated by Democrat bought-and-paid-for or allied confederates. But I digress. Aside from pouring salt into our wounds and grinding it in with a hobnailed Bruno Magli, the other insult is that the January 6th protesters were there to prevent the greatest political crime from being pulled off. Holder and his ilk on the other hand, are fomenting unrest and violence to obstruct legitimate laws, legally passed and overwhelmingly popular with the citizens - real ones, not the fake ones on mimeographed ballots - from going into effect.
Yes, this little back and forth on Richie Madoff's broadcast is a not so subtle dog whistle for the street thugs and goons of BLaM-tifa to "get people's minds right" and get in politicians faces with mostly peaceful hate-shakes, Molotov cocktails, baseball bats and fists.
You know, if the thousands of us who were on Capitol Hill January 6th, the tens of thousands of us who attended Trump's campaign rallies, and the perhaps 80 million or more of us who voted for him last November were even a fraction as dangerous, radicalized and militant as Holder and his co-conspirators claim we are, we would not be having this conversation right now.
Just saying.
Ironically, CBD informs me today is the 60th anniversary of the start of construction of the Berlin Wall. Have a good weekend.


ABOVE THE FOLD, BREAKING, NOTEWORTHY
CIVIL WAR 2.0: LEFTIST PERSECUTIONS, CAPITOL HILL BLACK WEDNESDAY PROTEST AFTERMATH, DEMOCRAT PUTSCH, AMERICAN DISSOLUTION
NOTE: The opinions expressed in some links may or may not reflect my own. I include them because of their relevance to the discussion of a particular issue.
ALSO: The Morning Report is cross-posted at CutJibNewsletter.com if you want to continue the conversation all day.
Follow us on Twitter: @CutJibNews
Follow us on Instagram: @Cutjibnewsletter

posted by J.J. Sefton at
07:30 AM
|
Access Comments