« Daily Tech News 12 August 2021
|
Main
|
Mid-Morning Art Thread »
August 12, 2021
The Morning Report - 8/12/21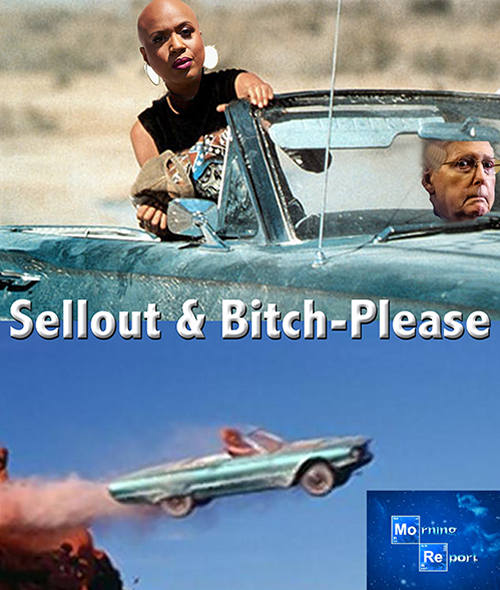 Good morning, kids. Thursday and we're just coming apart at the seams. With a $1 trillion so-called "infrastructure" bill that tees up the $3.5 reconciliation bill that destroys our economy, way of life and freedom while entombing what's left of this nation in the vault of socialist horror and Chi-Com/Islamic global domination, it's neck and neck between SMOD and Cloward-Piven.
I don't even know where to begin with this insanity but here's one example that just makes you want to scream:
Joe Biden began his [so-called quote-unquote "presidency"] by destroying one of the few sectors in America that was still working after [Chinese] COVID lockdowns and that was benefitting Americans -- the oil and gas industry. Within what seemed like minutes, oil and gas prices shot up. Now, Joe Biden has listened to Americans crying out for succor from the economic fallout from his decisions. His [junta], therefore, has announced that . . . OPEC+ countries (Muslim Gulf states and Russia) should increase their oil and gas production to export to America. At this point, you must believe that the Democrats are pursuing a Cloward-Piven strategy of destroying America entirely so that they can rebuild it as a third-world socialist nation under the control of a cadre of rich, White leftists. . .

. . . Biden and his fellow Dems, however, have no decency. And when you have no decency, you have your National Security Advisor announce that the United States wants OPEC+ (Muslim Gulf nations and Russia) to increase oil and gas production
Not quite two years ago, for the first time in decades America became a net exporter of oil thanks to PIEOTUS Trump going all in on fracking and opening up of Federal lands for exploration. With that technology we have IIRC the second largest reserve of oil and natural gas on the planet, perhaps at least a 300-year supply -- now, lying fallow.
Moving on to something completely different but just as enraging, after spouting the outrageous lie about President in Exile Trump telling people to inject Lysol and drink bleach to cure them of the Peking Pox, Piss-Hockey Psaki let this telling bit of insanity emerge from her whore mouth:
Leftists are utterly detached from reality. They think people can magically change sex, accept that there are over 100 genders, put their faith in filthy and porous masks against infinitesimally small viruses, are certain that being lenient with criminals will lessen crime, and believe that socialism just hasn't been done right. Given all that, perhaps it shouldn't be so surprising that Jen Psaki, the most vapid and snarky press secretary ever, seemed to state in all seriousness that the Taliban need "to make an assessment about what they want their role to be in the international community":

.@PressSec: "The Taliban also has to make an assessment about what they want their role to be in the international community."

The Taliban are very clear about their role: It is to be a leading edge of a worldwide Islamic caliphate.
That Piss-Hockey can be so utterly clueless is just remarkable. But it's not that she's stupid; it's just that she grew up and was educated by faculty lounge eggheads whose worldview is 180 degrees out of phase with reality. Multiply her by 99% of DC, the media, the arts and a growing cross section of business and society, such as it is, at large. That's why Bro-Fo Omar/Nur/Burqawitz/Ikeeelyou is a Congressman and why an Earth Liberation Front terrorist may very well be confirmed as the Secretary of the Interior but why some guy who was allowed in to the Capitol on January 6th and did nothing more than take a selfie sitting at Malig-Nancy Pelosi's desk represents "the greatest threat to our precious democracy since the Civil War."


In case you've already forgotten, as most people have, Miles Taylor shot to a kind of fame in September 2018, when he wrote an anonymous op-ed in the New York Times that was one of the first open acknowledgments that there was a coterie of federal bureaucrats that is determined to thwart Trump's agenda by any means possible: "I Am Part of the Resistance Inside the Trump Administration: I work for the president but like-minded colleagues and I have vowed to thwart parts of his agenda and his worst inclinations."

Taylor followed that up in November 2019 with the ostentatiously anomymous book A Warning, one of the first publications in what became a cottage industry of Trump-is-stupid-and-evil books. A Warning was credited to "A Senior Trump Administration Official"; both the op-ed and the book gave rise to a great deal of speculation as to who the author really was: John Kelly? John Bolton? Mike Pence? The disappointment was palpable when Anonymous turned out not to be a senior Trump administration official at all, but just little Miles Taylor, a thirtysomething former chief of staff to the secretary of the Department of Homeland Security. That's right: a nonentity. . .

. . . What Taylor is doing is tilling the fertile soil for the Left to portray all who oppose it as potentially violent extremists, or just outright violent extremists even if they've never espoused violence, and accordingly to criminalize dissent from its agenda. Taylor predicted: "You're going to see that because radicalized elements of the Republican party now represent a bigger threat to our democracy than organizations like al-Qaeda or ISIS ever did."

This breathtaking exercise in moral equivalence shows that Taylor knows as little about al-Qaeda and ISIS as he likely does about Republicans and conservatives; perhaps sensing how hysterical he sounded, he immediately began walking his statement back: "Not necessarily to human lives, but a bigger threat to our democracy than those terrorist groups ever did, because these are. . . political institutions that are attacking our democracy, trying to rewrite the rules, and irrevocably breaking our bonds as Americans, and they're doing it all from the inside. It's something that our enemies could never have even dreamed of."

No one seems sure who first said it, maybe Joseph Goebbels, but in any case it's a tried-and-tested Alinskyite tactic: accuse your enemy of what you're doing. Miles Taylor has learned the lesson well, and found an eager Leftist audience for his "insurrectionist" red meat. All he lacks is the insurrection. That's where framing us comes in.
That fuckin' guy Obama. The son-of-a-Stalinist was right when he proclaimed "we're on the verge of fundamentally transforming America." Here we are nearly 13 years later and he sure as hell was right. LoPecia Pressley, the doppelganger of Corey Booker's undescended testicle, crowing about these multi-trillion-dollar madness . . .
Care is infrastructure. Climate justice is infrastructure. Housing is infrastructure.
. . . just confirms the illusion of any sort of opposition from the GOP, who is allowing this to happen. They don't give a shit about our destruction, so long as they can make a buck off of it. But what good is all that graft if there's no country left to spend it, and the animals they let loose on all of us finally come after them?
All this multifaceted chaos is not just faculty lounge stuff. We are beginning to see the collective craziness filter down to disruptions in our everyday lives.

Airliners cannot take off due to fuel shortages. Automobiles, houses, gas, and lumber are in short supply.

Consumers can't get their roofs fixed or their houses painted or the trees trimmed as employers plead to their idle government-subsidized employees to come back to work.

No one knows whether our laws even still exist -- or at least exist haphazardly depending on who breaks them.

Thieves steal with brazen impunity. The police predicate arresting suspects on criteria that have nothing to do with breaking the law.

Scared Americans have lost faith in the FBI, the CIA, the Pentagon, the CDC, and most of the federal bureaucracies that are as politicized as they are increasingly incompetent.

What started out as elite woke nonsense now warps everyone's daily life. If we don't wake up from wokeness, we will continue on our sure trajectory to self-inflicted, systemic paralysis -- followed by civilizational collapse.
Brace for impact.

CIVIL WAR 2.0: LEFTIST PERSECUTIONS, CAPITOL HILL BLACK WEDNESDAY PROTEST AFTERMATH, DEMOCRAT PUTSCH, AMERICAN DISSOLUTION
NOTE: The opinions expressed in some links may or may not reflect my own. I include them because of their relevance to the discussion of a particular issue.
ALSO: The Morning Report is cross-posted at CutJibNewsletter.com if you want to continue the conversation all day.
Follow us on Twitter: @CutJibNews
Follow us on Instagram: @Cutjibnewsletter

posted by J.J. Sefton at
07:32 AM
|
Access Comments