« Daily Tech News 10 August 2021
|
Main
|
Mid-Morning Art Thread »
August 10, 2021
The Morning Report - 8/10/21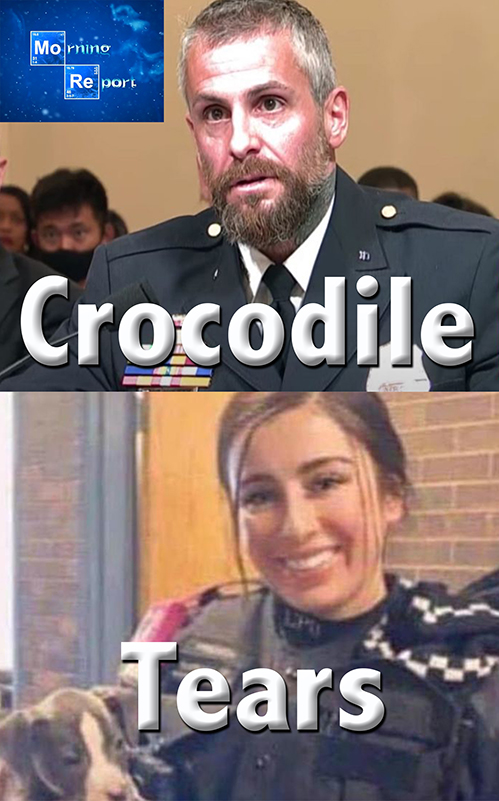 Good morning, kids. Tuesday and this morning I'm reminded of a scene from Stanley Kubrick's Full Metal Jacket, which actually became the image used on the movie poster; Joker's helmet. Upon seeing it, a pogue colonel gets in Joker's face, "You write 'Born to Kill' on your helmet and you wear a peace button. What's that supposed to be, some kind of sick joke?!"
Without getting into Joker's "Jungian thing/duality of man" thing, the news of the day regarding law enforcement does present us with conflicted feelings. And it's not a good space to be in given the state of our nation, such as it was and now is. On the one hand, we have Chicago and the absolute tragedy of a young police officer gunned down in the line of duty.
Officer Ella French was shot and killed Saturday during a traffic stop just after 9 p.m., and her male partner was shot and hospitalized in critical condition. The Chicago Sun-Times noted that approximately "30 officers" turned their backs to Lightfoot when she arrived at the hospital.

The Sun-Times also pointed out that "Lightfoot tried to talk to the male officer's father, who himself is a retired Chicago police officer." Sources who were at the hospital suggested the officer's father "clearly wanted nothing to do with Lightfoot."

Fraternal Order of Police President John Catanzara spoke about the officers turning their backs to Lightfoot, saying, "The police officers' decision to turn their backs on the mayor while waiting with the family on the 7th floor was significant. Turning their backs on the mayor was an excellent example of how the hundreds of police officers felt waiting outside the hospital."
For those who have been away for an extended period in the M-79 star system or have the same brain function as Kholrabi-in-Chief Biden, Lori "Light-Loafers" Lightfoot isn't exactly a model of competence. She's a crackpot radical racialist whose worldview has turned a city already infamous for its corrupt politics into an American Beirut.
"We will shut you down," said Chicago mayor Lori Lightfoot, "we will cite you, and if we need to, we will arrest you, and we will take you to jail." She was stern and resolute in the proclamation, leaving little doubt that she intended to follow through with her threats.

And to whom were those threats addressed? Was she talking to Chicago's violent gangsters, the people who make life intolerable for their fellow citizens? Was she referring to those responsible for shooting 75 people in the city over the weekend, killing nine of them, including a police officer?

Of course not. The mayor's admonition quoted above was delivered in May 2020, when she was in high dudgeon over those flouting social distancing directives by hosting parties during the [Chinese] Covid pandemic. Given her indignation at parties last year, it seems odd that she herself recently played host to one of the largest parties Chicago or any city has ever seen. The Lollapalooza music festival drew almost 400,000 people to Grant Park over four days, and the mayor even took the stage on opening day to welcome the crowd.

So Mayor Lightfoot can occasionally if inconsistently work herself up into a lather over [Chinese] Covid protocols, but she is far more reserved in her public comments about Chicago's violence problem, which has readers of the Chicago Tribune and the Sun-Times scanning each Monday's editions for the totals of dead and wounded as they would check the Cubs' and White Sox's box scores . . .

. . . Chicago cops know, cops everywhere know, that combatting gang violence inevitably involves confrontations with gang members, some of whom will resist with violence. And they know that when those confrontations go awry, as some always will, Mayor Lightfoot and the media and the racial grievance industry will rush in to demonize the involved cops, even as the instigating criminal, no matter how numerous his prior offenses, no matter how despicable his past, is hoisted onto a pedestal and hailed as a hero. It happens every time.
And so we grieve for the mother of a newborn infant who will never know her except from photographs and the memories of loved ones who knew her and the decent cop who took a job in a city where the politicians had her and her comrades' backs. . . mostly with a knife in it especially in the wake of the death of George Floyd. But then, there's the other side of the coin.


If you wondered what it looked like when Nazi brown shirts went after the churches in Germany, wonder no more: It probably looked like Portland on Saturday, when black bloc-outfitted antifa thugs burst into a waterfront prayer event featuring persecuted Canadian Pastor Artur Pawlowski. The antifa members sprayed those gathered, including toddlers, with chemicals and lobbed IEDs.

"Where is your G-d, now?" taunted one of the attackers.

Antifa has attacked at least one church before. Antifa members organized their violent attack via Twitter and other social media platforms. They later gloated on Twitter that they had stolen the Christian group's food and water.

Portland police watched as antifa bear-sprayed parents and their kids, lobbed "flash bombs" into the sparse crowd, and reportedly threw the group's sound equipment into the Willamette River. This being Portland, police didn't arrest antifa members for polluting the river, much less attacking people.

Portland's police bureau has been defunded by at least $15 million and there's been a mass exodus of officers retiring or going to places where the rule of law is observed.

As a result of antifa and BLM attacks on (the defunded) police, Portland is now awash in violent crime and on course to break records for shootings.
One can understand or excuse the fact that the Communists in power in Portland have all but destroyed the concept of the rule of a just and stable law to protect the citizenry, which might explain the mass exodus from the police force of "good cops." But it should be noted that Antifa terrorists have been engaging in violence long before last year and even before President Trump's first electoral win in 2016, and have not only gone unpunished but it can be argued run the streets of that city. That being the case, it begs the question just who are those people dressed up in Portland police uniforms and to whom or what is their allegiance? As we move away from Portland and Chicago, once again the estimable Julie Kelly gives us if not a bigger picture of the latter, then a slightly different higher-level angle.
Officer Michael Fanone plays the part well.

He speaks with what most Americans would consider a rural drawl. He wears flannel shirts during CNN interviews and photo shoots. Large tattoos bedazzle his neck and arms; he has a beard. In a swooning front-cover profile for Time magazine, Fanone told Molly Ball he considers himself to be one of the "rednecks" who voted for Donald Trump.

But a few overlooked yet eye-popping details in Ball's piece undermine Fanone's public persona as the besieged D.C. undercover narcotics officer who donned an official uniform for the first time in 10 years to help rescue his colleagues from bloodthirsty Trump "insurrectionists" on January 6. Fanone has been on a nonstop publicity tour for seven months, stalking Republican lawmakers on Capitol Hill and confronting his police union for its lack of support . . .

. . . Fanone . . . has deep ties to the Beltway establishment. He was born in D.C. in 1980 and raised in the suburb of Alexandria, Virginia, situated in one of the wealthiest counties in the nation and home to much of the capital elite. Far from the rough-and-tumble life he projects on CNN interviews, Fanone grew up a rich kid.

Ball's article vaguely described Fanone's father as a lawyer, "a partner in a big firm" in Washington, D.C.. Fanone, Ball claimed, "hated the stuffy status-grubbing of fancy-pants D.C. "She does not disclose his father's name -- and there's a reason why. Fanone's father appears to be Joseph Fanone, senior counsel for Ballard Spahr, a Democratic Party-connected firm based in Philadelphia. (A search of past residences and other open source information seems to confirm the relationship. News organizations like Time have refused to name Fanone's father.)

According to a campaign disclosure website, Ballard Spahr donated 88 percent of its total political contributions to Democrats in 2020. One of the firm's partners served as a legal advisor to Joe Biden's presidential campaign last year. Ed Rendell, the former Democratic governor of Pennsylvania, is now a special counsel at Ballard Spahr . . .

. . . Lawyers for Ballard Spahr helped defend Pennsylvania's rogue election rules for the 2020 presidential election . . .

. . . Fanone's upbringing among the Beltway aristocracy undoubtedly puts him at ease while traversing the halls of Congress, demanding that top Republicans such as House Minority Leader Kevin McCarthy (R-Calif.) take a meeting with him, or testifying in front of House Speaker Nancy Pelosi's show trial about the events of January 6 as a way to finally take down Donald Trump and vilify his voters. Fanone probably felt right at home in the Rose Garden last week when Joe Biden signed legislation awarding the Congressional Gold Medal to police officers who "defended democracy" and fought back the "insurrection" on January 6. . .

. . . Fanone now is the toast of the town he's inhabited his entire life, a town contemptuous not just of Donald Trump but of 75 million Americans who voted for him.
The crocodile/glycerine tears of Fanone as well as the other uniformed stooges and fraud politicians in that revolting display last week are in direct proportion to their own contempt of the laws, institutions and people they swore to uphold and defend. I seethe in rage at Fanone and his ilk in Portland and elsewhere, while at the same time my heart aches for Ella French and everyone who puts on a police uniform which even in the best of times is akin to putting a target on your back.
Peace + Born to Kill = . . . Coexist?
PS: Be sure to get your papers in order, nudge-nudge wink-wink.


ABOVE THE FOLD, BREAKING, NOTEWORTHY
CIVIL WAR 2.0: LEFTIST PERSECUTIONS, CAPITOL HILL BLACK WEDNESDAY PROTEST AFTERMATH, DEMOCRAT PUTSCH, AMERICAN DISSOLUTION
NOTE: The opinions expressed in some links may or may not reflect my own. I include them because of their relevance to the discussion of a particular issue.
ALSO: The Morning Report is cross-posted at CutJibNewsletter.com if you want to continue the conversation all day.
Follow us on Twitter: @CutJibNews
Follow us on Instagram: @Cutjibnewsletter

posted by J.J. Sefton at
07:38 AM
|
Access Comments