« Daily Tech News 5 August 2021
|
Main
|
Mid-Morning Art Thread »
August 05, 2021
The Morning Report - 8/5/21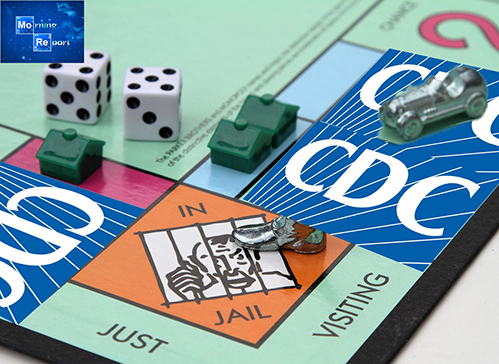 Good morning, kids. Thursday and the heat is most definitely being turned up on Angel of Death Nipsy Cuomo to either get the hell out of the governor's mansion in Albany or have the useless skin surrounding his whole sausage, i.e. his body, forcibly ejected. There are still a number of pundits who think he's going to skate, especially since it is axiomatic that Democrats, and even more especially high-profile ones, never face the music for their crimes. Notable exceptions of course are Stuart Smalley Franken and Carlos Danger Weiner. But with DA's in the state's most high profile areas looking to start investigations of their own and the state assembly actively considering an impeachment deadline of the end of the month - on top of national Democrat leadership up to Joey the Wonder Vegetable calling for him to get the hell out, this is not going to blow over.
And speaking of that drooling, gibbering dementia patient, Tara Reade, the woman he more than likely raped back in 1993, rightfully blew a gasket over Piss-Hockey Psaki dismissing her accusations at a press conference. Having Reade's name back in the public eye is something Biden's handlers do not want, even with the propagandists in their corner who would be hard pressed to keep it under wraps with Cuomo still on the loose. Blackface 30-odd years ago is one thing. Serial sexual assaults and culpability in the deaths of thousands of people is quite another, especially when not only Cuomo is guilty of them but a slew of his cohorts in other governor's mansions and the White House itself. Besides, Tish James has some darling drapes already picked out for her office, and it looks as if she will not be denied.
With that out of the way, the more significant story is the complete trashing of the Constitution with these vaccination mandates as well as the government effectively nationalizing private residential property via a unilateral decree to extend the moratorium on evictions. This is after the Supreme Court ruled that the moratorium had to end as scheduled. Amazing how the Left always looks to SCOTUS as the ultimate oracle whose decisions are final and can never be overruled; that is only if its decisions are in line with the Left's preferred policy outcomes.
It's friggin' unreal; these people aren't even hiding it anymore and essentially told the court "catch us if you can" while at the same time, the illegal edict itself came from the CDC. THE-C-D-C. I thought its purview consisted of incompetence, malfeasance and ineptitude in areas dealing with diseases, but what the hell do I know? How does this agency get to dictate if people pay rent?!
"The President's a lawyer, he spent 36 years in the Senate, was chairman of the Senate Judiciary Committee, spent eight years as vice president, half a year as president. He speaks often about democracy versus autocracy. He's issuing or overseeing this order from the CDC, in the face of doubts about its constitutionality, which he seemed to echo yesterday," [CBS News Radio reporter Steven] Portnoy said. "There's no inconsistency here? The president is, there are many people out there who say that the President is essentially not giving voice to the ethic that he campaigned on. He didn't call Congress back, he asked Congress to act, it didn't. How do you square all that?"

"What's important to note here is that the President would not have moved forward with a step where he didn't feel comfortable and confident in the legal justification. It is also a reality that there are legal steps that have been taken by the Supreme Court in the last few months. And we've spoken to that publicly. We're not going to hide from that," she claimed. "But he asked the CDC and his legal experts to look at what is possible. This is a narrow, targeted moratorium that is different from the national moratorium. It's not an extension of that, it's a different moratorium from a policy and legal standpoint. So he felt comfortable in the justification and the legal approach to this effort."

"What's the White House's message then to Americans who heard what happened yesterday, heard what was said at this podium on Monday, can't square the two, and are now disappointed that the president is signaling that he doesn't respect the rule of law?" Portnoy asked.

"I'm not sure there are Americans evaluating it to that degree, maybe there are some you have talked to, I don't know, what the President has his message to the American people, especially those who are concerned about losing their homes, being kicked out of their homes, is that he's going to do everything in his power to make sure they can stay in their homes as long as possible," Psaki responded.
Wait a second, WHOSE homes??? Call me old fashioned but the person who actually OWNS the home is what is known in the trade as "the owner." The people who would be evicted for non-payment of rent aren't. But this of course is Obama/Fauxcahhontas You-Didn't-Build-That Topsy Turvy World where unions and workers made businesses successful (and it's the owners who are solely to blame for failures) and landlords are evil abusers of the poor, trying to deny them of their inalienable right to an apartment (by the way, see the Anti-Semitism section to find out who those evil abusers usually are in the Left's mind). This not coincidentally is a microcosm of the Leftist mindset of the illegitimacy of America itself.
Lest I get sidetracked and this gets lost in the sauce, the reason that we even need a moratorium on rent, as well as stimulus checks in perpetuity is because for the past 17 months, the nation's economy was intentionally strangled in order to fight a virus. No not the Peking Pulmonary Pox but the "virus" that was identified as Trump, Trumpism, and MAGA which created an economic miracle the likes of which had never been seen, and simultaneously exploded and exposed every Leftist/Democrat/Socialist economic policy as pure folly and failure.
So, what happens when these evil landlords can no longer afford to heat and light their buildings, or to maintain them? Or when zoning regulations are re-written to be more "equitable" and therefore degrade the value of their homes even further? Just as small businesses got wiped out and a handful of giant corporations stepped into the breach, they too - naturally with the help of the State - will step in and gobble up all those abandoned houses. Just as Amazon became the company store, some other entity like Berkshire Hathaway will own the company houses. Boy, if all of this wasn't pre-planned, they sure did not let this crisis go to waste.
So, as I asked in the comments yesterday about all this, if the government is going to ignore the courts and be a law unto itself without any legitimacy or consent of the governed, what's to stop a landlord from evicting deadbeat tenants anyway? Wait, I know the answer to this. The police. Funny how the Left wants to abolish the police when they are building one massive police state here and now. At some point, people who own rental properties are not going to just take it in the neck. Look up photographs of Detroit, or East St. Louis or any other Leftist controlled shit-hole. You're going to see a wave of arson that made the 2020 mostly peaceful rioting look like a backyard cookout. Unless of course, the government decides to seize control of the homeowner's insurance industry preemptively. In the name of "equity" and "fairness" of course.
PS: Make sure you have your papers in order.

ANGEL OF DEATH CUOMO NURSING HOME SCANDAL, SEXUAL ASSAULT & OTHER DEM GOV SCANDALS
NOTE: The opinions expressed in some links may or may not reflect my own. I include them because of their relevance to the discussion of a particular issue.
ALSO: The Morning Report is cross-posted at CutJibNewsletter.com if you want to continue the conversation all day.
Follow us on Twitter: @CutJibNews
Follow us on Instagram: @Cutjibnewsletter

posted by J.J. Sefton at
07:22 AM
|
Access Comments