« Daily Tech News 3 August 2021
|
Main
|
Mid-Morning Art Thread »
August 03, 2021
The Morning Report - 8/3/21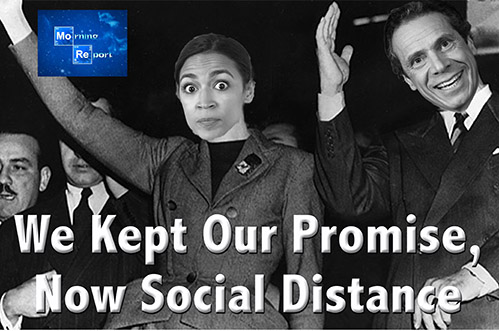 Good morning, kids. Tuesday and take note of the following: Titty Caca AOC in the middle of a crowd of unmasked people suddenly dons the face diaper as soon as cameras are detected, Lindsay Graham coming down with the Oriental Lung Gleet even after being vaccinated and hosting Joe Manchin on his boat, Obama being feted at a birthday bash on Martha's Vineyard for 700 fellow Commies none of whom will be masked, a few miles away on Cape Cod hundreds of homos galavanting around without protection -- on their faces and most notable thousands upon thousands of illegal aliens being allowed in unchecked for the virus let alone other highly communicable and potentially life-threatening diseases let alone criminal backgrounds.
Now compare and contrast with the reaction from government: we're going to have to mask up and lock down again and those who have not gotten the needle, shown at best to be useless and at worst lethal (we'll have to wait and see a few years if we've created another Thalidomide Baby) will have to roll up their sleeves or face the gulag. Of course the poster child for this arrogance and tyranny is none other than the mobbed-up failure and serial woman-groper who snuffed out the lives of at least 15,000 elderly people, just to keep his state's Medicare solvent.
Fascists are communists who, rather than doing away with the private sector, allow it to function provided that the government calls the shots. Keep that in mind as you think about Gov. Andrew Cuomo urging businesses that are open to the public to have "vaccinated-only admission." Behind that lies the assumption that all of the business's employees are vaccinated. Businesses in New York understand full well that this is an iron hand in a velvet glove suggestion. After all, Cuomo controls the agencies that issue their business licenses. . .

. . . it's one thing when businesses work with the government to create needed supplies during a crisis, as happened when Donald Trump was able to get an enormous number of ventilators and masks made for hospitals early in the pandemic. It's an entirely different thing when the government conspires with businesses to deprive fellow citizens of access to the amenities of life.. . .

. . . We are no longer in a crisis. We are in a flu season. And the vaccination works much like a flu shot, providing limited protection that lasts for a limited time against one variant of the flu. The difference, of course, is that the flu vaccine doesn't have the potential to make women sterile, damage people's hearts, or create serious immune disorders.

Nevertheless, Cuomo wants New York state businesses to close their doors to anyone who is not vaccinated. CNN's vacuous Harvard graduate, Don Lemon, has suggested that unvaccinated people be barred from all places of business and institutions, including cutting them off from buying groceries. And Vox's Ian Millhiser believes that a 99% tax rate should be imposed against unvaccinated people. This is Jim Crow writ large; it's not hypothetical. It's what Democrats are actively seeking to impose on the American people.

Oh, speaking of Jim Crow, I forgot one more thing: The Democrats' punitive plans will affect the more than 50% (on average) cohort of Blacks and Hispanics who are resistant to the vaccine. Thanks to the infamous Tuskegee Experiment, they are wise to the ways of government-paid Democrats in control of minority's health care.
Funny how we don't see politicians, bureaucrats and the media criticizing homosexuals or blacks. Gee, I wonder why that is. And speaking of homosexuals, it was Anthony Fauci some 40 years ago now who by making AIDS a political issue caused what was an initial outbreak that could have been contained to explode into a crisis that killed hundreds of thousands and infected millions with something just a tad more serious than a virus that 99.6% of people who contract it recover completely. Plus ca change. And here we are again. Same shit, different decade.
And because everything this junta has done in just over 6 months has been an unmitigated disaster - which they still try to blame on Trump and the well over 80 million people who re-elected him - they cannot let go of this "crisis." It was created as we now know by the Chi-Coms (accidentally or accidentally on purpose) and exploited to get rid of Trump and now that he is gone, it must be maintained to both distract from the Left's failure at everything it does and also to consolidate absolute power.
To a greater or lesser extent, the misery and madness caused by the lockdowns, masking and now forcible vaccinations is making people all over the world slightly miffed at their elected leaders:
Thousands of German civilians protested new government COVID-19 lockdowns and vaccine passports across 13 separate demonstrations in Berlin on Sunday. Local authorities had banned such weekend protests, but countless Germans refused to be forced into silence and proceeded to demonstrate anyways, causing German authorities to deploy approximately 2,000 police officers onto Berlin's streets in riot gear.

Over a year into lockdowns, Germany requires that individuals show vaccine passports, proof of recovery from COVID-19 or proof of a recent negative COVID-19 test, in order to dine indoors or book a hotel room, among other activities . . .

. . . Among other demonstrations, local authorities preemptively banned the Querdenker movement, the "most visible anti-lockdown movement in Germany," according the Associated Press, from organizing a protest over the weekend. The movement has gathered thousands of Germans from across the political spectrum to challenge the government's mandates. They view the government's response to COVID as being fascistic and condemn vaccine mandates as a modern form of apartheid.

The German government sees the Querdenker movement as a threat to its power. Not only has Germany limited its citizens' speech when it comes to protesting COVID-19 mandates, but the BBC recently reported that Germany's domestic intelligence service is spying on members of the Querdenker movement, "amid concerns [that] they may be trying to delegitimize the state"and that their opinions could be dangerous to the status quo . . .

. . . The German people aren't the only ones to challenge their government's COVID policies. For the third weekend in a row of protests, over 200,000 individuals gathered in France on Saturday to challenge their country's vaccine mandates. The weekend prior, over 80,000 frustrated civilians similarly protested in Italy.

Such protests have persisted for weeks. As Federalist intern Shawn Fleetwood recently reported, civilians have challenged forced lockdowns and vaccine passports everywhere from Australia and France, to Italy and the United Kingdom . . .

. . . "The vaccine passport system is the final straw, it's the thin edge of the wedge. . . Deaths have dropped, people are getting vaccinated, and in theory, that's supposed to protect us, and here we still are."

"I see no end to it, they are never going to let go of the powers that they have stolen, they are loving it too much," she lamented.
Emphasis mine. Funny how, despite now being two generations removed from '33-'45, it's the Germans of all people reacting negatively to the threat of totalitarianism while we here in the former United States have a couple generations of youth all hot and horny to impose it right here. Naturally, they would be the ones on top to control it and since they are the ones they've been waiting for, they'd be benevolent and finally get it right. If you believe that, I have a White Sea Canal I can sell you real cheap.


ABOVE THE FOLD, BREAKING, NOTEWORTHY
CIVIL WAR 2.0: LEFTIST PERSECUTIONS, CAPITOL HILL BLACK WEDNESDAY PROTEST AFTERMATH, DEMOCRAT PUTSCH, AMERICAN DISSOLUTION
NOTE: The opinions expressed in some links may or may not reflect my own. I include them because of their relevance to the discussion of a particular issue.
ALSO: The Morning Report is cross-posted at CutJibNewsletter.com if you want to continue the conversation all day.
Follow us on Twitter: @CutJibNews
Follow us on Instagram: @Cutjibnewsletter

posted by J.J. Sefton at
07:07 AM
|
Access Comments