« Daily Tech News 6 July 2021
|
Main
|
Mid-Morning Art Thread »
July 06, 2021
The Morning Report - 7/6/21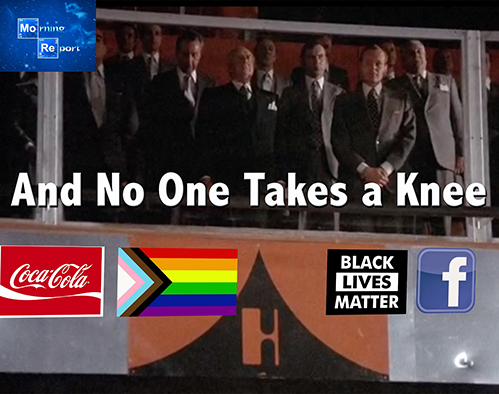 Good morning kids. Tuesday and the start of a shortened work week, for anyone's definition of that term considering the decapitation of the American economy since the lockdowns and now the using its head as a soccer ball by the junta. Oh, the economy is booming because the cost of weiners and beans is down a nickel, or some such rot that came out of the flapping exhaust port above Jen Piss-Hockey Psaki's chin. Meanwhile, small business, which traditionally had constituted the bulk of the American economy has been decimated over the course of the last year and a half while corporate America boomed.
With many big corporations deemed "essential," and a stock market propped up by the Federal Reserve, it's easy to see economic strength and miss the glaring weaknesses.

While Walmart and Target continue to beat earnings expectations, small businesses struggle to survive. Nearly two-thirds of them are hitting only half or less of their pre-lockdown monthly revenue levels, according to Alignable's June Road to Recovery report.

Then there are the businesses that never recovered at all. The Biden [junta] recently projected that more than 400,000 small businesses have closed permanently, but that's likely a massive underestimate: Already by June 2020, the Hamilton Project had counted 400,000 closures. Opportunity Insights data, meanwhile, show that by the end of May 2021, there were 38.9 percent fewer small businesses open nationwide than at the outset of 2020.

Small business forms the US economy's backbone, accounting for more than 99 percent of all business entities, and before 2020, around half of growth domestic product and jobs . . .

. . . And as if lockdowns weren't enough, those small firms desperately trying to save their businesses now can't find workers, thanks in large part to government interfering in the labor market via enhanced unemployment benefits and direct stimulus payments that incentivize not working. If the government actively set out to reward big businesses and punish small ones, how would it look any different? . . .

. . . This is an American tragedy. Small businesses provide economic freedom for tens of millions of people. Competition from decentralized small businesses leads to more jobs, more consumer choice and better prices that benefit everyone.

Putting more power in big companies' hands is, of course, good for politicians; it's easier to collude with thousands of big companies than tens of millions of smaller ones. But it is in no way good for the economy. Pretending otherwise is a dangerous farce.
I believe the word that will conveniently escape all the trolls out there, despite the fact that they fling it around here like a deranged chimp flings poo in the monkey house, is "fascistic." It's cronyism straight up. Aside from the dehumanization of being forced to wear masks everywhere and the evisceration of our constitutional rights, Big Pharma made a killing on vaccines that have not been tested anywhere near as thoroughly as they should have been, for a virus that has a fatality rate marginally greater than seasonal flu, and for which any number of safe, cheap, readily available and effective therapeutics already exist to treat this thing, even in the most vulnerable patients. Funny, I always thought Leftists hated corporations, especially the pharmaceutical industry. But I digress. Then again, not really.
What is small business? It's mom and pop shops and sole proprietorships. It's what was Main Street and Downtown all across most of the USA. The value of work goes beyond the accrual of money. It gives us pride and a sense of purpose. Even a kid with a lemonade stand understands that what he has at the end of the day he earned, by himself. Values. Success and failure. The freedom to make decisions for oneself based on what's best for oneself. Independence.
That is, if not its essence, certainly a very large aspect of what made America great. Not coincidentally, it's what was at the heart of the desire to Make America Great Again. And that is antithetical to globalism as well as socialism. The individual is viewed by the self-anointed "elite" as too stupid to know what is in their best interest. 2016 was an absolute rejection of them and how they have utterly failed and fucked up this country for the past 60 or more years. Same goes for 2020 (which the landslide victory for Trump could not be allowed to happen). Whether the denizens of the C-Suite are true believers in transexual psychosis, that America is structurally racist, that global warming will wipe us out in 10 years, that we have an irrational fear of China or whatever the madness of Leftist weltanschauung dictates, or that they just go along for political and economic expediency is irrelevant.
Power and control are being centralized not just in DC but in a handful of corporate boardrooms both here in the US as well as internationally, as well as in the Politburo of the CCP in Beijing.
With fewer and fewer choices of what you can purchase and from whom you can purchase it, as well as being carefully monitored on what you buy, as well as with whom you associate, what you read, where you get your news and information and what you say, one way or another, you will be made to care. And when they've got you by the wallet, your hearts and minds will follow.

CIVIL WAR 2.0: LEFTIST PERSECUTIONS, CAPITOL HILL BLACK WEDNESDAY PROTEST AFTERMATH, DEMOCRAT PUTSCH, AMERICAN DISSOLUTION
NOTE: The opinions expressed in some links may or may not reflect my own. I include them because of their relevance to the discussion of a particular issue.
ALSO: The Morning Report is cross-posted at CutJibNewsletter.com if you want to continue the conversation all day.
Follow us on Twitter: @CutJibNews
Follow us on Instagram:@Cutjibnewsletter

posted by J.J. Sefton at
07:16 AM
|
Access Comments