« Quick Hits: Dementia Patient Seen Wandering Around DC Edition
|
Main
|
Ohio Democrats Bang Tables, Hoot Like Monkeys When State Representative Reads a Bill to Save Girls Sports for Girls »
June 30, 2021
NSA Issues Carefully-Worded, Lawyerly Non-Denial About Reading Tucker Carlson's Emails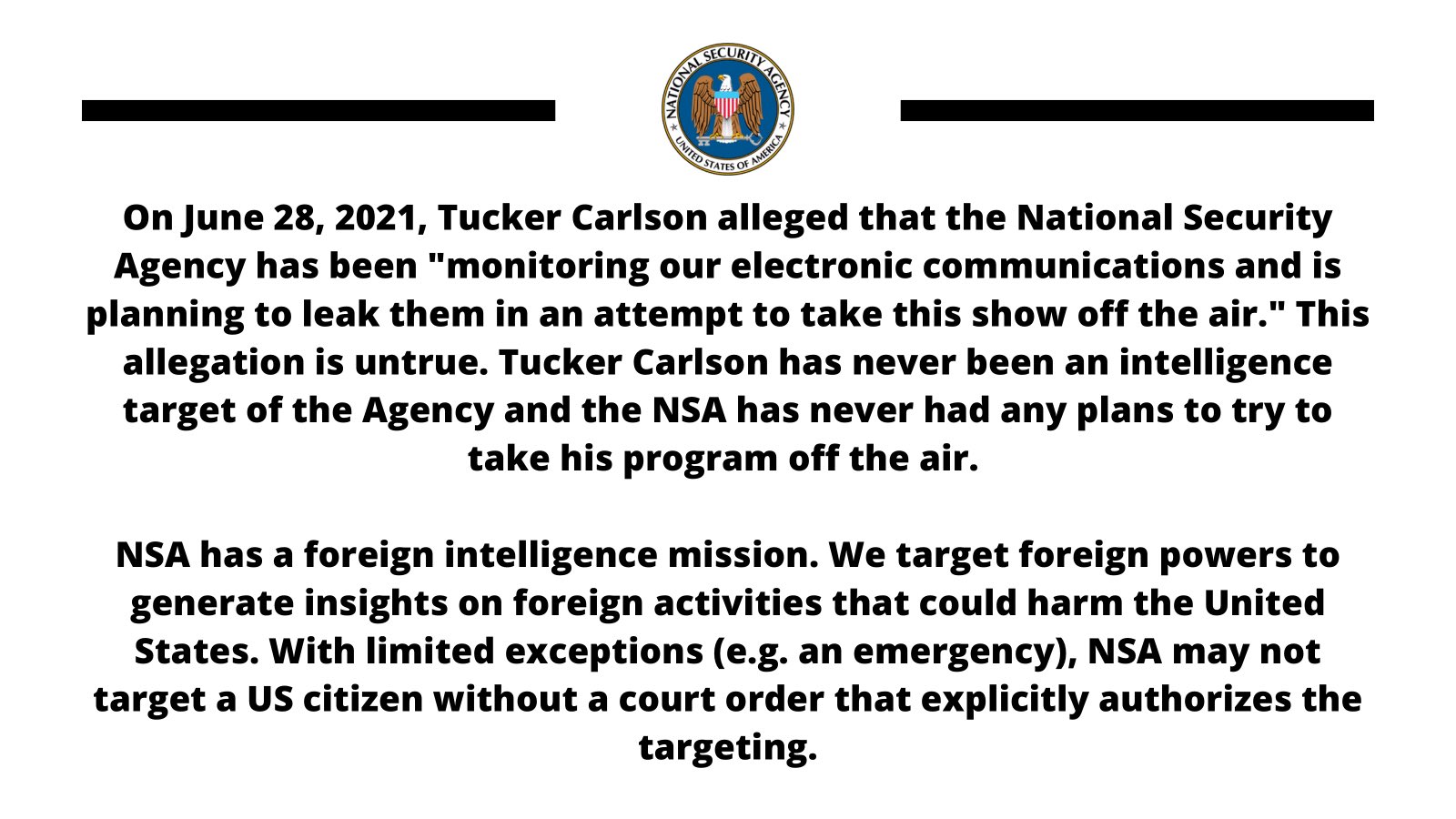 They deny that Carlson is a "target" of the NSA.
But Carlson never alleged he was a "target of the NSA."
He alleged they were reading his communications.
And they don't deny that.
And this whole "target" business tells you this is a lie. The FBI and DOJ claimed that Trump was not a "target" when he accused them of spying.
But of course he was a target. They avoided saying he was the target, but they were reading all his communications, and they intended to.
What they did was fake up a case that Trump's one-day "advisor" Carter Page was communicating with Russians. (While overlooking the fact that the reason he was communicating with Russians was that he was a CIA source who reported to them what Russian contacts told him.)
Now that Carter Page was a target, the "two-hop" rule allowed them to spy on anyone who communicated with Carter Page, and then anyone who communicated with anyone who communicated with Carter Page.
So the NSA says they're assigned to spy on foreign targets.
Well... let's think about this. Tucker Carlson obviously communicates with Glenn Greenwald, a frequent show gues.
Greenwald is an expatriate living in Brazil.
Now, I don't know if they're allowed to spy on expatriate, but I do know 1, they've already got an open case on Greenwald due to the Edward Snowden business and 2, Greenwald's partner is Brazillian.
Make Greenwald's partner a target, or any of his foreign contacts are -- and then you get two hops -- one hop to Greewald, and then a second hop to Tucker Carlson.

And you can read all of his emails.
I mean, he wasn't the target. His emails were just "gathered incidentally to an investigation of the named target."
Except, as in the case with Trump, Tucker Carlson is the real target and all the bullshit about this just being "incidental" is a criminal lie.
And what did the NSA say there? That they will spy on Americans "WITH LIMITED EXCEPTIONS," like in an emergency.
And "emergency," such as the threat from WHITE SUPREMACIST INSURRECTIONISTS Q-ANON SUPPORTERS who are currently planning to invade DC?
This is what the media and the government they serve tells me every day.
Should I not believe them that we're in an "emergency" situation requiring "limited exceptions" to the Bill of Rights?

The left, including AllahPundit, are very, very impressed by the fact that the leftwing Fox News Division is once again showing its leftwing stripes:
Oh, Chris Wallace doesn't want to investigate the claims of Tucker Carlson? What great proof.
Chris Wallace told me, while "moderating" a debate, that Critical Race Theory was "just about teaching people to be polite." And he more recently insisted that it was really the Republicans who are "defunding the police."
And I know both of those things are totally true so, yeah, this all checks out.
I Believe Chris Wallace.
Isn't it strange that AllahPundit, who works at a "conservative" website, always echoes the claims of the extreme left?
And isn't it strange that since 2016 AllahPundit, who claims to be a libertarian (I think he's dropped the "conservatarian" fiction) has been a steadfast defender of government rights to spy on whoever it wants, whenever it wants?
Anyway.
Glenn Greenwald also pointed out this somewhat interesting, purely coincidental news: A pro-Trump official just got suspended by the Pentagon for releasing confidential information from the NSA.
Confidential information, like the NSA spying on Tucker Carlson?
Let's read that again:
Top Pentagon Cyber official's security clearance suspended, over suspected disclosure of classified info.
Hm!
Well I'm sure the Chris Wallace's Leftwing Opinions Network will get right on that.

Now, Harmeet K. Dillon was on Tucker Carlson, and made a lot of these points.
But she also pointed out that among the bad actors of the US government and "intelligence" permanent shadow government, the NSA are relative good guys. The NSA sometimes refuses to share information with the FBI because they fear the FBI will use it for illegal or unethical purposes. Such as, you know, spying on the enemies of the Democrat Party.
Just something to think about. Maybe the NSA did collect "incidental" information about Tucker Carlson -- but then the FBI demanded to see his emails, and a partisan official at the NSA complied.
Or, maybe it's just Biden's socialists now weaponizing the NSA, as they previously weaponized the FBI, CIA, and Pentagon.
Their non-denial certainly suggests that they're dirty here. Or, at least: They know their "incidentally" collected information is being used by bad actors in the FBI or DOJ.
And, by the way: Is it really true that Fox isn't reporting on this at all?
Microsoft exec details 'frightening' DOJ 'abuse' of secret requests for Americans' data in hearing

Tom Burt's comments were made during a hearing on DOJ abuse

A Microsoft executive on Wednesday detailed the "frightening" abuse by the Department of Justice of "secrecy orders" that allow the government to take Americans' data from tech companies without ever letting them know.

Tom Burt, Microsoft's corporate vice president for customer security and trust, made the comments in a House Judiciary Committee hearing about Department of Justice abuse of such orders in prosecutions and leak investigations.

Burt lamented that "secrecy orders," which prevent Microsoft or other companies from letting customers know that the government is seeking their personal data, make it much easier for the government to skirt due process when pursuing an investigation. Therefore, Burt said, they've become shockingly "routine."

"It's no surprise then that through the Obama, Trump and Biden administrations, up to a third of all legal demands we received from federal law enforcement include secrecy orders, up to 3,500 in just one year," Burt said. "And these are just the demands on Microsoft. Add the demands likely served on Facebook, Apple, Twitter and others and you get a frightening sense of the mountain of secrecy orders used by federal law enforcement in recent years."

Via Deb Heine, who also suggests that we view this Congressional hearing on the Justice Department's frequent spying on "journalists."
Friends of mine who have connections to people in the spy state do not know any facts about this matter -- they're guessing -- but do say that based on their general understanding of how this works and who the really bad actors are: This is probably the FBI and DOJ.
Related, from Jane D'oh:
BTW, notice, once again, AllahPundit grabs the grabbiest story so that he can cover it with his disgusting leftwing spin.
Does no one at Hot Air realize that maybe a "conservative" site should sometimes have a conservative voice covering the grabbiest stories of the day?
Why is it always this alcoholic shut-in leftwing Literal C*ck?
Update: Harmeet K. Dhillon redlines the "denial."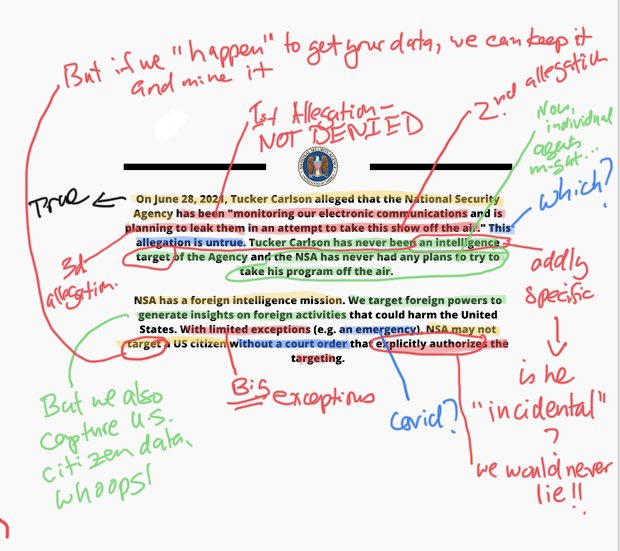 BTW, Tucker Carlson noted that, if it seems GOP "representatives" in DC are a little too deferential to the Deep State Spies -- remember, the Deep State Spies have all the emails GOP representatives are sending.
There might be a reason why the GOP is so eager to please the Deep State Spies they supposedly provide oversight for.

posted by Ace at
04:43 PM
|
Access Comments