« Daily Tech News 29 June 2021
|
Main
|
Mid-Morning Art Thread »
June 29, 2021
The Morning Report - 6/29/21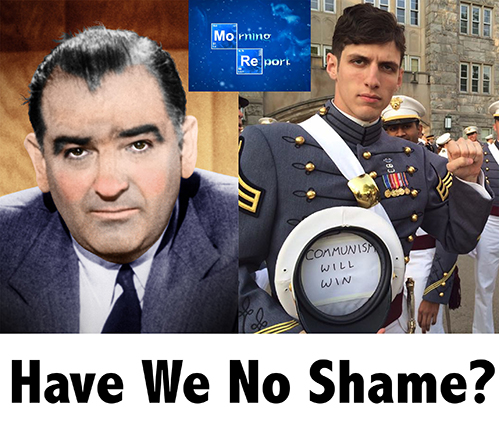 Good morning kids. Tuesday and last night Tucker Carlson dropped a bomb, claiming that the Biden junta has been spying on him and his staff. Given the undeniable facts that the Federal Leviathan, with at the very least the tacit approval and quite probably at the behest of the Obama regime, attempted to sabotage the 2016 election, and the fact they did indeed rig and outright steal it last November, TuCa's revelation does not necessarily come as a surprise. But given all the other third world banana republic thuggery going on as we speak, the implications are terrifying.
White supremacy may be ugly. Many opinions are. But it's not a meaningful threat to the nation. Claiming otherwise is a lie.

So why does the Biden administration persist in telling that lie? Well it's a racial attack, obviously. It is waged for partisan political purposes. Tell black voters that Republicans are the KKK, and maybe they'll keep voting for you. That's the idea. It's certainly easier than fixing Chicago or raising test scores, which they should be doing. But there's also a deeper significance. The Biden administration is signaling a very real change to actual federal policy. The war on terror, now ongoing for 20 years, has pivoted. It's now being waged against American citizens -- opponents of the regime.

We saw this on display on January 6. We told you a couple of weeks ago, based on the language in publicly-available indictments, that the FBI clearly had foreknowledge of the riot at the Capitol that day. The agents we spoke to this weekend confirmed that's true.

We told you a couple of weeks ago, based on the language in publicly-available indictments, that the FBI clearly had foreknowledge of the riot at the Capitol that day. The agents we spoke to this weekend confirmed that's true.

Quote: "The FBI had sources in that crowd -- confidential courses, snitches. That's 100% certain."

But it's not just political protesters the government is spying on.

Yesterday, we heard from a whistleblower within the U.S. government, who reached out to warn us that the NSA, the National Security Agency, is monitoring our electronic communications, and is planning to leak them, in an attempt take this show off the air. Now, that's a shocking claim, and ordinarily we'd be skeptical of it. It's illegal for the NSA to spy on American citizens. It's a crime. This isn't a third-world country. Things like that shouldn't happen here. But, unfortunately, they do -- and in this case, they did.

The whistleblower, who is in a position to know, repeated back to us information about a story we're working on that could only have come directly from my texts and emails. There's no other possible source for that information, period. The NSA captured it without our knowledge for political reasons. The Biden administration is spying on us. We've confirmed that.

This morning we filed a FOIA request, a Freedom of Information Act request, asking for all information the NSA and other agencies have gathered about this show. We did it mostly as formality. We contacted the press office at the FBI and the NSA. We don't expect to hear much back. Only Congress can force transparency on the intelligence agencies -- and they should, immediately. Spying on opposition journalists is incompatible with democracy. If they're doing it to us -- and again, they are definitely doing it to us -- they're almost certainly doing it to others. This is scary, and we need to stop it right away.
Emphasis mine. But, it's not going to stop, Tucker. The writing is on the wall and this party is just getting started. Vanilli Milley, Gilday and all the other brass-holes at the Pentagon as well as other traitors to the uniform like Mattis, McChrystal (who more than likely was at the planning table to the 2020 election theft) and schmucks like Barry McCaffrey are down for the struggle-session. It's more than self-flagellation over being white or not wearing heels and sipping a little penis while wearing pregnancy flight suits. This is about training recruits to fire on American citizens in American towns without even thinking twice about it.
I love Tucker Carlson but if he really thinks Congress is going to do something about this, he's got his head in the sand. We have to be honest with ourselves; America as founded is no more. Mortally wounded on November 3rd, it got smothered with a My Pillow on January 6th. There is no regular order. There are no courts. There are no guardrails or firewalls. All of those depend upon very flawed, frail human beings who, even in seemingly normal times are known to be venal, corrupt and power-mad. Even if we had a political opposition that was 100% in lockstep about fighting this, they're in the minority and most crucially, they will look to seek redress by playing a game and following rules that those who overthrew the government long ago have tossed into the bonfire.
Whether it's the courts, Congress, the bureaucracy, law enforcement, the military and now even down to the average citizen, people are going to act in one of a few ways. One, they're wholly on board with the persecution and ultimate liquidation of their political enemies. Two, they may or may not be on board with what's going on but they value their own necks and keep their heads down and their mouths shut. And it's not necessarily a weaponized military or police that will keep people in line. It's perhaps even one's own brainwashed neighbors, co-workers, bosses, banks and children that will act as the regime's enforcers.
There's a post at Frontpage Mag that, while admirable, is just so damned naive as to be irritating:
This letter is an urgent call for America's 20 million military veterans and veterans organizations to actively speak out against the "forces" wanting to change America into a Marxist, communist-like state. As explained below, this is a significant national security issue in which America's veterans need to become very actively involved.

The "forces" are nothing less than domestic enemies of America's cherished Constitution and individual liberties such as freedom of speech, freedom of religion, and the Second Amendment. If the forces are left undefeated, future recruitments of young Americans into the nation's Armed Forces will undoubtedly suffer, perhaps greatly suffer.

Today, the weapon of choice of the forces is Critical Race Theory (CRT). Simply stated, CRT is nothing more than a derivation of Marxist, communist ideology wherein a person's race rather than a person's class -- i. e., working class versus managerial/owner class -- is the basis for struggle and conflict. Rather than unite Americans of all races into a strong, vibrant nation, CRT strives to divide Americans and keep them divided into different racial groups in conflict with one another . . .

. . . A very important and needed action for veterans and veterans organizations is to attend local school board meetings as a group of concerned veterans. As a show of force, their spokesperson would ask his/her fellow veterans to briefly stand (sitting together if possible).

The spokesperson would then explain how the teachings of CRT will undoubtedly have detrimental effects on future recruitment efforts for America's Army, Navy, Air Force, Marines, and Coast Guard. Among other reasons, fewer young people will be willing to serve in the military (and put their lives at risk) for a nation that they have been indoctrinated to believe is overly racist; where oppressors (white people) are constantly oppressing the oppressed (black people/other minorities). The spokesperson should say that such indoctrination must stop, and if it does not stop, then America has a significant national security issue.
Aside from the fact that the author, an officer and Vietnam vet, essentially is calling for nothing more than the equivalent of a strongly worded letter to the New York Times, he bemoans the fact that CRT in schools will have a detrimental effect on military recruitment -- totally ignoring what dictionary-definition TRAITORS like Vanilli Milley are now imposing on those already in uniform and its ultimate endgame.
Nearly 50 years ago, Bill Ayers talked about having to annihilate roughly 25 million people who refused to be "re-educated" after the Weathermen and Black Panthers overthrew the United States and imposed a Marxist-Leninist dictatorship. Alarming as it was, it was nothing more than a Marxist's wet dream. But with what is happening right now on direct orders from the Pentagon and the commander-in-chief (whoever it is because Biden is just not in his right mind), it won't be the terrorist cadres of BLM and Antifa doing the annihilating. Soldiers wearing the uniform of the US military are going to be the ones making Ayers' dream a reality. Mark my words because this is where we are headed. And no amount of touchy-feely happy talk and peaceful protest is going to stop it. Hell, our peaceful protest has now been defined as "white supremacist" hate speech and "insurrection." And the DoD and DoJ have identified "white supremacy" as the number one national security threat to "our sacred democracy" (spit).
And see Julie Kelly's report with confirmation that January 6th was indeed a setup involving the DC cops along with BLM/Antifa and at the behest of top Democrat leadership.
The time for talk is over.


ABOVE THE FOLD, BREAKING, NOTEWORTHY
CHINESE CORONAVIRUS FICTIONS, FACTS AND AMERICA IMPRISONED
NOTE: The opinions expressed in some links may or may not reflect my own. I include them because of their relevance to the discussion of a particular issue.
ALSO: The Morning Report is cross-posted at CutJibNewsletter.com if you want to continue the conversation all day.
Follow us on Twitter: @CutJibNews
Follow us on Instagram:@Cutjibnewsletter

posted by J.J. Sefton at
07:44 AM
|
Access Comments