« Jen Psaki: It's Really Republicans Who Are Defunding the Police Because They Won't Pass Our $2 Trillion "Human Infrastructure" Plan
|
Main
|
Insurrectionist Cafe: Themeless Theme Edition »
June 28, 2021
Quick Hits: Learn to Code Edition
Rebekah Sanders
@RebekahLSanders

Journalism jobs have disappeared faster than coal miners, according to the Department of Labor.



Chase Hunter B.

@Chase_HunterB


Replying to @RebekahLSanders


I know people don't generally like journalists, but what other industry could suffer job losses of this magnitude due to a corporate buyout and not get any attention or concern from the public?
Concern? Dude, I just came.
***
Elderly Groot gets pissy when a Newsmax reporter asks her why she's not talking about the living nightmare of violent crime she's permitted to happen in Chicago.
***
Nike CEO: "Nike is a brand of China and for China."
Nike CEO John Donahoe called the sportswear apparel giant a "brand of China" this week, following a fiasco it was involved in earlier this year over concerns about human rights abuses committed by the communist government.


During an earnings call this week, Donahoe explained that Nike had a long-term view of its operations in China, where it had been operating for about four decades.

"We are the largest sport brand there, and we are a brand of China and for China," Donahoe said. "And the biggest asset we have in China is the consumer equity. Consumers feel a strong, deep connection to the NIKE, Jordan and Converse brands in China. And it's real."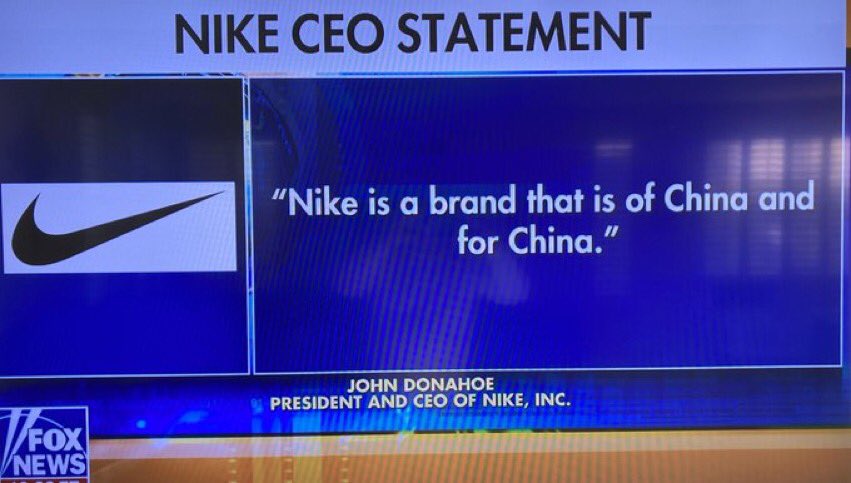 CoRpOrAtIoNz ArE oUr FrEnZ.

Disney's new #StarWoke showrunner says Star Wars is and should be all about politics, that representation is the most important thing in Star Wars (it makes her cry!), that queer representation is even more important, and that fans' opinions don't matter.
Oh and she's Harvey Weinstein's former personal assistant.
CoRpOrAtIoNz ArE oUr FrEnZ.
And in case you missed it -- the actress they chose for the race-swapped (of course) Snow White has repeatedly attempted cancelling other Disney actors, like Jeremy Renner and Gina Carano, and also says that all Republicans are white supremacists.
Hey make sure you sign up for DisneyPlus.
CoRpOrAtIoNz ArE oUr FrEnZ.
Dungeons & Dragons goes woke. Actually it's been woke for a few years. They were early on the transgender train.
CoRpOrAtIoNz ArE oUr FrEnZ.
***
Gallup Poll: 57% of Republicans think, correctly, that the pandemic is over.
Only 4% of Democrats do. Party of Science, y'all.
35% of Independents think it's over. We'll see which way they wind up tipping.
And a Scott Rasmussen poll finds that 57% of the public believes that US government officials actively tried to cover up the lab leak theory.
Fifty-seven percent (57%) of voters think it's likely that U.S. government officials actively tried to cover-up the possibility that the coronavirus was created in a Wuhan, China, Laboratory. A Scott Rasmussen national survey found that 26% consider it unlikely and 17% are not sure.

That total includes 35% who say it's Very Likely and 11% who think it's Not at All Likely.

Seventy-four percent (74%) of Republicans consider a cover-up to be at least somewhat likely. Independent voters, by a 52% to 22% margin, tend to agree. Democrats are more evenly divided: 45% believe U.S. government officials actively engaged in a cover-up while 39% disagree.

The survey also found that 56% of all voters think it's likely that the Chinese government intentionally created the coronavirus as a biological weapon. Twenty-nine percent (29%) disagree and 16% are not sure.
That last belief -- that the Chinese deliberately created the weapon as a virus -- is very possible. Obviously, making viruses into superviruses is a dual-use technology at best. By which I mean, even if you can actually create vaccines in anticipation of the superviruses you yourself are creating, obviously, the militarization of the superviruses is a much more direct play.
And I say this is a "dual-use technology at best" because I think it's still a very open question whether or not we will create superviruses, and then create vaccines for them, and then happen upon a genetic twin of the supervirus we created evolving naturally in nature and infecting people.
Seriously-- what are the odds, do you think, that we'll have even one of those types of very unlikely hits? That we just happen to use gain-of-function genetic swapping to create a virus, then create a vaccine for it, and then nature just happens to follow the same pathways to create the exact (or near-exact) supervirus we made in a lab?
Why don't any journalists ask about that? Sure seems like drawing to an inside straight flush.
Between that unlikely series of events and a lab leak of a supervirus -- or the Chinese deploying the supervirus as a weapon -- I'd say the "create a supervirus then cure it in case nature also creates the same virus" possibility is the least likely.
Oh well shut up don't think trust the science government-dole scientists.
***
We made a huge mistake venerating the military-- as an institution. As a government organization.
I don't mean this about individual members.
But I do mean it about the institutions themselves.
Hell, I think even respecting them (as an institution) might have been a mistake. Obviously I respect soldiers -- but the brass are incompetent and increasingly talking like socialist dictators.
And maybe, when someone tells you who they are, we should listen.
***
Guy says he's Korean because he identifies as Korean.
And he got the "top surgery" -- making his eyes slanted, and raising his cheekbones -- to "confirm" his racial identity.
***
Interesting defense tactic. Ronnie O'Neal, defending himself because his lawyers are crap and out to get him, offers an intriguing gambit in the closing statement in his murder trial: Admitting he did kill the woman.
I guess this will increase his credibility as to the rest of his case.
Here's his masterful closing, in context, so you can really appreciate the 11 dimensional Law Chess he's playing here:
***
Portland Police: Don't "protest," the guy we shot is white, so his life doesn't matter.

Welcome to beautiful Portland.


posted by Ace at
06:33 PM
|
Access Comments