« Daily Tech News 25 June 2021
|
Main
|
Mid-Morning Art Thread »
June 25, 2021
The Morning Report - 6/25/21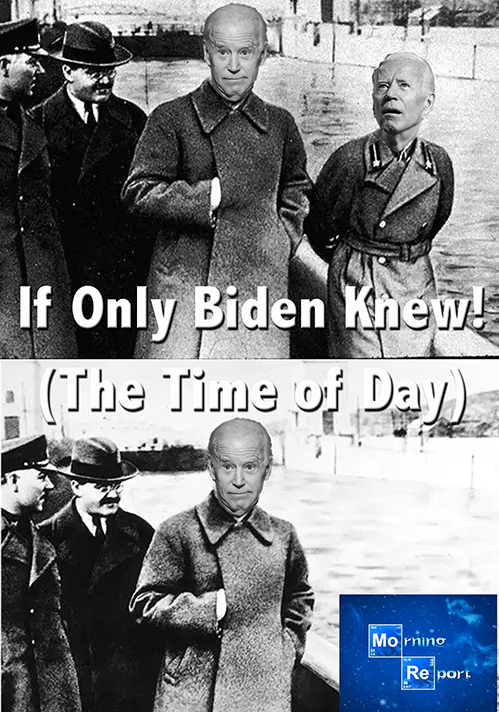 Good morning kids. The weekend is here and right up front is the horrific Miami condo collapse which happened just as we were going to press. There is one confirmed dead and upwards of 99 people are still missing. Florida Governor Ron DeSantis has declared a state of emergency and I imagine frantic rescue efforts are ongoing which, going forward may sadly turn into a recovery effort. From what I can gather, this doesn't appear to be an act of terrorism, but no doubt investigators are already on scene to determine just what happened. Until then, prayers for the victims, loved ones and everyone affected.
Meanwhile, the struggle between what's left of America as founded and Mirror Universe Amerika continues. I've already said my peace about Mark "Vanilli" Milley, who lip synchs his oath to defend the Constitution while indoctrinating the troops with anti-Constitutional poison cooked up in the capitals of our sworn enemies. That, to me, is dictionary-definition treason. But who's going to arrest the filthy son of a bitch? He may be a disgrace to the uniform but he's the one giving the orders from on high. And when I say on high, I mean a criminal, gibbering, geriatric patient who may not know the time of day, but flash billions in lucre or a pubescent tweener's training bra at him and believe you me, he knows what side the bread is buttered on for sure.
So, supposedly a bipartisan (yay!) deal was struck on infrastructure. Notice the stupid/stooge party is all happy with themselves, and yet Joey Aqualung still has the presence of mind, such as it is to pull the rug out from under them:
[So-called quote-unquote "president"] Joe Biden said Thursday he would not sign a bipartisan infrastructure deal with moderate Republican senators without an additional partisan funding package for entitlements.

"I control that. If they don't come, I'm not signing it. Real simple," Biden said, when reporters asked how he planned to get both measures through Congress at the same time.

Biden spoke to reporters after he met with moderate Senate Republicans and Democrats and announced a deal on infrastructure. But he also promised the more leftist Democrats that he would pursue a partisan budget reconciliation bill to fund more entitlements "promptly and in tandem" with his infrastructure deal with Republicans.

"We need physical infrastructure, but we also need the human infrastructure as well," Biden said, adding that, "We're going to have to do that through the budget process and we need a fair tax system to pay for it all." Biden requested an additional $1.8 trillion in funding from Congress to fund entitlements such as free community college, free childcare, and free universal preschool.

When asked how he would aid families while they were waiting for both bills to pass, Biden leaned into the microphone and whispered hoarsely. "I got them $1.9 trillion in relief so far. They're going to be getting checks in the mail that are consequential," he said.
Meanwhile, the GOP is about to get snookered, or more likely knows exactly what they're doing:
As part of the agreement, Republicans stripped out the non-infrastructure requests, such as nearly $1 trillion in corporate subsidies and $400 billion for long-term care. These Republicans can ensure the 60 votes necessary to pass the Senate without a filibuster.

However, there is a catch. Democrats are still allowed to pass at least one more reconciliation bill this year -- a bill that cannot be filibustered and can therefore pass the Senate with only the 50 Democratic votes. Reconciliation bills are usually limited to one per year, but Democrats were allowed a second bill this year because last year's Senate Republican majority did not pass one (and it is possible that a budget law technicality could allow additional reconciliation bills).

So what is to stop Senate Democrats from passing the rest of the $4 trillion infrastructure package themselves through reconciliation? Republicans provide bipartisan cover for the first $580 billion, even agreeing to new tax revenues, and then all the other taxes and extraneous spending that Republicans worked to strip from this package would simply be passed by Democrats in a party-line vote shortly thereafter.

In fact, Biden and Democrats are openly bragging about this bait-and-switch.
I don't know why I'm getting my undies in a bundle over this, considering all the madness going on around us. The GOP expects us to cheer them for stopping H.R.-1 (for now) but as I said, it was not so much to save us from institutionalized permanent election-rigging. It was for them to protect their access to the trough. No need for a phony baloney "opposition" party if the Dems can just win it all every 2-4 years, now is there? The fact of the matter is every single elected Republican in this nation, from dog-catcher right on up to the Senate and the House should have as his or her stated goal the dismantling of as much of the government bureaucracy as possible - not ways to spend more money, supposedly under the sham excuse of "being better managers." Oh well. As an old boss and mentor of mine in Hollywood used to say "you can fuck it, you can suck it, but it is what it is." At one point, the whole shithouse has to collapse in a Cloward-Piven heap of destruction. At the rate we're going, that's going to be sooner rather than later and frankly, maybe that's what needs to happen. And to all the dick-less trolls infecting the comments section who think it will bring about their wet dream glorious Communist paradise on earth here in the former United States, think again. You're in for a rude awakening.
Wasn't sure how I was going to do it but Daniel Greenfield's outstanding piece in Frontpage Mag this morning encapsulates perfectly the mentality - or lack thereof - of the aforementioned dick-less and tragically mindless trolls out there.
Barack Obama turns 60 over the summer. The AARP cover with Barry posing next to a basketball and a shelf of bestselling non-fiction books he hasn't read can't be too far away.

Once the symbol of youthful hipness, the former boss of Hope and Change now lectures "young people" on what they should be doing. His legacy is being carried forward by 78-year-old Biden and the 81-year-old Pelosi. That's above the average age of 80 of the House Dem leadership.

The average age of the Biden cabinet is two years older than President Trump's cabinet.

The gerontocratic technocracy uses AOC as its younger foil, but she's been a stalking horse for Bernie Sanders who will hit the big 80 in the fall. The big donors behind the American Left are even older with George Soros due to hit 90 the same month Obama gets to 60. The even bigger reservoirs of cash flowing into the leftist machine are coming from the foundations of men who were born in the 19th century like Henry Ford, John D. MacArthur, and John D. Rockefeller.

That's about right for a 19th century ideology whose followers keep trying to make it look young.

Youthful leftism is anarchic. It's CHAZ, BLM, and Antifa. It's open air heroin markets, smashed store windows, and political assassinations. Turning that anarchy into collectivism requires hysterical propaganda and rallies that appear anarchic, but are actually tightly controlled, ideas that seem edgy, but are actually the work of men who were born during the age of steam.

If you think Bernie's old, Karl Marx celebrated his 203rd birthday in May.

Obama's policies have aged as badly as Marx, Biden, or their front man. But instead of moderating as they grow older, they only grow more radical. Obama equivocated on gay marriage, while Biden entirely erases the existence of women by calling them "birthing people". Obama covertly weaponized the government against conservatives, while Biden is doing it openly. Everything from election rigging through H.R.1 to indoctrinating every government employee with critical race theory is happening more openly and blatantly under Biden.

Youthful leftist revolutions break the system while leftist gerentocrats impose the tyranny . . .

. . . As Obama gets closer to his AARP cover, a generation lives in the world that he made.

Like Obama, his radical political movement speaks endlessly about the past, but has no actual past. Its past is always being reinvented and retold through new narratives, but with no facts.

The Obama revolution has come and gone. We have skipped past it to the Soviet Union of Chernenko and Andropov, of gerontocrats building the tyranny with the beams of revolution. The decline is everywhere as the theories fail, the factories close, and the stores stand empty.

The youth are being rallied to cheer for the revolutionary tyranny of Joe Biden, Nancy Pelosi, and Chuck Schumer who are promising a new era in history no one believes in anymore. Since the election their cause is no longer free college, it's federalizing elections through H.R.1.

Federalizing elections, eliminating the filibuster, and packing the Supreme Court are compelling issues in Washington D.C., but the regime plotting new coups has little to say to the ordinary people facing high prices for gas and bread. Land, Bread, and Peace has given way to a race for total power over the country as the revolution of Hope, Crisis and Change comes of age.
Read the whole thing. And, naturally, weep. While Greenfield's observation that the youth movement is overthrowing 2,000 years of advancement to empower geriatric dictators, that really isn't topsy-turvy world at all. In fact, that's how it's always been when totalitarian regimes take over. Vanilli Milley may be evil, but he's no dope. Once all of us "white supremacist insurrectionist terrorists" are neutralized, the very first people rounded up and "dealt with" will be the cadres of BLM, Antifa and the loudmouth leaders on campuses. "If only Biden knew!" they'll shriek as they're all shot into mass graves. If only Biden knew the time of day. But as I said up top, he sure as hell is aware of what side the bread is buttered.
Still, even with all of that, there is reason for hope, given the utter revulsion at Crackpot Disgrace Theory where it counts; in the school and community boards. There is pushback happening and if you can see past the lead-lined iron curtain of propaganda media censorship and disinformation, I'd wager it's bigger than we know. It just needs a spark to break out and spread.
1. More and more counties across the country are passing resolutions as first steps to secede from home state governments that have become too oppressive. A proposed bill by a state senator from Roswell is pushing for several New Mexico counties to become part of Texas. Seven counties in Oregon have voted to secede and become part of Idaho. Citizens of Weld County, Colorado are thinking of joining Wyoming, and counties in western Minnesota have proposed leaving for South Dakota. What was once merely a dream of northern Californians to break away from Democrats by forming the new state of Jefferson has turned into a national movement. And after years of actively trying to secede from dark blue cities, even neighborhoods are redoubling their efforts . . .

2. Because the federal government has failed in its duty to protect American lives and property and seems intent on creating the worst border crisis since the Mexican-American War, Arizona and Texas bypassed the feds on June 10 and sent distress call seeking help from any state willing to engage hostile forces waging war against American citizens . . .

3. . . The Department of Justice has made it clear that it is more interested in punishing Americans for uncovering vote fraud than in punishing Americans for committing vote fraud. Intimidating Americans to cover up past crimes sounds a lot like aiding and abetting criminal activity, and Arizona wasted no time making that plain to the feds. State senator (and former fighter pilot) Wendy Rogers fired back: "You will not touch Arizona ballots or machines unless you want to spend time in an Arizona prison." Then, just to make sure she had hit the target, she added, "Maybe you should focus on stopping terrorism. The Justice Department is one of the most corrupt institutions in the USA". . .
On those and a couple of others linked in the essay, we end on a positive note. Have a good weekend.
ABOVE THE FOLD, BREAKING, NOTEWORTHY
CIVIL WAR 2.0: LEFTIST PERSECUTIONS, CAPITOL HILL BLACK WEDNESDAY PROTEST AFTERMATH, DEMOCRAT PUTSCH, AMERICAN DISSOLUTION
NOTE: The opinions expressed in some links may or may not reflect my own. I include them because of their relevance to the discussion of a particular issue.
ALSO: The Morning Report is cross-posted at CutJibNewsletter.com if you want to continue the conversation all day.
Follow us on Twitter: @CutJibNews
Follow us on Instagram:@Cutjibnewsletter

posted by J.J. Sefton at
07:40 AM
|
Access Comments