« Republican Senators Block Democrats' Attempt to Nationalize Elections and Make the Corrupt, Rigged 2020 Voting Rules the Rules Forever
|
Main
|
WTF »
June 23, 2021
Quick Hits: The "Where's the Beef?" Caucus Edition
Can't you just feel Juneteenth healing the nation's racial wounds already?
Thanks John Cornyn!

The gay NFL player is being canceled by the left, because he's a Republican. (Or so they claim -- I have no idea. Personally, I canceled the #WokeFL out of my life six or seven years ago.)
A very, very effeminate man explains that there was no concept of gender anywhere in the world until White Supremacist Europeans invented it.
Until then, no one knew there were two sexes!
One gets the sense that he's rehearsed this speech a lot.
For arguments with his Dad.

Disney picked another winner! Their new Snow White is not only race-bent, but is also an SJW extremist who has called for the cancellation of both Jeremy Renner and Gina Carano, and J.K. Rowling, and also says all conservatives are racists and white supremacists.
This is who Disney cast to play Snow White. Rachel Zegler says:

* Cancel Jeremy Renner calling him a transphobic racist.

* Deplatform JK Rowling & encourage violence towards her.

* Bullying of Gina Carano over pronouns.

* Says all conservatives are racist white supremacists.
See this nasty piece of work's constant attempts to ruin people's lives here, and in the two subsequent posts.
She has therefore attempted to cancel not one but two main actors in absolutely critical Disney franchises -- the MCU and Star Wars' only successful project, the Mandalorian -- and repeatedly insults half of Disney's adult audience.
So of course it's time to give her a big check!
I expect the Conservative, Inc. media to ride to her rescue any moment now, even though 1) she's a bitchy, bullying practitioner of cancel culture herself, and 2), Conservative, Inc. never defends conservatives.
In more great news for Disney, the 78-year-old Harrison Ford injured his shoulder rehearsing a fight sequence for the presumably-woke-feminist Indiana Jones 5.
Supposedly production will go forward, shooting around Harrison's injury.
@guypbenson Ellie Kemper had to issue a groveling apology because she won a pageant crown in 1999 from a group that was segregated decades prior.

Sheldon Whitehouse belongs to a club that is *still all-white TODAY* (after promising to quit years ago) & his response is "it's a tradition.
National Review continues its pathetic tradition of being six months to four years behind the truth:
This made me literally laugh out loud:
For those of you who are, like me, far too young to appreciate that reference, it's from a 1984 ad, which Andy McCarthy is just hearing about now.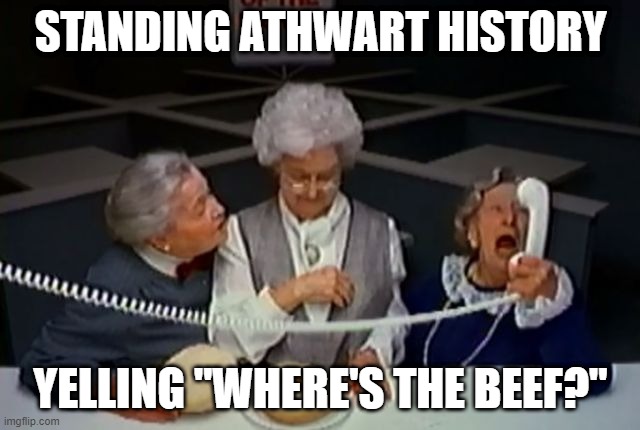 Do we really need National Review to let us know, retrospectively, that we were right six years ago? All the while between then and now, of course, with National Review's chorus of c*ckolds insisting that we were Bad Racist Bad for holding what turned out to be the correct view?


posted by Ace at
03:40 PM
|
Access Comments