« Daily Tech News 21 June 2021
|
Main
|
Mid-Morning Art Thread »
June 21, 2021
The Morning Report - 6/21/21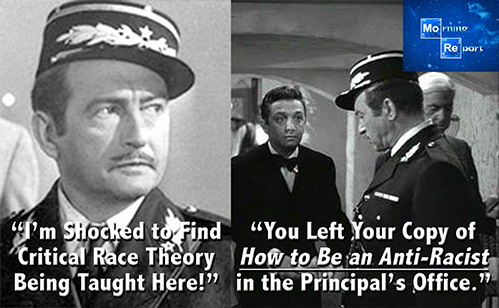 Good morning kids. Start of a new week and summer. Crime waves, race riots, political riots, anti-Semitism, government persecution of political opponents, mass PTSD inflicted by said government via the ginning up of fear over a Chinese-originated virus as a means to subvert the Constitution, mass-indoctrination everywhere in Crackpot Disg-Race Theory, and on and on. Yup, "hot fun in the summertime!" here in the land of the freebie and the home of the enslaved, just in time for us to celebrate July 4th, Independence Day. That is if we will be allowed to celebrate it instead of say "Gay Pride," "Juneteenth" and "Indigenous Peoples' Day."
A New Jersey Board of Education in Randolph, N.J. removed Columbus Day from their school's calendar and replaced it with "Indigenous Peoples Day." They did so to be inclusive, and without publicizing that this change was being contemplated. Two minutes were given to the matter.

When word got out, a furor ensued among the community, including Italian-Americans and members of the Knights of Columbus. Many spoke is protest at the next BoE meeting. Here is one such protest:

"It's been 529 years since Columbus found a new world. Now, you want to remove his memory, but are not exactly clear why. You reported acting because other places have done so. Really? What is clear is that in the half a millennia that since passed, we've lost much of what he did, what he looked like, or even where he's buried.

We all know that the squeaky wheel gets the grease. Social Media has given a huge megaphone to those who previously stood on soap boxes. They find others and together demand cancellation of whatever. Surrender incites the mob to ever more extreme demands. I speak today because someday, they will come for me. . .

. . .Replacing Columbus to celebrate the Indigenous might be seen as Red skin being preferred to the 'almost black' skin of Mediterranean Peoples like Spanish and Italian. My many Italian friends have told me it insults all of them. They feel Columbus and his explorations exemplify their rich history, as Saint Patrick does for the Irish. Lowering the Italians will not raise the indigenous.

An Italian declared crossing the Rubicon important. The Randolph Board of Education should consider whether removing Columbus reflects: scholarship, a lessening of knowledge, or a Politically Correct bashing of America and its idols out of fear. I do hope you reverse your decision. Thank you."

Here's the next part of the story. Immediately after the last speaker sat down, the Board of Education considered what they had heard from the community. They thought the feedback valuable. It then voted to remove all mention of any holiday, replacing all with "Day Off." Christmas, Martin Luther King, Memorial Day... all will be known as "Day Off."

The members of the audience were stunned. The audio of the meeting has members shouting, "What is happening?" What did you just do?"

News of this decision exploded, locally and nationally, reaching even England and India.

A special meeting of the Randolph, NJ Board of Education has been called. It is anticipated that even more of the community will attend.
As I have been saying over the past few weeks, there is a palpable sense of disgust as well as anger at what is being done to us. Look at the official reaction from the Democrat-Propaganda Complex at our vocal disgust with this Crackpot Disg-Race Theory. You take the most flak when you're directly over the target and when none other than vermin like Bro-Fo Omar/Nur/Burqawitz/Ikeeelyou are claiming:
"Republicans love to create outrage over things that aren't actually happening. People should be asking them, what elementary, middle and high school is teaching Critical Race Theory and why they are spinning false narratives."
You know that someone just turned on a floodlight in the kitchen and the cockroaches are scattering like flushed quail. So, it's all a Republican conspiracy theory eh? Pray tell, what the hell is going on in this Rhode Island school?
A group of Rhode Island teachers in favor of implementing critical race theory in their schools offered extra credit to their students who agreed to testify on an anti-critical race theory state bill.

Documents obtained by Parents Defending Education show that at least two educators across different departments at Barrington High School in Barrington, Rhode Island offered five extra points to students to be used on their next exams if they chose to verbally testify or offer a written comment on the legislation. E-mails also show the educators praised students who chose to submit testimony.
"C'mon, J.J.," I can hear Proud Momzer typing from his Soros crib sheet. "That's just a one-off, if it's even a real story and not a figment of Reich-wing media!" Well, maybe he's right. It's a one-off in one school. Just like it's a one-off in just one US Navy:
As he assumed the office of Chief of Naval Operations, Admiral Michael Gilday announced that he wanted to change the Navy. While the title of his remarks in the video you see here below was: "One Team, One Navy," its actual message was racist and divisive. His bottom line: only "conversations" about race would help. The "conversations" he referred to were in fact a lecture from America's most popular and fact-challenged racist du jour, Ibram X. Kendi.

The "conversation" included "shared" videos of naval personnel claiming that America was racist and that they were angry. "Being African-American in America is not fun," an aviation technician claimed, especially no doubt for a two-term African-American president who pocketed $100 million for the skillful exploitation of his public office.

There was no word on whether being African in Somalia, Sudan, and Nigeria is any more "fun" than being black in America or whether being a Somalian hater of Jews and America might put you on the House Foreign Affairs Committee and get you protected by Speaker Nancy Pelosi and the leadership of the Democrat Party.

In keeping with Gilday's efforts to divide the Navy by race, an official Navy video endorsed the Marxist organization Black Lives Matter and denounced police for the death of drug-dealer-accomplice Breonna Taylor, who was shot resisting arrest when her boyfriend triggered a hailstorm of bullets after shooting and wounding a police officer doing his job. Bottom line of the video: naval recruits and officers need to hate their "white supremacist" country and question their service. . .

. . .If Gilday weren't weak, he wouldn't be occupying his current position over the heads of more qualified admirals. And if those admirals had shown a willingness to stand up to the purgers, then the entire Navy wouldn't be subjected to woke witch-hunts and what the Chinese Communists refer to as "struggle sessions."

Even before the Navy confronts Communist China or Jihadist Iran, it's under attack from their anti-American leftist allies in this country. The enemy is inside the military and waging psychological war on its own country.

Gilday, like the rest of the woke military leaders, is a pathetic figure who has dispensed with his oath of allegiance and has sworn a woke oath to anti-white race theory. He has pledged his service to racist ideas, like those of Ibram X. Kendi, who will forever despise him on account of his skin color.

And as a reward for his treason, he hopes to be left alone long enough to retire as a lobbyist.
On a not entirely unrelated note, I feel bad for the poor Leftists this morning. The joyous occasion of a white man plowing into a group of Gay Pride celebrants in Fort Lauderdale turned tragic when it was revealed that not only was it an accident but that the driver was evidently a fellow celebrant. I cannot imagine the grief at not being able to proclaim this an act of white supremacist terrorism. The horror. It's cold comfort that the media will claim that even though it was an accident, white supremacists everywhere were cheering, passing out candy and ululating, and that, after all, is the real story from this incident. As a way to lift their spirits, be sure to torch a synagogue or church and sucker punch a few Hassidim and elderly Asian people who dare show themselves in public as your expression of peace, love, understanding and tolerance that is the hallmark of Leftists.


ABOVE THE FOLD, BREAKING, NOTEWORTHY
CIVIL WAR 2.0: LEFTIST PERSECUTIONS, CAPITOL HILL BLACK WEDNESDAY PROTEST AFTERMATH, DEMOCRAT PUTSCH, AMERICAN DISSOLUTION
NOTE: The opinions expressed in some links may or may not reflect my own. I include them because of their relevance to the discussion of a particular issue.
ALSO: The Morning Report is cross-posted at CutJibNewsletter.com if you want to continue the conversation all day.
Follow us on Twitter: @CutJibNews
Follow us on Instagram:@Cutjibnewsletter


posted by J.J. Sefton at
07:09 AM
|
Access Comments