« Rumor: China's Chief of Counter-Espionage Has Defected to the West
Per Rumor, He's the One Who Alerted the West to China's Culpability in Releasing the Chinese Virus
|
Main
|
The Permanent "State of Emergency" In Blue States & Who Is Really "A Threat To Democracy" »
June 18, 2021
The Media is Dying and They're Demanding The State Censor The Competition That Is Killing Them
Joe Rogan roasted Tater for being a hack and having no ratings. They silent-out the curses so that audio sounds rough.
There's a reason for Rogan's anger: CNN is doing what the media often does, which is attempting to get their social media monopolist friends to ban their competition.
CNN's ratings are cratering, and Stelter was complaining that some mere YouTubers get better ratings than CNN.
In the latest episode of "The Joe Rogan Experience," the podcaster trashed Stelter for having complained about YouTube personalities like him getting more viewers than CNN "as if it was some horrible thing."

"They were describing it as if they're entitled to viewers," Rogan, 53, noted of a panel discussion on Stelter's "Reliable Sources" in January.

"This is because the market has spoken and your show's f--ing terrible," the UFC commentator said, not holding back any punches.

"Brian Stelter's show keeps slipping and slipping and slipping in the ratings," said Rogan, whose show has had hundreds of millions of views on YouTube and regularly leads the podcast charts.
That's not just a mere complaint. That is laying the groundwork for the next organized, coordinated legacy media attack on alternative media.
Rogan understands Tater's agenda: He wants to provoke another "Adpocalypse," panicking corporations away from daring to advertise on alternative media.
The media has been losing ad revenue to alternative media and periodically runs scare stories about alternative media to get advertisers to abandon them and spend money on dying outlets like CNN, and to get the tech monopolies to hamstring alternative media with bannings and more censorship.
They've been running the same script for six years. Remember when the Wall Street Journal ran a hit piece against the world's biggest YouTuber PewDiePie? That was animated by the fact that the legacy media is bleeding ad revenue.
Since then, the legacy media has run fear-mongering hitpieces against podcasts -- why, they're unregulated! Why, podcasters can say just anything without layers of corporate control censoring them!
They even ran panic porn about the growing dangers of unmoderated chat software like Clubhouse!
We can't allow anyone to say just anything, without a state-connected corporate censorship structure "moderating" them!
Anything that threatens to drain further viewers and further ad dollars away from them, they start ginning up a case for deplatforming, forced censorship, and embargo by advertisers.

They aim to make any media model that differs from their own illegal.
Here's how the script always goes:
1. A pro-censorship, pro-deplatforming outlet, often CNN, begins laying the predicate that "something is wrong here."
2. CNN begins writing stories about the "dangers" of permitting their competition to just... speak as they like.
3. Fake internet "researchers" begin making charts, with almost no methodology behind them, except the desire to link A to Z, that purport to show that Tim Pool is "connected" to Richard Spencer, and that the Fandom Menace -- a group of people who, get this, think Disney Star Wars is trash -- is "linked" to White Supremacy.
The conclusion of these "studies" will be that if people listen to Joe Rogan, we'll have more January 6 Four Hour Insurrections, and since that was the most tragic event in all of human history, we must do everything to stop it.
4. More respectable outlets than CNN begin writing about these "studies." Liberals know nothing about science so they don't question the methodology of building these lunatic "this connects to this, and this links to that" Conspiracy Charts.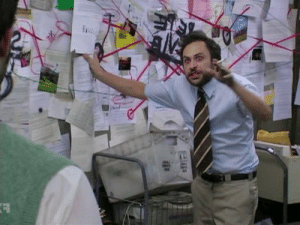 Liberals take any chart they don't understand to be an example of "The Science."
5. Now CNN assigns its Chief Deplatforming Officer Oliver Darcy to begin writing stories pressuring corporations to stop running advertising on the channel, pressuring their tech monopolist partners to limit and censor the channel, and asking hyperpartisan, pro-censorship Democrats if it's time to pass laws outlawing these channels.
6. The tech monopolies, now feeling pressure from corporations and threats of interference from state actors, do what they probably wanted to do anyway, and begin banning/limiting the channels the leftwing doesn't like.
And step 7:
7. Despite the fact that threats from the state contributed to the censorship by alleged "private corporations," NeverTrump and Conservative, Inc. say that the sovereignty of the tech monopolies must never be challenged and we must respect their completely-voluntary choice to censor alternative media. Which just happens to be a competitor of NeverTrump and Conservative, Inc. media as well.
In other words, they benefit personally, politically, and pecuniarily from these censorship campaigns just as the leftwing does, and support these censorship drives for the same craven, mercenary, disgusting reasons.
Remember, we have to "protect the public" from "disinformation," and force them to watch "real news."
"Real news," like CNN.
CNN, which suggested that the Indonesian airline was destroyed by a black hole.
Real news like that.
Tater has reason to push this agenda. I mean, apart from Jeff Zucker ordering him to.
He needs the competition to be outlawed more than almost anyone.
His ratings have fallen 72 percent, though that's dated from a high point, the week of the Four Hour Insurrection.
If your insurrection lasts longer than four hours, contact a doctor, or a hooker.
And it's not just xhim.
Former Bush communications director Niccole Wallace -- who has, shockingly for a Bushie, turned out to be a virulent, hyperpartisan lefty -- sees her ratings in the key demographic fall eighty percent -- that's right, an eight followed by an -y percent -- since His Fraudulence was corruptly installed.
Few cable hosts have suffered more from President Donald Trump leaving office than MSNBC's Nicolle Wallace.

According to analytics provided by Nielsen Media Research, Wallace's 4 p.m. show Deadline: White House has seen a nearly 80 percent drop in viewership since January 2021 in the critical 25-54 demographic. At the end of May, just 147,000 non-geriatrics above the age of 25 tuned into her two-hour MSNBC program per day.

Although Wallace has worked hard to channel her previous experience as a White House press secretary into her role as an unofficial spokesperson for the Democratic Party, the results have been abysmal with a Democrat in the White House. Her total viewership in the month of May is less than half of her total viewership in January.

You also might like to know that Nickelodeon's ratings have crashed since they began pushing homosexuality and drag queens to children all the time.
Pirates and Princesses, a Disney insider-gossip channel, says (and I believe this is an unconfirmed rumor) that Nickelodeon's viewership has dropped from 1.3 million average viewers per week in 2017 to 372,000 today. That's about a drop of seventy two percent.
Wow, if that's true, they're almost doing as poorly as Niccole Wallace!
By the way, Pirates and Princesses also reports that the box office failure of the woke In the Heights has Disney worried about its woke, race-swapped Little Mermaid live-action remake. And which also has songs written by the fading Lin-Manuel Miranda, who wrote In the Heights.
And what is the dying media doing to reverse their decline, besides attempting to force viewers to watch them by outlawing their competition?
Why, by running hard-hitting investigative pieces that demonstrate their importance.
Like this likely Pulitzer short-lister, from MSNBC:
By the way: FaceBook, of course, coordinated with a government official, Anthony Fauci, to cover up his likely role in the pandemic and censor anyone pointing it out.
As Viva Frei and Robert Barnes point out: That makes FaceBook effectively a state actor here, and yes, the First Amendment does bar state actors from limiting free speech.

And of course, FaceBook appointed the Wuhan-connected virology researcher Peter Daszak to "fact"-check claims about the Wuhan Novel Respiratory Coronavirus Lab, which he was funding with US government funds, having possibly created the Wuhan Novel Respiratory Coronavirus.
The finding of this government-funded state actor? False!!!
And then FaceBook censored anyone contradicting the claims of this state actor.
Harmeet K. Dhillon is currently representing a man who was censored from FaceBook -- after FaceBook entered into a "partnership" with a Democrat official representing the state of California to reduce "disinformation."
Again, this is FaceBook acting as the enforcement arm of state censors. You're not a "private actor" when you "partner" up with the state.
But NeverTrump and the Conservative, Inc. media -- all taking money from AEI, the Chamber of Commerce, Google, and FaceBook -- will pretend they don't know about this and continue bleating "Muh Private Corporations (who just happen to also be Muh Private Donors)."

posted by Ace at
01:18 PM
|
Access Comments