« The Permanent "State of Emergency" In Blue States & Who Is Really "A Threat To Democracy"
|
Main
|
Take it back – The Rise of Neofederalism (Part 1) [Dave in Fla] »
June 18, 2021
Colorado Court Rules that the Much-Harassed Masterpiece Bake Shop Must Bake the Cake, Bigot
Colorado has permitted a serial vexatious litigant and tranny extremist to again sue Jack T. Phillips of the Masterpiece Bakeshop, despite him having vindicated his religious right to refuse to propagate the anti-Christian political messages of others at great expense to himself previously.
The courts have allowed this never-ending harassment -- this targeting of a Christian for his religious beliefs -- to go on and on and on and on, and now the court says that Phillips must bake a "gender transition cake," even though, of course, that's not a type of existing cake.
You wouldn't make that cake for anyone, because that's a type of cake that just doesn't exist-- until it was invented by a vindictive, axe-grinding harasser who is determined to force a Christian to contradict his beliefs.
Up to including praising Satan.
That's not an exaggeration.

Phillips has literally been fighting these kinds of bullying, anti-Christian lawsuits now for nearly ten years.
When Phillips was first sued by a gay couple, this vexatious transsexual extremist offered to take the place of the gay couple in carrying on the suit if they chose to bow out.
Phillips has been fighting these serial harassments from the Colorado Commission on civil rights, and this serial harasser since 2012.
Almost ten years. Almost ten years.
And still it continues.
And the transgender extremist, who admits he doesn't really want cakes but to change Phillips' mind through the power of never-ending, expensive lawsuits, threatened to immediately refile another lawsuit if this one is dismissed.
Phillips told Fox News that he was told "it was two colors, a color scheme, a combination, designed to celebrate a gender transition."

The customer, Autumn Scardina, an attorney, requested the cake in 2017 in honor of [HIS] gender transition. [NOTE: HIS GENDER REMAINS THE SAME AS IT WAS.]

"We told the customer, this caller, that this cake was a cake we couldn't create because of the message, the caller turned around and sued us," Phillips told Fox News. "This customer came to us intentionally to get us to create a cake or deny creating a cake that went against our religious beliefs."

He added: "This customer had been tracking our case for multiple years. This case was just a request to get us to fall into a trap."

Phillips told Fox News that in November 2020, he had a conversation with Scardina, who said "if the case were rejected or dismissed, that they would be back the next day to request another cake order and then sue me and charge me again."

First the transsexual, anti-Christian bigot asked over the phone to bake a cake that was pink inside, with blue frosting on the outside.
Phillips agreed to do so.
But that wasn't what this transexual harasser wanted. He didn't want the cake. He wanted Phillips to be forced to submit.
So then the transsexual harasser told him: The cake is for the purpose of celebrating my transgender expression.
Phillips was willing to bake this person a cake when it did not carry a political message that went against his religious teachings.
But getting him to endorse a political message against his religious teachings was the whole point -- so this transsexual had to tell him, oh, by the way, this cake has a message that offends your God.
Phillips then refused to bake the cake, bigot.
And then the vicious anti-Christian Satanist sued.
This tranny bully is, believe it or not, psychologically toxic.
In court, Scardina explained how at one point, while his discrimination claim was being processed by the state, he called the Christian cakeshop to request a custom cake that featured Satan smoking a joint, to test the store's repeated claims he would be treated just as anyone else.

"They indicated that I was welcome back in their shop and entitled to the same treatment as every other customer that telephones or comes through its doors," Scardina said. "I had filed the charge, I think, sometime in July. It's now sometime in late fall. Nothing had been done as far as I was aware, and once again here they are saying 'Sure, she's [sic] welcome back, and come on in, and we'll treat you just like everybody else.'"

Scardina continued.

I found it sort of offensive and wanted to see if that's true too. So I called and spoke with who I believed to be Mr. Phillips. He answered the phone this time. I think I indicated -- I asked: 'Do you serve religious cakes?' Because I noted in his several examples, they had nothing regarding religious cakes. Mr. Phillips indicated that he did. I asked him, 'Well, could you prepare a religious cake for me that had' -- I think a picture of Satan smoking a joint is the religious cake I asked for.

Pursuant to his religious faith, Phillips also refuses to bake cakes in celebration of Halloween.
Note the borderline mental retardation on display here: "Autumn" Scardina wants to prove that Phillips does not treat this bullying transsexual freak "just like anyone else."
He could prove this by ordering a normal cake -- just like everyone else.
Instead, he orders Satan cakes, which no one else orders (and note Phillips even refuses to provide Halloween cakes to anyone, likely due to the pagan/Satanic overtones), and then says, "He won't bake me a Satan cake, he's treating me differently!"
Um, who is he providing Satan cakes to?
And he was willing to provide you a custom cake -- until you taunted him that you were forcing him to endorse transgenderism.
His counsel at the Alliance Defending Freedom issued this statement:
"Jack Phillips serves all people but shouldn't be forced to create custom cakes with messages that violate his conscience. In this case, an activist attorney demanded Jack create custom cakes in order to 'test' Jack and 'correct the errors' of his thinking, and the activist even threatened to sue Jack again if the case is dismissed for any reason. Radical activists and government officials are targeting artists like Jack because they won't promote messages on marriage and sexuality that violate their core convictions. This case and others--including the case of floral artist Barronelle Stutzman, whose petition is pending before the U.S. Supreme Court--represents a disturbing trend: the weaponization of our justice system to ruin those with whom the activists disagree. The harassment of people like Jack and Barronelle has been occurring for nearly a decade and must stop. We will appeal this decision and continue to defend the freedom of all Americans to peacefully live and work according to their deeply held beliefs without fear of punishment."
Yeah, you have the right to refuse to endorse a message that goes against your values -- if you're willing to fight in court for ten years, spending hundreds of thousands of dollars for lawyers, routinely closing your business to appear in court, and losing 40% of your business (as Phillips said he did).
Meanwhile, Google's, FaceBook's, and Twitter's right to refuse to carry messages they don't agree with is absolute, and they can get cases against them dismissed by filing a single motion, either a dismissal for failure to state a claim upon which relief can be granted (that is, you have no right to what you're asking for), or simply citing the much-abused section 230.
The Tech Monopolies are out of court in about an hour. The file one piece of paper, the suits are dismissed.
On the other hand, a normal American attempting to exercise his rights is harassed by the state and state-empowered mental cases for ten years at the cost of most of his money.
If someone is to be entirely free to refuse to carry a hateful message with very little cost and very little court time, and someone else is forced to spend a decade of expensive litigation trying to vindicate his rights-- shouldn't it be the gigantic leviathan tech monopolies who have the burden of having to defend expensive lawsuits for decades, and the small business owner who gets to just file a single motion and get the lawsuit dismissed?
Wouldn't it be wonderful if ordinary citizens had a s.230 immunity -- requiring only a filing of a motion to execute -- to end these persecutions?
And if ordinary citizens do not have this potent level of immunity to coerced speech-- then the mega-monopolies shouldn't have it either, right?
But NeverTrump and Conservative, Inc. don't think so.
They think that only the largest monopolies in global history should have such a powerful level of autonomy and freedom from coercion, and ordinary citizens should be endlessly harassed by government commissions and lawfare vigilantes.
Then again, they're all taking money from the Tech Monopolies. Aren't they?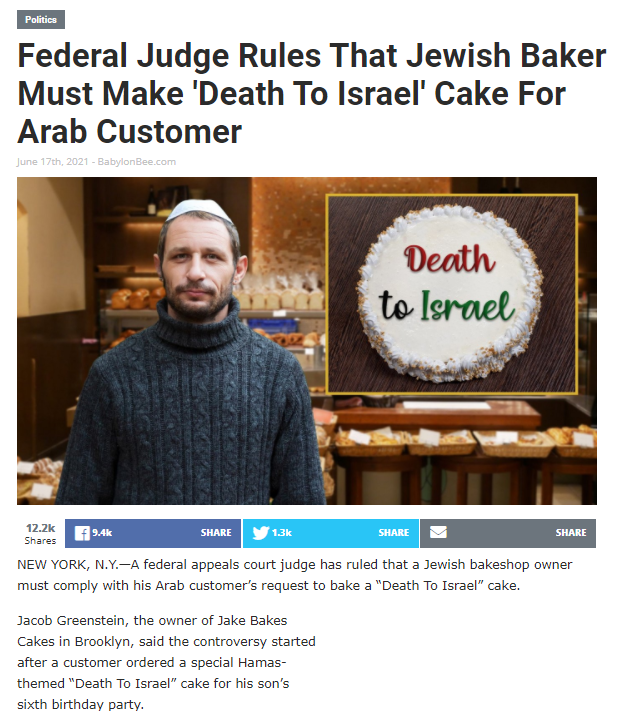 Right-wing disinformation in the guise of satire
courtesy of The Babylon Bee

Thanks to bluebell-- NoVaMoMe July 24

posted by Ace at
03:23 PM
|
Access Comments