« Supreme Court Rules That the NCAA Cannot Act as a Cartel to Deny Payments to Student Athletes; Notes That There Is No Anti-Trust Exemption for the NCAA
|
Main
|
Hard Leftist -- and Nearly Developmentally Disabled -- Senator Sheldon Whitehouse Belongs to an All-White Private Club, and Refuses to Quit »
June 21, 2021
Take it back – The Rise of Neofederalism (Part 2) [Dave in Fla]
But if you carrying pictures of Chairman Mao, you ain't going to make it with anyone anyhow
-- The Beatles
In this post, I want to continue my thoughts on the rise of state power to enact lasting policy changes. Previously I showed historic examples of how significant changes in national policy were enacted through state legislation. Now let's look at what is going on now that is driving our conservative principles.
Florida Leads the Way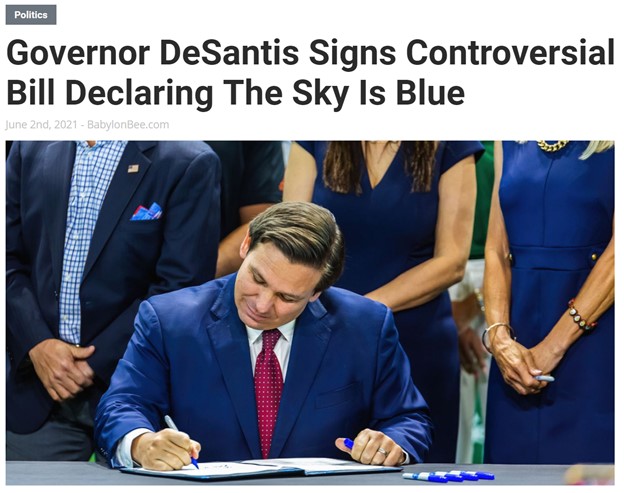 Without a doubt, Florida is the vanguard of Neofederalism in 2021. A Google search of the phrase "controversial Florida bill" returns 3,120 hits. Ron DeSantis has established an aggressive legislative agenda, and the Florida legislature has responded with a wide range of bills passed by large majorities. Here is a sampling of Florida laws and initiatives that have gone into effect:
Anti-censorship
– a law that protects Florida citizens, businesses, and politicians from censorship and deplatforming by social media companies. It imposes significant fines and denies these companies from access to Florida state entities if they violate the rights of Floridians. Note that this law specifically acknowledges Section 230 and is designed to not be overturned because of conflict with it.
Nefarious Foreign Interference
– a pair of bills that combat the Chinese Communist Party attempts to influence universities and to make the theft and sale of Florida business trade secrets a felony. This type of legislation is critically important because it mirrors existing federal law that is not enforced. This is an attraction to doing business in the state because it tells companies that Florida will protect them even when the DOJ won't.
Transgenders in Women
's Sports – a ban on transgenders competing in women's sports in Florida. Despite threats from the NCAA, DeSantis rightly realizes that the NCAA needs Florida teams more than Florida needs NCAA events. This legislation is particularly attractive to the "wine moms", since this demographic is very sensitive to seeing their daughters and nieces denied scholarship opportunities.
Anti-rioting
– a broad law that increases penalties for rioting, allows those arrested to be held until their first court appearance, grants immunity for drivers if they run over someone to escape a blocked road, and strips local governments of civil liability protections if they interfere with law enforcement responding to a violent protest. Antifa is not welcome in Florida.
Critical Race Theory
– the Florida State Board of Education just unanimously barred the teaching of any curriculum that "distort historical events," naming CRT, the 1619 Project and lessons that minimize or deny the Holocaust. This rule is written to address the agenda behind CRT, to prevent giving it a new name in order to circumvent the rule.
Neofederalism in Other States

Florida is by no means the only state that is pushing legislation to address core conservative principles. Here are a few examples of laws that have passed or are being pursued.

Ohio is pushing to regulate Google as a public utility.

The New Hampshire House passed a 2nd amendment sanctuary bill, Missouri enacted a 2A sanctuary law, and Texas passed constitutional carry.

Texas passed a heartbeat law and North Carolina has banned the practice of Downs Syndrome abortions.

Texas passed the 1836 education law, mandating the teaching of Texas history it its schools.

Utah passed legislation regarding social media censorship, which was vetoed on a technicality by the governor. It is expected to be reintroduced.

The Critical Race Theory Flashpoint

No topic is bigger right now than the pushback against CRT at the state and local level. Just take a look at what is going on in Loudoun County, Virginia to see the fireworks. An adamantly woke school board is facing off against an enraged community. Nationwide, CRT is correctly seen as a racist ideology that has no business being taught in schools. So far this year, Arkansas, Idaho, and Oklahoma already have enacted laws to prevent teaching or promoting critical race theory in schools. I already mentioned the ban that has gone into effect in Florida.

Other states with pending bills targeting CRT include Arizona, Louisiana, Missouri, New Hampshire, North Carolina, Rhode Island, South Carolina, Tennessee, Texas, and Utah. Yes, you read that right New Hampshire and Rhode Island. I was particularly impressed by the following nonsense in response to the New Hampshire legislation, a state with a black population of 1.4%.

"The pandemic is laying bare systemic inequalities in education and in our most vulnerable communities. Stifling and penalizing conversation and education on those inequalities and their sources is ignorant and does nothing to move us forward." - Megan Tuttle, president of the New Hampshire chapter of the National Education Association

Taking it Back

The key to winning back our country is to fight at the state level. The federal bureaucracy is challenged in opposing state initiatives when states fight for the right to set their own course. Administrative rules that are not backed by clear legislation have a hard time winning in court against state legislation. Even congressional legislation can lose against state laws when there is existing precedent or a lack of Constitutional authority.

Lawsuits are always threatened and brought against any state law that opposes the left's agenda. But there is no guarantee that these lawsuits will prevail. For example, since there are no laws protecting transgenders as a class, and Title IX is settled law, any challenges to prohibitions to transgenders competing in women's sports will certainly fail.

And even if the laws are overturned, so what? Keep fighting because that is how you establish the moral authority to govern. These laws represent the will of the electorate, this is the way "We the People" wish to live our lives. Having laws overturned by the deranged left only serves to further the anger of the voters, and it shows that our side will fight for what is right. Besides, even bankrolled by Wall Street and Soros, the left does not have infinite resources and can't fight every battle. Every dollar we force them to spend in court is one less dollar they can use to buy influence in Washington.

Washington is a sideshow where the best we can hope for is gridlock. They are useless drain on the economy, siphoning off trillions of dollars every year, but they are not the key to political victory for either side. States are where the action is, and WE control the majority of the states. It is time for us to use that political power.

posted by Open Blogger at
02:30 PM
|
Access Comments