« Daily News Stuff 16 June 2021
|
Main
|
Mid-Morning Art Thread »
June 16, 2021
The Morning Report - 6/16/21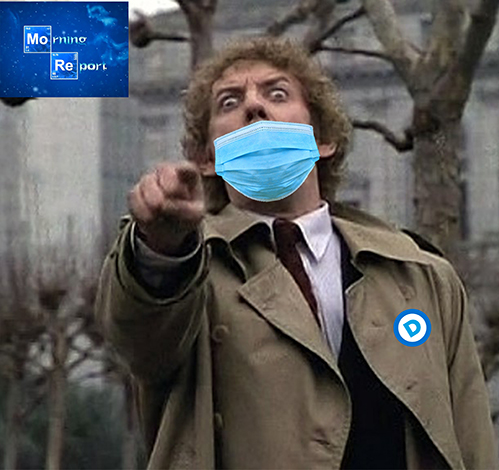 Good morning kids. Wednesday and as the combination farce/tragedy of the USA represented on the world stage by a shambling, rambling dementia patient laughed and mocked by friend and foe alike, the truth coming out about the Chinese origins of the Chinese virus, the useless, destructive lockdowns and masks as a weapon of tyranny, and the dam perhaps about to break regarding the 2020 election fraud in six states that captured the nation for the Left, the evil person(s) propping up said shambling, rambling dementia patient are moving fast and furious - pun intended - to consolidate and cement its hold on absolute power at a moment that it may be most vulnerable.
There is something you need to know because it is of overwhelming importance to America's survival as a constitutional democratic republic: The Biden administration is moving inexorably to making it a crime to oppose Biden and the Democrat party's policies. Attorney General Merrick Garland is organizing a massive task force to hunt those illusory "White supremacists," who just happen to be Trump supporters. Moreover, the federal charging documents against many of those being held for trespassing in Congress reveal that some of the people most active in planning January 6 and encouraging others to act were FBI agents or informants. In other words, it was a set-up.

On Tuesday, Attorney General Merrick Garland announced that Deputy Attorney General Lisa Monaco, who worked in the Obama administration, will lead a "whole of government" effort to root out "domestic terrorists." These domestic terrorists, you will not be surprised to learn, are the same so-called "White supremacists" who engaged in what Democrats repeatedly call "the worst insurrection since the Civil War" on January 6. What that hyperbolic to the point of dishonest phrase describes is trespassing in Congress, something that has always been a preserve of the left. Of course, this time, it had a twist, because no Capitol police officer ever killed an unarmed leftist in cold blood.
Emphasis mine. And you can bet your bottom dollar, growing more worthless by the minute as the worst inflation in decades takes a death grip on an already half-dead economy, that "domestic terrorists" in this case means anyone and everyone who even looks sideways at the illegal fraud that occupies the White House.
It's bad enough (yet not unprecedented if you look at its sordid history [Mueller, Weissmann, et al]) that the FBI set this up, most likely with at least the knowledge, if not at the behest, of federal and local DC Democrat leadership. What is truly alarming is the fact that we now have proof (as I had linked yesterday or on Monday) via video that the DC PD let in the instigators of the "riot" who were BLM and Antifa terrorists, including that John Sullivan cancer. This means that the FBI and DoJ are directly working hand in hand with two terrorist organizations to help bring down the republic. Kind of ironic considering the "ACAB" mantra, but I digress.
When those that are sworn to defend the citizenry and uphold the rule of a just and stable law become, over the course of years, an existential threat to the freedom and security of the citizenry itself, then we have as we call in the trade "a situation."
In the past week we learned that the Defense Intelligence Agency (DIA) has a high-level defector from China -- whom they're not sharing with the FBI or CIA.This defector is providing evidence that COVID-19 was not only created in the Wuhan lab, but may have been deliberately leaked by the Chinese. This revelation coincidentally came at the same time the FBI was working to discredit scientists claiming the virus was created in a lab.

Representative Matt Gaetz aggressively questioned FBI Director Christopher Wray about the FBI's behavior relative to COVID-19 scientific whistleblowers. Shortly after this questioning, the press began a series of stories insinuating that Gaetz had inappropriate relationships with underage girls -- though no evidence has been presented yet. But I'm sure it's just a coincidence.

Coincidentally, this is all happening at a time when China is making substantial investments in American property and businesses. After its behavior during the last year, is there any doubt that the NBA is beholden to China? The news media has run cover for China as well, claiming that any attempt to tie them to the pandemic is racism. There are also the land purchases. China bought 180,000 acres (280 square miles) in Texas! They say they're building a wind farm, but the property has a 5,000-foot runway which they're expanding, and it's adjacent to a busy U.S. military base. I'm sure the location is just coincidental.

This seems that an unbelievable number of happenstance occurrences have all benefited China. Is it possible that these events are not coincidences at all, but are rather engineered outcomes in support of a higher objective? If so, it raises a number of questions.

Are the FBI and CIA hopelessly compromised? Is it possible that the organizations which supported a coup attempt against an elected President can't be trusted with national security? They're certainly no longer the premier law enforcement and intelligence agencies they claim to be. They have too many failures to be a "premier" anything -- except maybe a clown show. Are they incompetent, corrupt, or have they been infiltrated? It probably doesn't matter since incompetence or corruption invites infiltration.

Where does the support for Antifa and BLM originate? They're both doing their part to destabilize America. BLM is led by self-professed Marxists -- making them useful idiots. Antifa seems to believe in nothing but anarchy -- making them useful thugs. Whenever members of either group are arrested, there's plenty of money to bail them out -- from somewhere.
Meanwhile, dozens of citizens who unwittingly followed FBI confederates into Congress yet did nothing more harmful than take selfies and gawk at the drapery during an unauthorized unguided tour are now being held in appalling conditions, virtually incommunicado and are facing a kangaroo court that will send them to Leavenworth for 30 years for engaging in a "violent insurrection" to overthrow "our sacred democracy" (spit).
Yet, with the brainwashing of a very large swathe of young and old alike into believing Ibram X. Krement's Crackpot Race Theory or that Bozo with the Rustoleum Jeri Curl Nikole Hannah Jones' 1619 Project, as well as the Karen brigades doing the Donald Sutherland Invasion of the Body Snatchers finger-point for not wearing the face diaper of submission, you better believe they're all limbering up those digits to point out anyone - even their own family members - who are "not of the body!"
"We will work to improve public awareness of federal resources to address concerning or threatening behavior before violence occurs," the official said.

The official cited the Department of Homeland Security's "If you see something say something" campaign to help stop radical Islamic terror as a domestic possibility.

"This involves creating contexts in which those who are family members or friends or co-workers know that there are pathways and avenues to raise concerns and seek help for those who they have perceived to be radicalizing and potentially radicalizing towards violence," the official said.

Biden began his [so-called quote-unquote] presidency with a stark warning in his inauguration speech about the "rise in political extremism, white supremacy, domestic terrorism that we must confront and we will defeat." On June 1, Biden described the threat from "white supremacy" as the "most lethal threat to the homeland today."

The Biden [junta] said it would also work with large technology companies on "increased information sharing" to help combat radicalization.
Islamic terrorism, my ass. This is about silencing - now by any and every means necessary and with the full power of the State to put iron in the glove - any and all opposition to the forces that overthrew our republic from 11/3/20 through 1/6/21. If you think that that's hyperbole, think again. At least in the time remaining when you will be permitted to think.

CIVIL WAR 2.0: LEFTIST PERSECUTIONS, CAPITOL HILL BLACK WEDNESDAY PROTEST AFTERMATH, DEMOCRAT PUTSCH, AMERICAN DISSOLUTION
NOTE: The opinions expressed in some links may or may not reflect my own. I include them because of their relevance to the discussion of a particular issue.
ALSO: The Morning Report is cross-posted at CutJibNewsletter.com if you want to continue the conversation all day.
Follow us on Twitter: @CutJibNews
Follow us on Instagram:@Cutjibnewsletter

posted by J.J. Sefton at
07:27 AM
|
Access Comments