« New Study: Covid Was Probably In the US in 2019
|
Main
|
North Korean Defector Complains of Brainwashing and Thought-Control at Columbia University: "Even North Korea Isn't This Nuts" »
June 16, 2021
Quick Hits: I am Not Groot, Groot's a Crazy Bitch Edition
Kevin Hart, #cancelled before his Oscars-hosting gig after years old tweets, has a special word for cancel-cultists.
While promoting his new Netflix film Fatherhood, Kevin Hart, the highest-earning stand-up comic in the world, claimed he'd been canceled "three or four times" over his career.

In a new interview with The Sunday Times, Hart said he "personally doesn't give a s---" about cancel culture before speaking at length about the hotly debated subject.

"If somebody has done something truly damaging then, absolutely, a consequence should be attached," Hart said. "But when you just talk about… nonsense? When you're talking, 'Someone said! They need to be taken [down]!' Shut the f--- up! What are you talking about?"
When the Oscars committee demanded he apologize, he stepped down, leaving them without a host with only weeks until the little-watched industry f***boy party. If I remember right, they kinda begged him to do it and he said something like "Nah, I don't want to bring your show down with my toxicness." Or at least, that was the implied message.
Former Vice President Biden's Navy chief defends putting hardcore black racist and racial separatist Ibram X. Khendi on the Navy's recommended reading list.
Chief of Naval Operations Adm. Michael Gilday on Tuesday defended putting Ibram X. Kendi's book How to Be an Anti-Racist on the Navy's list of books every United States sailor should read, under grilling from Republican Study Committee Chairman Jim Banks (R-IN) at a House hearing.

Banks, a U.S. Navy reservist, began by asking Gilday if he agreed with Kendi's past statements and views in his book that Supreme Court Justice Amy Coney Barrett is a "white colonizer" because she adopted two children from Haiti, and that capitalism is essentially racist.

Gilday responded, "Here's what I know, Congressman. There's racism in the United States Navy."
Well, there's more of it when you recommend people read Black Hitler's execrable texts.
...

Banks asked Gilday if he agreed with Kendi's statements that white people are a different breed of humans and are responsible for the AIDS virus.

Gilday responded: "Sir, I'd have to understand the context in which the statements were made. I'm not going to sit here and defend cherry-picked quotes from somebody's book. This is a bigger issue than somebody's book. What this is really about is trying to paint the United States military, and in this case, the United States Navy is weak, as woke... We are not weak."
But you are woke, eh?

Last year, the Chicago Tribune reported that Chicago mayor and Noted Fat Groot Lori Lightfoot was having trouble filling positions and keeping positions filled because of her extremely bitchy, entitled behavior and angry outbursts.
A FOIA request now discloses this email sent to all staff by Groot, proving the stories true.
Also proving that she almost certainly has a serious psychological condition.
Look at all this angry -- psychotic! -- repetition and mentally-unstable exclamation points.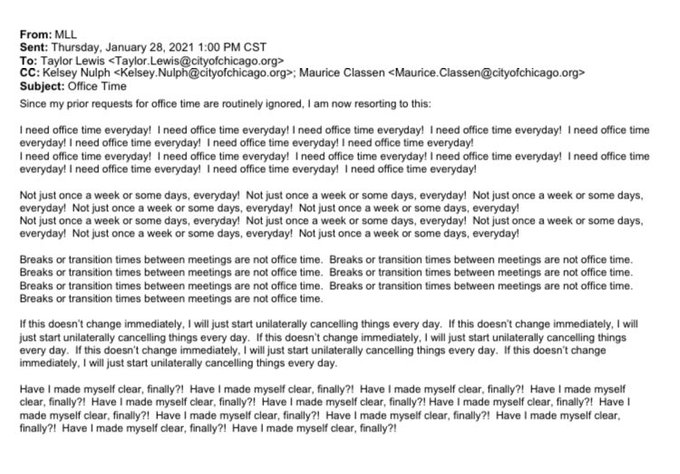 All work and no play makes Groot a crazy bitch. All work and no play makes Groot a crazy bitch. All work and no play makes Groot a crazy bitch. All work and no play makes Groot a crazy bitch. All work and no play makes Groot a crazy bitch. All work and no play makes Groot a crazy bitch. All work and no play makes Groot a crazy bitch. All work and no play makes Groot a crazy bitch. All work and no play makes Groot a crazy bitch.
Remember how we had to legalize marijuana because of how much money it would create in tax revenue which we could use to fund our #Woke Brainwashing government schools?
Yeah, well:

Tater throws a book party for himself, and it's filled with jerkoffs.
True Conservative, author of the "Axis of Evil" political slogan, and Bushie David Frum:
The neocons only have one move: Calling you a terrorist if you disagree with them.
You were formerly a terrorist if you did not vote for (neocon) Republicans.
Now you're a terrorist if you don't vote for Democrats.
They all style themselves very serious intellectuals but their only arguments consist of the most putrid, juvenile taunting.
And in "Hollywood has no ideas" news: Yes, Disney is going to make another prequel which casts a villain in a sympathetic light.
Even after their latest attempt to repackage old characters in slightly new movies, Cruella, opened to disappointing box office.
But what else do they have?

posted by Ace at
02:43 PM
|
Access Comments