« Daily Tech News 14 June 2021
|
Main
|
Mid-Morning Art Thread »
June 14, 2021
The Morning Report - 6/14/21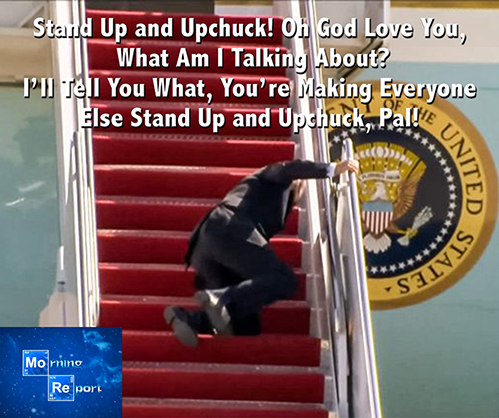 Good morning kids. Start of a new week but it's still the same old story. On the heels of Veep Throat Harris' disastrous "fact-finding mission" to Mexico and Guatemala, where most of America saw a woman, whose entire career is based solely on her skill in tonsil hockey and the D after her name, so out of her depth and arrogant that even the propagandists charged with protecting her couldn't spin it, we had a geriatric mental patient supposedly the leader of the free world shambling about the G-7, with our allies barely able to suppress howls of laughter as he spouted out gaffe after gaffe. I guess "Doctor" Shill Biden didn't bone up enough whilst in the hot seat on Air Force One, but have no fear; she'll have the opportunity to redeem herself when she, I mean her husband, goes one-on-one with Vladimir Putin. Yes, that Vladimir Putin; the one Biden referred to last March as a "killer" and who was "going to pay a price." Maybe by "pay a price" he meant 10 million in rubles for "the big guy."
I'd be laughing right along with AMLO and the G-7 attendees were it not for the fact that our economy, our sovereignty, our safety and security, and our rights have been so thoroughly trashed like never before. And it's only been five months. Lest we forget, it was an axis of evil comprised of Big Brother Tech, our intelligence services and the Democrat Party establishment that sabotaged the 2020 election and installed these two dangerous, inept boobs as president and vice president. Of course with the help of many millions of legitimately cast ballots for them. The question is, of course, how many of those votes really were legitimate? A big story that has been percolating these last few months has been the election audits in Arizona and in Georgia, two of the six states where after 10:00PM on election night the vote counts were stopped, observers ejected and pallets of ballots trucked in. Now, a number of other states want to audit their votes as well and the reaction from the Left, as you can imagine, has been the Pris-shot-by-Deckard paroxysm, only with more limb-flailing. The reason for that is obvious; ever since that night the spin has been that Biden not only won fair and square, but that it was a mandate. In fact, to even question the results now gets you labeled as a dangerous terrorist, insurrectionist and white supremacist by the DoD, and perhaps puts you in line for a less than honorable discharge.
On April 9, 2021, Secretary Austin issued a memorandum announcing the establishment of the Countering Extremism Working Group (CEWG) to spearhead the military's witch-hunt to locate and stamp out "extremism" in its ranks.

To lead the CEWG, Austin appointed as his senior adviser on Human Capital and Diversity, Equity, and Inclusion, a black American named Bishop Garrison, who has made no secret of his profound contempt for former President Trump and the scores of millions of people who voted for him. In July 2019, for example, Garrison said in a tweet: "Support for him [Trump], a racist, is support for ALL his beliefs. He's dragging a lot of bad actors (misogynist, extremists, other racists) out into the light, normalizing their actions. If you support the President, you support that." "There is no room for nuance with this," Garrison added. "There is no more 'but I'm not like that' talk." This is the man in charge of purifying our military...

...Austin's remarks about extremists in our midst were a clear reference to the January 6 protest at the Capitol, which Democrats denounced as an "armed insurrection" even though there were no arms found, and therefore no insurrection. Under pressure from Black Lives Matter radicals, the incident was also denounced absurdly as a "white supremacist coup." The incident itself was, in fact, far more "peaceful" than the more than 600 riots conducted by Democrat supporters and encouraged by Democrat mayors over the summer of 2020.

In fact, the only person killed on January 6 was an unarmed Trump supporter, a 14-year air force veteran named Ashli Babbitt who was murdered by a Capitol police officer. House Speaker Nancy Pelosi jailed the Hispanic reporter who videoed the murder, revealing that Babbitt was standing by herself and menacing no one. The journalist was charged with the crime of appearing at the event. Pelosi has concealed the identity of the officer. Attorney General Merrick Garland, revealing himself as a partisan extremist, called the whole event "the most dangerous threat to our democracy," and refused to charge the officer who shot and killed an unarmed woman with a crime.
Garland is right. The whole event was the most dangerous threat to "our democracy." That is, their reaction to the legitimate protests of January 6th by organizing the "break-in" and mayhem as a Reichstag Fire pretext to then hound and persecute decent, innocent citizens, dozens of whom are still rotting in jail. Psaki-psircling back to the election audits, there is no reason for the Left to object; not if they fully believe that Biden won fair and square. The audit would confirm that, no? Of course, their reaction is telling. But it raises the question, what happens when one or more states' audits actually prove that at a minimum major fraud occurred or if the fraud actually did indeed throw the election to Biden?
The forensic audit of the popular votes in Arizona being conducted right now is intriguing and also a little scary. The forensic audit of the popular votes should be able to catch and identify voting irregularities, cheating, abnormalities, and felonious actions. What happens if not only Arizona flips, but also Georgia, Pennsylvania, and Wisconsin?

The vote-winning margins in these four states were about 1%, or even much less. Not a whole lot of cheating and theft required to flip the states, if that is what actually historically happened. With Arizona's 11 Electoral College votes, with Georgia's 16, with Pennsylvania's 20, and with Wisconsin's 10, if those slim margins went to President Trump rather than Biden, the Electoral College vote would be 289 votes for Trump and just 249 for Biden. With Trump needing only 270 for the win, maybe that is why the Progressives are so determined that the forensic audits should not happen. Maybe that is why the Deep State cabal does not want light to shine in on the actual votes last November.

What would happen next? What does the military do? How does the Supreme Court rule? And then how do the masses react? How do both the Patriot and also the Progressive citizens react? Does the military put troops and tanks on the streets, especially in Washington, D.C., to keep Biden in the White House? Does the military arrest Trump for winning? Does the Supreme Court finally "man up" and hear the case of election fraud? Does the Supreme Court rule that President Trump is actually president? Does the Supreme Court rule that Trump is President Trump, but then the military vetoes the Court's decision and keeps Biden in the White House?

What then do the people do? How then do the masses react to a probable fraudulent election? Do the Patriots finally take to the streets for a "mostly peaceful protest" of the election? Or do the Patriots say they have had enough of the election fraud and fake president, and it gets violent? Does it become the Reds/Patriots versus Blues/Progressives on our streets? What happens to America if?
As a purely academic exercise, and like everything else over the past few years, we are in uncharted waters insofar as what is the remedy, if there is a remedy, for this ex post facto. New elections? Biden and Harris forced to step down? You think last summer was lit, the reaction to this would be insane. While there is no way that I can see Biden and Harris and the rest of their minions forced out, there's no doubt in mind at all that these audits are necessary. The truth must come out, and the reaction to that - if indeed the audits continue to show that the election was stolen - as painful as it will be, we cannot live a lie and cannot allow the monstrous crime and lies of 11/3/20-1/6/21 to become mythologized and etched in granite as truth, no matter the consequences to our already divided nation.

CHINESE CORONAVIRUS FICTIONS, FACTS AND AMERICA IMPRISONED
NOTE: The opinions expressed in some links may or may not reflect my own. I include them because of their relevance to the discussion of a particular issue.
ALSO: The Morning Report is cross-posted at CutJibNewsletter.com if you want to continue the conversation all day.

posted by J.J. Sefton at
07:26 AM
|
Access Comments