« Daily Tech News Got Eaten By A Bear
|
Main
|
Mid-Morning Art Thread »
June 11, 2021
The Morning Report - 6/11/21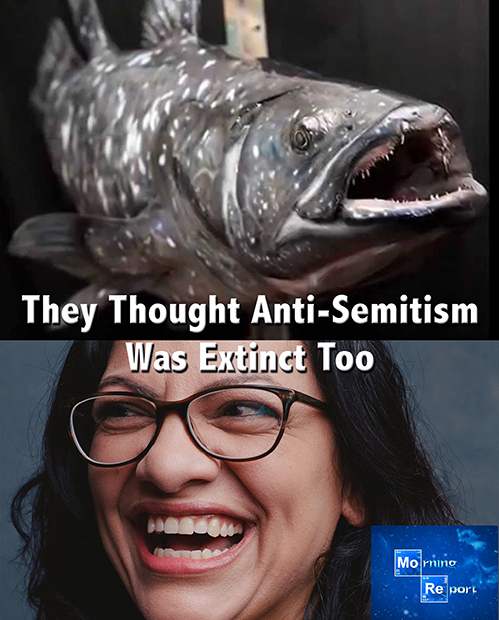 Good morning kids. Friday and the weekend is here. It's akin to Dr. Szell applying some oil of cloves on Babe Levy's raw, throbbing root canal for a few seconds before going back to the rusty 5 RPM Dremel. As long as we're on that metaphor, a perusal of the marathon of links definitely shows "It isn't safe. In fact it's very dangerous," along with disgusting and frankly disheartening. While things like the overt Jew/Israel-hatred of the Democrats certainly falls in that category, it nevertheless is a major internecine rift that has turned into an open conflict between the old bulls whose strategy has always been to drape themselves in the American flag as they stole the country and now the neo-Cultural Revolutionaries who just want to burn it.
As Bro-Fo Omar/Nur/Burqawitz/Ikeeelyou faces a rebuke from Jewish (on their birth certificates only) Democrats for blasting Israel and America as terrorists and war criminals, her fellow Death Squad compadre Rancida Taliban (aka Rashida Tlaib) claims, get this, "Freedom of speech doesn't exist for Muslim women in Congress. The benefit of the doubt doesn't exist for Muslim women in Congress."
Really?! Well, clip my joy buzzer and call me Fatima! When is your coelacanth-looking maw not flapping up a storm, semtex-tits? The fact that her friend and colleague from the Congressional district of Mogadishu in having to "apologize" for her blood-libels by stating that she found the rebuke from the Jewish lawmakers "offensive" is not only Orwellian but that she is even allowed to be in this country at all, let alone elected (allegedly) to Congress, is just gob-smackingly insane. Yet this is all illustrative of the state of the Democrat Party as I mentioned above. It doesn't mean that the so-called "moderates" have got religion, so to speak. It just means they know that in spite of all the destruction they've wrought to our society and culture, the majority of the people of this nation, whatever it is, reject this garbage.
It's just too bad we don't have a political party that will fight for the things that we believe in and go to any lengths to combat this rot. Hell, if we had that party decades ago, we would not be now in the position we're in where every level of our government and our society in general is corrupted to one extent or another and has a gun to our head to submit or face the consequences.
It's why I look at people like Mike Braun and Chuck Grassley who now, months later, are making little noises about how the FBI and DoJ are being big fat meanies in going after innocent American citizens while the armed militant wing of the Democrat Party - BLM/Antifa - are free to burn, loot and murder their way across the land in mostly peaceful displays of political terrorism. And Julie Kelly still wants to know, as we all do, why we have political prisoners rotting in jail for misdemeanor trespassing charges (if that) dressed up as treason?
The rule of law for anyone involved in the events of January 6 has been flipped on its head by the U.S. justice system; defendants are presumed guilty before proven innocent. The right to a speedy trial and the right to participate in one's own defense are ignored, as are other constitutional protections.

Prosecutors insist the alleged crimes committed by Capitol protesters -- unlike similar or more egregious crimes committed by leftist protesters last year -- are exceptionally heinous because the acts resulted in an "attack on our democracy" and interrupted the official business of the U.S. Congress.

The Justice Department and federal judges also continue to lie in court about the number of fatalities from January 6 in order to make the event seem far worse than it actually was. A Senate report issued this week also repeated the falsehood that "seven individuals, including three law enforcement officers, lost their lives."

But federal prosecutors and Beltway judges -- many of whom were involved in the nonstop criminal hunt against President Trump and his associates for four years -- are wasting no time doling out severe punishment for those who dared to challenge the incoming Biden regime.

Take, for example, Judge Emmet G. Sullivan, the judge who refused to dismiss the case against former National Security Advisor Michael Flynn even though both parties sought to do so. Sullivan is presiding over a handful of Capitol breach cases. Last month, he denied a request made by Jonathan Mellis, behind bars in the D.C. jail since February awaiting trial, to attend his father's funeral in Virginia. Mellis faces several charges including allegations he attempted to strike a police officer with a stick. (Again, this is based only on evidence presented by the government. Nothing has been contested in court.)

Mellis' 80-year-old father was a decorated Vietnam War veteran and longtime Defense Department employee. Biden's Justice Department immediately objected to Mellis' request for a temporary release. "[T]he defendant's continued dangerousness to the community and flight risk is too great because, if convicted of some or all of the above-mentioned charges, the defendant will serve a significant amount of time of incarceration."

Judge Sullivan concurred. "Although the Court is sensitive to the news of his father's death and expresses its condolences, the Court hereby DENIES Motion for Temporary Release..."

...Every day, I hear from detainees and their family members about the conditions in the jail. Some predict prison staff are making life miserable in order to provoke an uprising that will be recorded and used as additional propaganda to show the violent tendencies of the so-called insurrectionists. Almost all are first-time offenders...

...On Thursday, FBI Director Christopher Wray repeatedly assured the House Judiciary Committee his agency has "one standard" of justice for all political protesters. Unless he can point to a prison in the nation's capital specifically used to house Antifa and Black Lives Matters protesters, something tells me that testimony is not at all accurate."
Emmet Sullivan. Emmet. Fucking. Sullivan. Meanwhile, Dr. Demento is being led around on a leash by wifey "Doctor" Shill with the world's worst tyrants and miscreants all but laughing right in his face. But the real kicker is that when he exits the scene, probably some time this summer (I still say July 4th) look who takes his place; a truly clueless, dimwitted, tone-deaf Leftist who no doubt will have the same truly clueless, dimwitted, tone-deaf Leftist putting words in her mouth and telling her to go where she's kicked.
And as decent Americans rot in jail, here we all are rotting away as internal exiles in an overthrown America. I really cannot take much more of this. There are signs out there, as I have been saying over the past few days, that we are seething with anger of what has been done and G-d forbid what is about to be done to us. In fact, as I had also alluded to, this anger is happening all over the world - - even in our would be overlords in the supposedly invincible Peoples Republic of China. (watch the whole thing and listen to what the man is saying about the disaffection in that society)
May a thousand rage-strokes blossom. Have a great weekend.

CHINESE CORONAVIRUS FICTIONS, FACTS AND AMERICA IMPRISONED
NOTE: The opinions expressed in some links may or may not reflect my own. I include them because of their relevance to the discussion of a particular issue.
ALSO: The Morning Report is cross-posted at CutJibNewsletter.com if you want to continue the conversation all day.
Follow us on Twitter: @CutJibNews
Follow us on Instagram:@Cutjibnewsletter

posted by J.J. Sefton at
07:33 AM
|
Access Comments