« Daily Tech News 10 June 2021
|
Main
|
Mid-Morning Art Thread »
June 10, 2021
The Morning Report - 6/10/21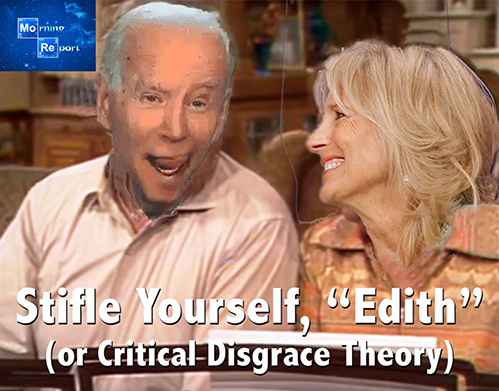 Good morning kids. Thursday and everyone is freaking out about a photo of Jill "Shill" Biden sitting at the president's desk on Air Force One that's captioned "'Prepping for the G7." Suddenly everyone's going on about a name that hasn't been in the news for over a hundred years: Edith Wilson. Seriously, is this really a story? First of all, does anyone really think that Joe Biden, a man who in the prime of his life had the intellectual agility of a wilted bracken, is really running things? We knew this going back even into the latter days of the Obama reign of error. Second, Jill Biden is not pulling the strings in the figurative, big picture sense, despite pulling Joey around by the hand in the literal one. What is confirmed, thanks to her absolutely disastrous trip to Guatemala and Mexico is that Veep Throat Harris is not only completely out of her league, inept and inarticulate to a degree that almost rivals that of being demented herself, but that she, too, is not the power behind the junta. That ultimate power resides in a large brick estate just outside D.C. - - in Kalorama to be precise.
The truly horrifying thing is that the image that all of this projects to the world is that the lights might be on but no one's home. The Chi-Coms, Russians, Iranians and every other bad actor are itching to make a move knowing full well that they will suffer zero consequences. And that can lead to catastrophe if the junta in charge of the former United States, in merely trying to prop up the image that Biden (anyone!) is in charge actually does react to some sort of military provocation from any or all of the aforementioned, and suddenly we've blundered and miscalculated our way into getting our hair mussed, but good.
No, Shill Biden standing in for the dummy is not news. But the consequences of this are just stomach-turning this early in the morning. Meh, what am I worried about? The US military as it is now led and being trained - or more accurately being un-trained - is looking more and more like a paper tiger. That is, to America's real enemies. To the political enemies of the Kaloramans, well, that's something else entirely:
Lieutenant Colonel Andrew Rhodes, commander of the 1-8 Infantry -- "Fighting Eagles", has a message for all serving in the military: if you're white, you're the problem...

...He also reportedly added that only .01 percent of racist accusations are false, and that he would always believe someone coming forward about an uncomfortable situation.

The story began circulating on social media, with one Instagram post catching some important attention.

"Looks like Fort Carson got themselves a real gem of an unbiased commander," the post reads. "I hope you're not white or ever accused of anything while you're in his command. You're already guilty and you didn't even know it!"...

...The post caught the eye of the current Sergeant Major of the Army, Michael A. Grinston. "If it's true he said that 'if you're a white male you're part of the problem' then he's creating division within his formation, and it's the exact opposite of what the Army has been trying to do with inclusion efforts," an active duty Army officer told Human Events."
With all due respect, the Sergeant Major is either incredibly brave or incredibly clueless. Does he not know that the Secretary of Defense Lloyd Austin issued a stand down order in the wake of the January 6th phony Reichstag Weenie Roast to weed out all "racists," "insurrectionists" and "white supremacists?" That means anyone in uniform who dares merely to have their own opinions not only about the validity of the 2020 election but about transgenderism, climate change, or merely having a fealty to the US Constitution. Does he not know that Crackpot Race Theory - teaching that America as founded is evil and illegitimate and white people in particular are genetically hard-wired to oppress non whites - is being taught at WEST POINT for fuck's sake!:


In his letter to West Point Superintendent Lt. General Darryl Williams, obtained by Fox News Wednesday, Rep. [Mike] Waltz inquired as to whether the military academy will continue to include critical race theory in its curriculum, and warned of the dangers the teachings pose to the future of the nation.

The Florida representative stated that such instruction puts the nation "on incredibly perilous ground if any future leaders of our military are taught that the civilian institutions and structures with ultimate authority over them . . . are systemically oppressive and that they therefore have a duty to oppose them."

"The underlying piece of critical race theory is that civilian institutions in this country are inherently misogynist, racist and colonialist, and therefore, it is our duty to resist them -- that is fine for activists -- but one of these cadets is going to be the chairman of the joint chiefs of staff, and being taught that the Constitution is critically flawed?" Waltz said during an interview with Fox News on Wednesday. "That, to me, is terrifying and destructive."
Remember that piece of shit cadet Spenser Rapone who upon graduating West Point showed the inside of his cap on which he scrawled "Communism Will Win." That was four years ago, before this Ebonic Mein Kampf became part of the core curriculum. And you can bet your ass that Rapone is not an outlier. Where there's one, there's another. Shit, the fact that John Brennan a Gus Hall-voting avowed Marxist-Leninist became the head of the Central Intelligence Agency still boggles the mind (meh, FDR had Harry Hopkins and Henry Wallace so what the hell do I know?).
This is not a joke. Despite the laughable junk-tucking, high heels and pregnancy G-suits and identifying climate change as our #1 existential threat (now #2 behind whitey), military recruits are still trained to excel in doing one thing: kill the enemy. The problem is "the enemy" is now a sizable chunk if not the actual majority of the citizenry. Our society is already being eaten alive from within but this Crackpot Race Theory madness is cancer on top of cancer:
Critical Race Theory, then, is not some new "higher nonsense" of the sort our universities cook up. It's the spawn of Marxism and its offshoot Cultural Marxism. It has used ideas like "hermeneutics of suspicion," "false consciousness," and "repressive tolerance" to foment racialist division and conflict that they can leverage for more political, social, and cultural power. This has been the modus operandi of Marxism from its beginning, especially in Marxism's "late phase" when the revolution will not be waged by the industrial proletariat, but by the privileged, affluent tech-oligarchs, corporate boards, media pundits, university faculty and administrators, politicians, think-tank habitues, and federal agencies, all of whom have lost their nerve in the face of a historically, intellectually, and morally incoherent and destructive movement that has littered history with mountains of corpses.

And the old enemy of freedom will win, unless, as Winston Churchill said to Parliament after the Munich debacle, "By a supreme recovery of moral health and martial vigour, we rise again and take our stand for freedom as in the olden time."
And we're probably not going to be voting our way to "rise again and take our stand for freedom as in the olden time." Untuck the junk and gird your loins.


ABOVE THE FOLD, BREAKING, NOTEWORTHY
CHINESE CORONAVIRUS FICTIONS, FACTS AND AMERICA IMPRISONED
NOTE: The opinions expressed in some links may or may not reflect my own. I include them because of their relevance to the discussion of a particular issue.
ALSO: The Morning Report is cross-posted at CutJibNewsletter.com if you want to continue the conversation all day.
Follow us on Twitter: @CutJibNews
Follow us on Instagram:@Cutjibnewsletter

posted by J.J. Sefton at
07:32 AM
|
Access Comments