« First-World Problems...Part I May Have Run Out Of Numbers!
|
Main
|
Gun Thread: First Aid Readiness Edition! »
June 13, 2021
Food Thread: Alabama -- The Culinary Muse Of Chez Dildo (at least for this week)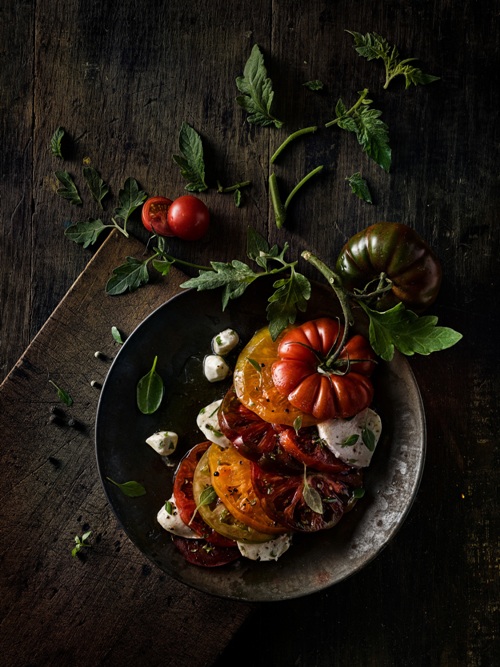 Greg Stroube
I have seen this guy's work before, and it is truly impressive. But it's not really food. It's impressive photography in which food happens to be the subject. Or whatever they do in the studio to the food to make it look that interesting.
When I take photos of food it usually looks like somebody's garbage (just take a look below the fold!), but short of becoming a halfway decent photographer, there is nothing to be done about that. Besides, most serious cooks who put delicious food on the table for their families aren't worried about how it photographs; they are worried about getting a second helping before those animals across the table scarf it all up.
******
Food halls are weird places. To my jaded eyes they look like loads of fun from afar, but as I get closer I see the irritating products and packaging that is at home in those overpriced stores in airports, where people buy the tin of six chocolates for $93 simply because they are bored and have some extra local cash.
10 Great Food Halls of the World
I have been to a couple of the ones mentioned in the link (it's mostly Asia...boring!), and while it is amusing to meander through some of these places, I can't help but wonder as I look at the inflated prices and the pretty but suspiciously old food in the display cases that the real purpose is to fleece the rubes...tourists who are wowed by new foods and business visitors who are bored and lonely.
For a true taste of the food of a city or country, just take a walk in a real neighborhood and walk into any butcher shop or bakery or grocery store. That will tell you much more about the culinary traditions of wherever you may be than hours spent in a carefully curated (for maximum profit) selection of luxury foodstuffs in a high-end department store.

******
Dear Alabama, Your White Sauce isn't just for chicken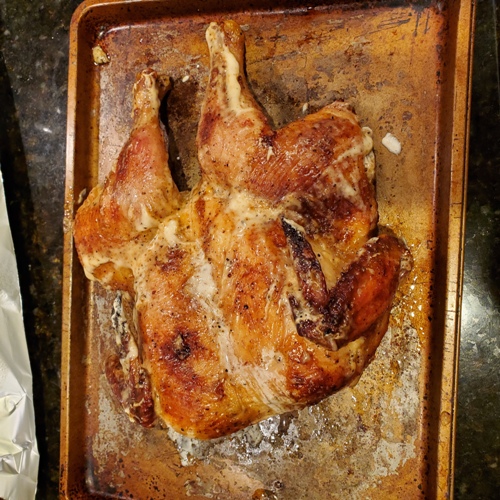 Alabama White Sauce!
I found the recipe on the ThermoWorks site. They make a big deal out of checking the temperature with different style probes and blah, blah, blah. Low and slow until the probe placed in the thickest part of the breast reads 155 degrees. And that's it.
And it's grand. Some of you are familiar with this style, but I'll bet most people aren't, and that's a shame. It is really good eating, even if it isn't photogenic.
And since I had some leftover sauce, I tried it with sous vide pork rib chops, and damn! Fantastic!
What's that? Did I just dip some leftover sirloin into the last of the white sauce? Why yes...yes I did!
I'll bet it's great on French Toast too...instead of that disgusting maple syrup you savages use.

******
Okay, I admit it. I would happily eat one of these things, and I am sorely tempted to try it out next weekend. It's just a burger in the shape of a hot dog, but that opens up all sorts of interesting possibilities for toppings and texture.
Okay...it's official. I am going to make one of these things.
[Hat Tip: redc1c4]

******
I stopped reading "Epicurious" because as is unfortunately quite common, they couldn't just shut the fuck up about politics and write articles about food and cooking. No, they had to shove their personal politics in my face, so I stopped reading, and I stopped linking!
But Misanthropic Humanitarian sent me this recipe and it does look like fun, so you can blame my lack of ethical consistency on him!
I have put the recipe in a PDF if you want to download and print it easily.
Chocolate-Peanut Butter Sheet Pan Ice Cream Sandwiches
Or you could just head over to Chef John, of the irritating but mesmerizing lilting/uptalking affectation, and make his version, which sounds like the ice cream sandwiches from my youth! Well...sort of. We ate two kinds; the classic, and the Carvel version which used soft-serve ice cream and a cookie that was guaranteed to make a huge mess and stick to your fingers and hair and the car seat and...

******
Why did I bookmark this? Did one of you maniacs mention it? I hope not, because Campari is vile. Negronis and their bastard children are vile. In fact, I think I might put Campari up there with maple syrup on French Toast as something that is simply beyond the pale.
Awful. And their other cocktail recipes are suspect. A two-to-one Gibson? Sounds hideous.

******
Study says children on a vegan diet may have stunted growth and other health problems
I'm shocked, shocked to find that gambling is going on in here!

******
Learning how to cook really isn't a big deal. You don't need to go to culinary school, you don't need expensive tools, and you definitely don't need expensive ingredients. But what you do need is some attention to detail and a rational approach to the endeavor. Pay attention to what you do and how it changes the finished product, and you will be miles ahead of most people.
But there are a few things that really jump out at me: things that it took me awhile to figure out, because I thought I was smarter than the cookbook and recipe writers. And while that was often the case, especially with the advent of the internet, there are lots of simple guidelines that will jump-start your cooking career.
In no particular order (and feel free to add your own in the comments):


Don't crowd your pan. Food needs room to cook and brown. Hell, I use my second biggest saute pan for two pieces of fish!

Salt is your friend. But salt in layers, a pinch at every step, and you will be a happy camper.

Taste (or at least smell) as you cook. Yeah, sometimes it's just not appetizing, especially after you have been cooking all day, surrounded by the tastes and smells of food. There is definitely food overload, but if you don't feel like it, at least give some to the dog...he'll tell the truth.

Don't be afraid of low temperature cooking. It is mighty tempting to crank the heat on everything, because that marvelous browning and the resultant flavors (it's called the Maillard Reaction) makes everything taste better...right? Wrong. Gentle cooking is often the best way to cook.

Trust your palate. You are cooking for you! If you want to put cheese on fish or maple syrup on (shudder) French Toast, then do it.
There are lots more simple guidelines that will help you in your cooking endeavors, but mostly it's just paying attention and not being afraid to try new things. That doesn't necessarily mean complicated, because some of the most glorious culinary creations are amazingly simple. Pasta Aglio E Olio, scrambled eggs, crusty sourdough bread, grilled steak, pulled pork, chocolate chip cookies, cheeseburgers; they are all so simple, but require a bit of attention and experience to make them great. But that is easily accessible to most people!
So have at it in the comments: what simple lessons have you learned in your 29 years of cooking?
******
Tender Broccoli Rabe that isn't bitter, beef short ribs that have meat on them (not the stupid little sliver of bone they sneak into the packages), Snap Peas (apparently they are no longer grown in quantity), spare bottles of Van Winkle Special Reserve 12 Year Old Bourbon, an herb garden that actually produces herbs, well-marbled NY strip steaks and elk backstrap to:
cbd dot aoshq at gmail dot com.
And don't think that you are off the hook with maple syrup and French Toast: I'm watching you...all of you! And I am watching you perverts who shake Manhattans and keeping a list for the Burning Times.

posted by CBD at
04:00 PM
|
Access Comments