« Daily Tech News 8 June 2021
|
Main
|
Mid-Morning Art Thread »
June 08, 2021
The Morning Report - 6/8/21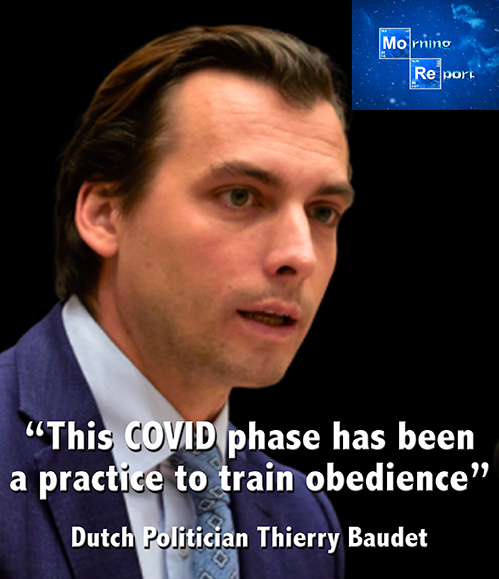 Good morning kids. Tuesday and while the focus is on Anthony Fauci and the revelations of his collusion with the Chi-Coms to manufacture Franken-viruses, his eagerness to pervert science as a weapon to defeat President-in-exile Donald Trump is equally, if not more of an existential threat to our freedom - or should say our ever fully regaining our freedom. Chinese COVID-19 is beyond all reasonable doubt marginally more dangerous than common seasonal flu. Whatever misery and suffering it caused (amplified by orders of magnitude thanks to Angel of Death Cuomo, Whitmer, Murphy, Wolf and others who knowingly unleashed a biological weapon and murdered thousands of elderly people) will fade away. But what is sure to come back with a vengeance is fevered madness of totalitarian will to power.
It's ironic in the extreme that Europe, which long ago lost its mind to atheistic cultural rot and socialism, still manages to produce some of the most clear-eyed, eloquent and passionate conservative thinkers. The epicenter seems to be Holland. The tiny nation that gave us Theo Van Gogh (pbuh) and Geert Wilders now adds another one who, if he isn't silenced (one way or another G-d forbid), may be a force to be reckoned with.
Politician Thierry Baudet, in a viral video, seems to have harked back to that time when he warned his fellow Nederlanders that their response to COVID was not only a gross overreaction but also put in place a template for future assaults on liberty...

...Politically, Baudet is a conservative. He would like the Netherlands to withdraw from the EU and objects to unskilled immigration into Holland (just as Donald Trump objected to the unlimited flow of unskilled legal and illegal immigrants into America). While Baudet is critical of Islam, he would not go as far as Geert Wilders would, since the latter advocates for banning the Koran, something that's inconsistent with Holland's historically liberal philosophy. Baudet also believes the cultural Marxism is eating away at the fabric of Dutch society. In other words, Baudet is very close to American conservativism [sic] in his views, which is probably why we conservatives find his video so darn good:

I hope there will be a moment that we wake up. That we will realize this is a collective psychosis. That the locking down of the entire country, half the world for 1.5 years because of a flu variety is insane. That walking around with those silly useless masks is insanity. That we conform ourselves to those completely senseless distancing rules. That we see that our businesses, our social lives have been destroyed. That we have held back effective primary medicines such as Ivermectin, only to give those experimental injections the status of "approved vaccine" as soon as we could.

That we now ramble on about how 'the infections are decreasing,' when the exact same happened last year -- as it does every year. And that it will happen against as autumn arrives and new infections occur. And now we pretend it happens because of COVID-19, all the while that the thing that we used to call the 'flu' has completely disappeared.

But most importantly, I hope that we realize that with the hysteria about this Chinese flu as the pretext, an entire infrastructure has been built, an infrastructure that can be used again at any moment, due to any occurrence. Lockdowns, masks, social distancing, no more traveling, no handshakes, ridiculous experimental jabs.

This COVID phase has been a practice to train obedience. Our parliament and the Rutte regime have passed this training with grace. Congratulations. Klaus Schwab [promoter of the "Great Reset"] will be proud of you. The globalist plans can be carried out -- and the next step towards mass surveillance and total control can be taken.



Emphasis in bold is mine. If you listen to the speech itself (only about a minute or so), despite being in Dutch, his delivery and the very real sense of urgency about what he is saying is palpable. This guy is for real, and we as well as whatever is left of the free world can use all the Thierry Baudets we can get our hands on. There is very little to constrain our overlords in DC and elsewhere in the nation formerly known as the United States of America, let alone the Chi-Coms. The psychological warfare perpetrated on us allowed them to declare a "crisis," sabotage our electoral system and gain power. If you think that they are not going to do this again, you're not paying attention. The most alarming thing that Baudet has brought up is that far too many people willingly knuckled under and blindly obeyed every idiotic edict from the DC bureaucracy and all the tyrannical governors and mayors across the country.
This is also why Fauci is both being defended to the hilt as well as being shunted off stage as quickly as possible. If people start realizing that they've been scared shitless for no reason into surrendering their freedom and ruining their lives, they are far less likely to fall for this crap again. At least in theory. It would be ironic indeed the next time the Chi-Coms accidentally on purpose do unleash a legitimate Andromeda Strain on us, perhaps as a cover for when they invade Taiwan, and we treat whatever the government says as the boy who cried Governor Wolf.
Shifting gears completely, along with Thierry Baudet there is another eloquent essayist worthy of your time this morning; Jackie Mason. Don't let the borscht-belt schtick and thick Yiddish-inflected accent fool you. Mason is sharp. And he is dead on about another chronic disease that is spreading faster than ever.
I've always said there are three constants in life -- death, taxes, and antisemitism, a subject I'm an expert on unfortunately. All these people here in America and around the world commenting on the atrocities of the Israelis. Killing women and children! Ethnic cleansing! Apartheid! Thousands of journalists sitting on their good for nothing "tucheses" yelling into the internet. All you hear is oy what a terrible thing the Israelis are doing. Evicting people from houses! Stopping people from praying! Terrible!

And, my friends, if you would go to any young Israeli man asking him what would he prefer to do, sit by an anti-missile battery or in a fighter jet, or would he rather go with his girlfriend to sit on the beach? It seems to me that the answer is obvious, and the absurdity of the question says everything about what's going on in the Middle East. Yet we hear so many people who have given very little thought to the topic yelling and screaming like they have lived in the region for 100 years and know every nuance of this terrible conflict...

...The truth is, as much as you might not like to hear it, when Trump was in office it was good for the Jews. Too bad most Jews just don't know what's good for them. Also most of the Jews that might benefit from clear thinking will surely not read this. Perhaps you'll share this with someone who needs to hear it and we can all pray that they will listen. Believe me, it's as important as ever. Now Mr Biden is in office, the flood of money to terrorists has begun again. The funnels of money to Iran turns around into tunnels in Gaza...

...Many people at these Free Palestine rallies are crazed, rabid animals. Just look at the video of the Jew who was beaten up at one of these rallies last week at the New York Public Library building on 5th Avenue and 42nd Street. Hysteria and mob mentality has emerged without restraint, and the irrational forces of antisemitism have resurfaced once again. All this anti-Israel rhetoric from American politicians has tremendous ancillary effects, giving license to bigots worldwide to unleash themselves, spewing invective and vitriol that will undoubtedly have collateral damage.

It's ironic that this is the same exact kind of criticism that was levelled [sic] against Trump. It's clear that all the rhetoric coming from left circles are beginning to have real world consequences. This canard that anti-Zionism is not antisemitism is a heaping pile of smoking BS, served on the finest silver platter. You know, it's like those people who say, but some of my best friends are Jews. Yes, some of my best friends who I speak badly about behind their back...
Read the whole thing. Mason nails it. While both Baudet's and Mason's words are troubling, there are signs out there that in spite of everything, there is still a mass of good, decent people who know things are wrong and are searching for answers and a way out. We shall see if the minions of Dao-Min Yen will have their way come the midterms and beyond. But there is a groundswell, try as the propagandists might to ignore, censor or smear it. Keep praying and keep your powder dry.

CHINESE CORONAVIRUS FICTIONS, FACTS AND AMERICA IMPRISONED
NOTE: The opinions expressed in some links may or may not reflect my own. I include them because of their relevance to the discussion of a particular issue.
ALSO: The Morning Report is cross-posted at CutJibNewsletter.com if you want to continue the conversation all day.
Follow us on Twitter: @CutJibNews
Follow us on Instagram:@Cutjibnewsletter

posted by J.J. Sefton at
06:47 AM
|
Access Comments