« Senate Blocks Partisan Star Chamber January 6 Commission
|
Main
|
CBS Bothers to Follow Up on Charles Cooke's Reportage, and Finds That All of Rebekah Jones' Coworkers Say She Had No Access to the Data She Claims She Was Ordered to Delete »
May 28, 2021
FAUCI IN 2012: "THE BENEFITS OF [GAIN-OF-FUNCTION] EXPERIMENTS... OUTWEIGH THE RISKS"
The only thing worse than an actual Mad Scientist is an incompetent, arrogant government-worker "scientist" who decided the stress and long hours and requirement of producing actual results of actual scientific research wasn't for him, so he took a 9-5, easy-peasy no-results-demanded civil service job.
Miranda Devine @mirandadevine


BOMBSHELL! Dr Fauci in 2012 wrote that "gain of function" research to juice up bat viruses was worth risking a pandemic: "the benefits of such experiments and the resulting knowledge outweigh the risks. It is more likely that a pandemic would occur in nature" @SharriMarkson scoop
It's paywalled in The Australian, so below are the quotes Miranda Devine included in her tweet.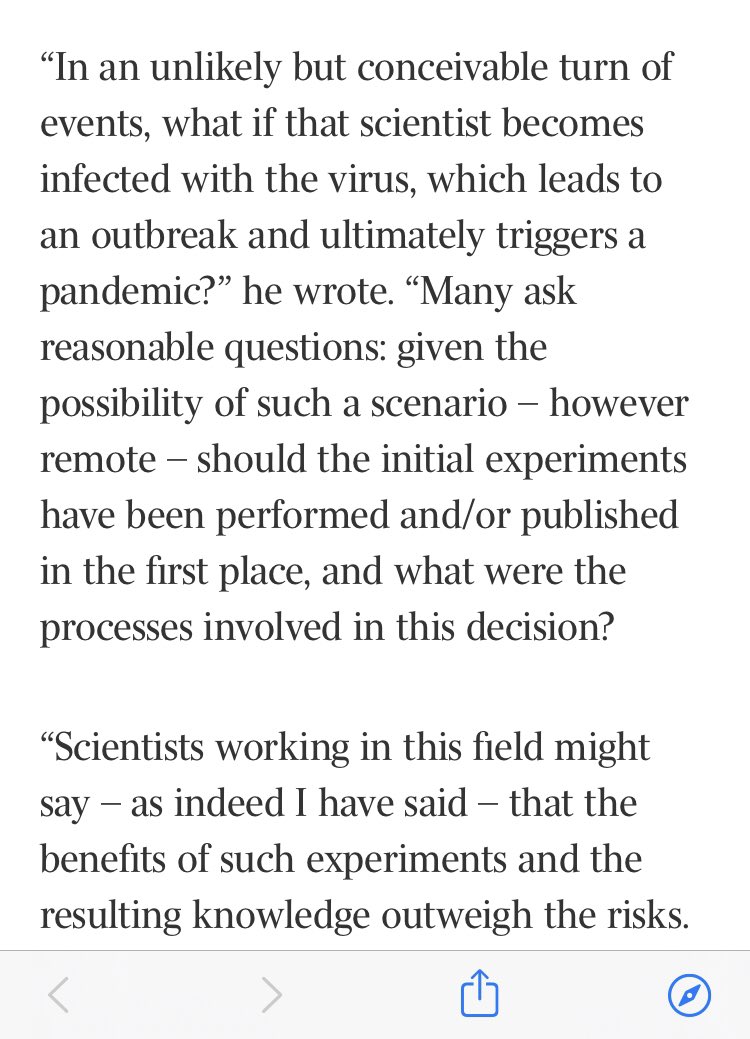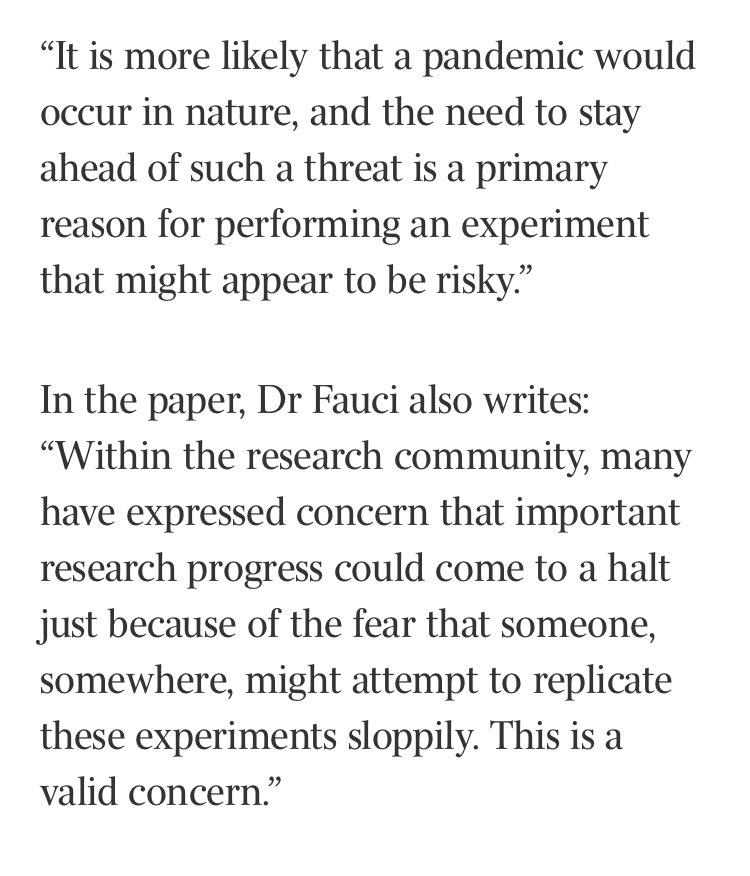 Thanks to bonhomme.
By the way: The government has been sitting on "unexamined evidence" about covid-19's origins.
They haven't bothered examining it because they don't want to prove that they've been lying for 16 months.
President Biden's call for a 90-day sprint to understand the origins of the coronavirus pandemic came after intelligence officials told the White House they had a raft of still-unexamined evidence that required additional computer analysis that might shed light on the mystery, according to senior administration officials.
Trust your government.
I knock Marco Rubio a lot, because he's a cowardly schlub, but the below case he makes to Fauci for the lab leak hypothesis is very good.
Also: Note Fauci's only given reason for his claim that it is "highly likely" that the covid virus evolved naturally.
The only evidence Fauci cites to continue maintaining that nature, rather than his own fucking funding, created this plague is that all prior major pandemics evolved naturally.
But...
WE'VE ONLY HAD THE CAPABILITY OF CREATING GENETICALLY MANIPULATED FRANKENSTEIN SUPER-VIRUSES FOR 30 or 40 YEARS. OF COURSE MOST HISTORICAL PANDEMICS WERE NATURAL. THERE WAS NO OTHER POSSIBILITY BEFORE 1980!
The Spanish flu of 1919 evolved naturally, you say?
Wow, that's some evidence, you malignant goblin.
Also note that Marco Rubio points out something I didn't know: Those who claim that the virus only could have evolved naturally, and doesn't have a "structure" suggesting that it was made in a lab, never seem to mention the fact that a Swiss team re-created covid-19 using the base bat virus.
The re-created it, perfectly. Using lab techniques.
But yes, let's continue to believe Anthony Fauci that it's "highly likely" that the pandemic evolved in nature.
Oh and by the way, masks don't work.
New findings reported Tuesday in a University of Louisville study challenge what has been the prevailing belief that mask mandates are necessary to slow the spread of the Wuhan coronavirus. The study notes that "80% of US states mandated masks during the COVID-19 pandemic" and while "mandates induced greater mask compliance, [they] did not predict lower growth rates when community spread was low (minima) or high (maxima)." Among other things, the study--conducted using data from the CDC covering multiple seasons--reports that "mask mandates and use are not associated with lower SARS-CoV-2 spread among US states."

"Our findings do not support the hypothesis that SARS-CoV-2 transmission rates decrease with greater public mask use," notes the U of L report. Researchers stated that "masks may promote social cohesion as rallying symbols during a pandemic, but risk compensation can also occur"...
Oh so science now says that masks were always just a Virtue Signal.
Hey let's trust the incompetent, arrogant idiots of the expert class, huh?
And the NeverTrump Karens, too-- who are always eager to show their leftist pals that they're really part of their tribe, and despise The Deplorables just as much as the Karens do.
Anyone want to bet that AllahPundit's RSS feed stops working again today and John Sexton gets to cover this?