« Daily Tech News 10 May 2021
|
Main
|
Mid-Morning Art Thread »
May 10, 2021
The Morning Report - 5/10/21 [J.J. Sefton]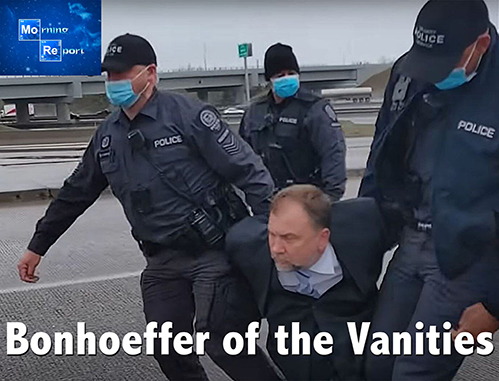 Good morning kids. Monday and the start of a new week. We're headed for disaster on so many levels but one of the most Orwellian aspects of this Orwellian nightmare is the call to "defund the police" even as a police state made more oppressive and intrusive than the East German Stasi as CBD alluded to in his outstanding essay yesterday grows more powerful and active by the day. And anyone who dares to object is going to get their knuckles whacked, but good.
The last time we saw Canadian Pastor Artur Pawlowski he was seen on video chasing cops out of his church and calling them Nazis. They were there to inspect his church for too many parishioners on Good Friday.

Vee haf rools fo covet, Pastor Pawlowski.

On Saturday, the cops came back for Pawlowski, but they'd learned their lesson and didn't come to his church. He might chase them out again and hurl truth bombs about the police state again.

Ezra Levant of Rebel News reported that the police hunted down Pawlowski on a highway, pulled him over, and dragged him off.

A heavily-armed SWAT team just took down a Christian pastor heading home from church. Police say he's charged with "inciting" people to go to church. This is the second pastor jailed this year. We're crowdfunding his lawyers at http://SaveArtur.com

...The police press release explained that they understand the "people's desire to participate in faith-based gatherings as well as the right to protest... however, we all must comply with public health orders to ensure everyone's safety and well-being."

Translation: Church doesn't contribute to your well-being. We know better than you.
Despite this incident happening in Canada, it can and it is happening here. By some fluke miracle, SCOTUS got it right when they smacked down Gavin Newsom's shuttering of houses of worship, but SCOTUS or no SCOTUS, these people are not going to stop. Whether it's the pretext of public health over essentially a flu variant or the pretext of "preserving our sacred democracy" (spit!) over a Reichstag Weenie Roast that they themselves were the cause of, the illegitimate junta that sabotaged/rigged the 2020 election and has overthrown the government is going to stop at absolutely nothing to maintain, consolidate and ensure it's absolute power going forward.
Yet, you can't just issue decrees or rig elections and leave it at that, expecting the citizenry to just accept it. You have to have a means of compliance.


Ideological purges are self-fulfilling prophecies. A political culling of the military and law enforcement herd will keep raising the temperature of suspicion and unjustly disaffect and censure loyal servicemembers and civilians in ways that could bring about disunity, resistance, and disobedience in the ranks. Those fortunate enough to survive the litmus of loyalty will endure classroom training by equity officers that will impart the dangerous misconception that the real enemy may be alongside them in the foxholes, not in their laser sights.

The top definition for "supremacist" in the trendy Urban Dictionary describes it as "once a term denoting racist beliefs, it has been taken by the Democratic party to mean anything or anyone not sharing Democratic party beliefs. It's basically a meaningless insult." An insult it may be, but one that can easily be mishandled by military and federal law enforcement leaders to advance more sinister Democrat goals and strategies. If we continue to erase history and obstruct its lessons, it will be harder to recognize the real supremacists and extremists in today's battle space as those who are casting the political aspersions and pointing fingers.
In a way, it might be better off in the long run if the ranks of the military and law enforcement are purged of individuals not seen as ideologically in line with the "new order." Not having to worry about one's pension or even one's personal safety insofar as the uniformed tranny in the flak jacket and pregnancy flight suit next to you might not have your 6 if you find yourself in a combat situation, could be quite liberating. Better they fill our ranks should things get sporty, as they may very well get in the not too distant future.

CIVIL WAR 2.0: LEFTIST PERSECUTIONS, CAPITOL HILL BLACK WEDNESDAY PROTEST AFTERMATH, DEMOCRAT PUTSCH, AMERICAN DISSOLUTION
NOTE: The opinions expressed in some links may or may not reflect my own. I include them because of their relevance to the discussion of a particular issue.
ALSO: The Morning Report is cross-posted at CutJibNewsletter.com if you want to continue the conversation all day.
Follow us on Twitter: @CutJibNews
Follow us on Instagram:@Cutjibnewsletter


posted by J.J. Sefton at
07:00 AM
|
Access Comments