« Saturday Evening Movie Thread 05-08-2021 [TheJamesMadison]
|
Main
|
Daily Tech News 9 May 2021 »
May 08, 2021
Saturday Overnight Open Thread – 05/08/2021
[Buck Throckmorton]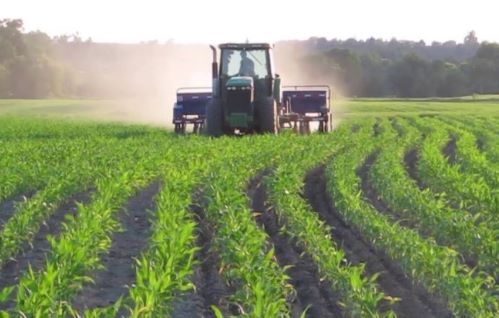 *****
WATER TOWERS
If you've ever had to haul a can of paint to the top of a water tower to defend your sister's honor, you might be a redneck. – Jeff Foxworthy
Cleverly painted water towers are yet another form of art that is better and more creative than most any modern art taking up space in art galleries.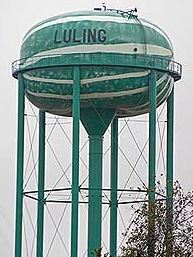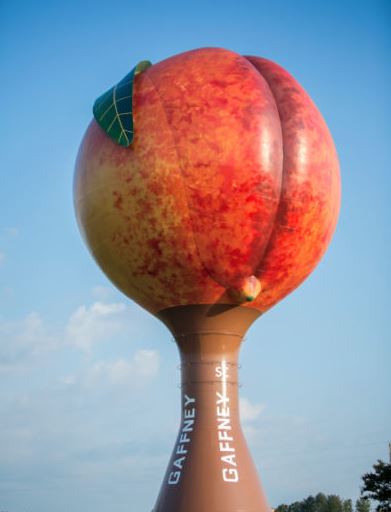 *****
SURVEY MANIA
Management Consultants have unleashed some awful trends on corporate America. The obsession with consumer surveys is one of them.
Companies, indeed, often seek qualitative performance data for internal personnel reasons — to calculate bonus structures, for example, and gauge whom to promote and whom to fire. The pressure to harvest anything less than top rankings can result in awkward conversations between employees and customers
If businesses wanted to genuinely know how they can improve their product, that would be fine, but since frontline employees get punished over less-than-perfect survey results, those employees are incentivized to get results that hide actual areas that need improvement. Even worse, too many corporate executives with a "zero defects" mentality have made "100% Satisfied" the minimum acceptable score, therefore their employees end up pleading with customers for perfect survey scores. And coincidentally, having employees plead with customers to send back surveys with perfect scores is actually a huge customer dissatisfier.
*****
MRS. THROCKMORTON'S FAIRNESS DOCTRINE
Mrs. Throckmorton has observed that I occasionally put a little bit of cheesecake in my posts when I have the privilege of doing an ONT. She has had to remind me that it's not really fair to the 'ettes of the ONT if I don't include, say, a David Cassidy picture if I'm going to post a Farrah Fawcett picture.
So tonight, in compliance with Mrs. Throckmorton's Fairness Doctrine, I am not only going to feature some singing lovelies from Hee Haw…

…but for you 'ettes, here is some singing beefcake from the same show.
*****
THAT ENTREPRENEURIAL SPIRIT
Do any of you remember Lyle Waggoner from Wonder Woman, or before that The Carol Burnett Show? Did you know he's the brainchild behind the luxury trailers that actors hang out in while on studio lots?
Star Waggons and the Reinvention of the Celebrity Trailer
In the late 70s, during the production of Wonder Woman, Waggoner took notice of the shoddy trailers that the studio had rented for its stars to rest and prepare in. These small trailers were owned by locals and small businesses who were making plenty of cash off of renting them to stars like Waggoner. Waggoner concocted an ingenious plan: if he bought an entire fleet of high quality motorhomes and rented them to the studio, he could put some extra money in his pocket.
As his success grew, he was soon building his own.
Within a few years of starting Star Waggons, Lyle Waggoner had amassed enough money to begin building his own branded motorhomes and trailers. Over the decades, the company's work became a staple of Hollywood culture. These days, it's rare to find a production setup or a backlot without a fleet of Star Waggons' motorhomes and trailers set up.
Lyle Waggoner died in 2020. Here is a photo* of him from his acting days.
(*This photo is fully compliant with Mrs. Throckmorton's Fairness Doctrine)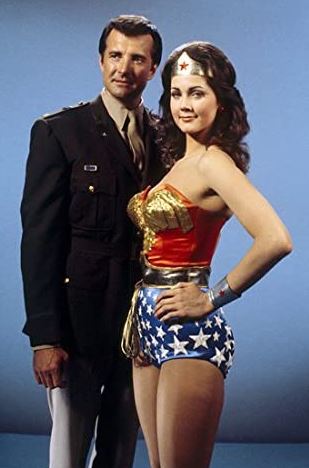 *****
PASSOVER LATKES IN GOEBBELS CASTLE
In Spring of 1945, a Jewish corporal from Brooklyn had the vindictive pleasure of preparing Passover latkes
in the vacation home of Nazi Propaganda Minister Joseph Goebbels.
Directly off the veranda, where I set up two gasoline camp-stoves, was a gigantic banquet room that would easily accommodate the 300 GIs I would feed. On one wall was a picture of Hitler and one of my buddies had scrawled "Kaput" across it. For the next two or three hours I was too busy to deal with emotions. They came later.
When all the latkes were fried and eaten, I joined my comrades in the Passover songs. We had seen the atrocities and now we were savoring some small measure of vengeance and victory.
The battalion's Jewish chaplain, Joseph Shubow, understood that one of the (now forgotten) necessities when defeating an evil ideology is to discredit the evil by mocking and humiliating its leaders. Lt Shubow stated:
"This is indeed retribution. When this little monkey Goebbels decreed the burning of the synagogues seven years ago, he little imagined that we would one day eat potato pancakes in his own home."
Our current Pentagon leadership - whose two main priorities seem to be social justice activism and not winning wars - would probably consider the Passover celebration in Goebbel's home to be a war crime.
*****
NOT QUITE THE GETTYSBURG ADDRESS
So, the best way to get something done…if you…if you, uhh, hold something near and dear to you that you, uhh…that you like to be able…uhh…anyway." – Joe Biden 3/25/2021
*****
MOOOO
The Babylon Bee is so dang funny, and by having some fun at the expense of the left, they also have an endless supply of material that will never be touched by "comedians" chasing gigs doing political clapter on TV.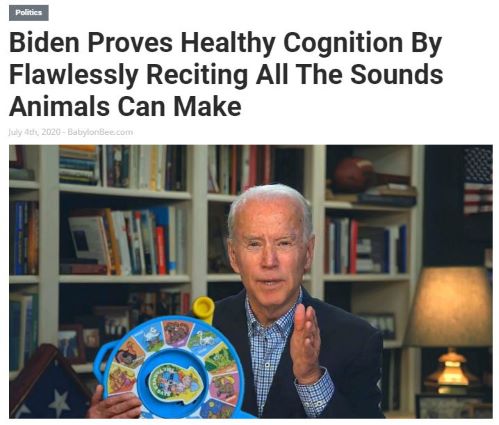 *****
THE GLOBAL WARMING HOAX
A disturbing part of the Global Warming hoax is that climate scientists routinely alter historical data to fit whatever current narrative they are pushing. Journalists aren't smart enough to check the "scientists" on their dishonesty, even if they had an interest in doing so, which they apparently don't. So, the fraudulently altered data gets reported as a fact.
In 1958 the NY Times reported that average ice thickness in the Arctic Ocean at that time was 7-feet thick. The source? Scientists.
By 1999 when we were reaching peak global warming hysteria from Al Gore, the NY Times reported that from 1958 to 1976 the average thickness of Arctic sea ice was 10-feet. The source? "Scientists."
So, to sell the hysteria about thinning Arctic sea ice, the climate scientists retroactively – and fraudulently - adjusted historical ice thickness records so that they could state that current ice thickness has declined dramatically in the past several decades. "Climate science" is a fraud.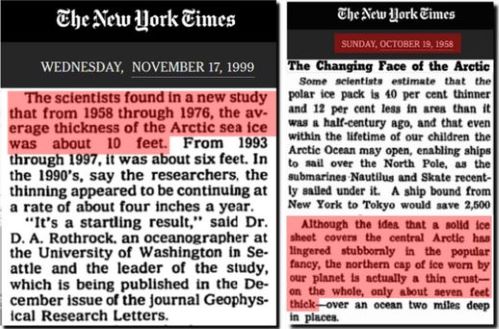 *****
THE WISDOM OF WILL ROGERS
There are three kinds of men. The one that learns by reading. The few who learn by observation. The rest of them have to pee on the electric fence for themselves.
All I know is just what I read in the papers, and that's an alibi for my ignorance.
There is nothing so stupid as the educated man if you get him off the thing he was educated in.
It isn't what we don't know that gives us trouble, it's what we know that ain't so.
The only difference between death and taxes is that death doesn't get worse every time Congress meets.
Too many people spend money they haven't earned to buy things they don't want to impress people they don't like.
A fool and his money are soon elected.
There's no trick to being a humorist when you have the whole government working for you.
*****
REPURPOSED TUNES
If you were raised Christian and attended Sunday School, you almost certainly have memories of singing "Jesus Loves The Little Children." The tune is actually from the Civil War song "Tramp Tramp Tramp" written in 1864 by George Root. It is sung from the perspective of Union troops being held as prisoners of war, singing with hope about the boys in blue who will come liberate them.
Tramp! Tramp! Tramp! The boys are marching, Cheer up comrades they will come, And beneath the starry flag we shall breathe the air again, Of the free land in our own beloved home.

Here is the Mormon Tabernacle Choir's version of Tramp, Tramp, Tramp

Here is Jesus Loves The Little Children
*****
MOTIVATION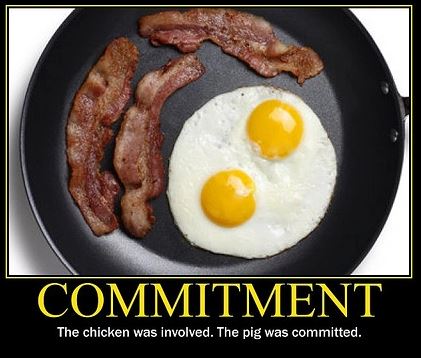 *****
THROCKMORTON'S FIRST LAW OF LIVE MUSIC: IF THERE'S AN UPRIGHT BASS IN THE BAND, IT'S PROBABLY GOING TO BE GOOD
Did you know that Kenny Rogers played the upright bass? Neither did I until just recently. Here are Willie Nelson and Kenny Rogers singing "Blue Skies" with Kenny Rogers playing the upright bass. Watch at the 2:30 mark when Kenny does a solo on the bass.

Here's another clip of Kenny Rogers playing upright bass, this time teaming up in a jazz combo with David Foster. I'm thinking the host may be Suzanne Somers.
*****
Tonight's overnight thread has been brought to you by exotic international cuisine.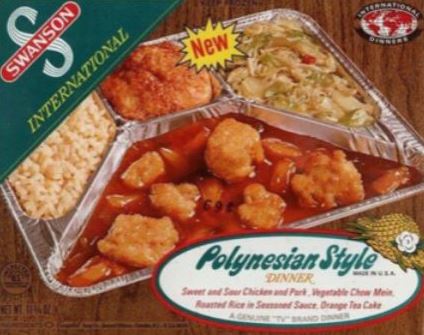 *****
Thanks again to the horde for letting me play host tonight. Please feel free to offer any helpful feedback, insults, or tips at buck.throckmorton at protonmail dot com

posted by Open Blogger at
09:59 PM
|
Access Comments