« Mid-Morning Art Thread
|
Main
|
Unexpectedly, The Unemployment Rate Spikes Upwards as the Economy Fails To Produce the Million Jobs That "Experts" Predicted, and Instead Produces Only a Catastrophe of 266,000 »
May 07, 2021
The Morning Rant - Misanthropic Edition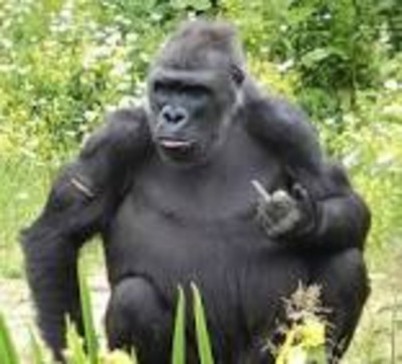 ***
The workforce of the USA has been turned upside down since March 2020 due to the Chinese Kung Flu and the inept "Smart People". Yes, Anthony Fauci I'm directing that at you.
Now, the big employers are fed up and want to "return to normal". The problem is we are never going to return to normal.

Mondelez International Inc., the maker of Ritz Crackers and Trident gum, wants to start welcoming workers back to office this summer, though with a caveat -- they must be fully vaccinated against Covid-19.

It's a thorny issue for many companies as some workers are hesitant about getting the shots, and Mondelez hasn't finalized its plan. Yet for Chief Executive Officer Dirk Van De Put, vaccines are a way to ensure safety while restoring workplace culture and camaraderie.

"We want to create an environment where you feel comfortable and it's like it used to be at the office," he said in a Bloomberg Television interview April 28. "We can only do that if everybody's vaccinated."

When I'm not slaving away at the Ace Media Empire, AceCorp, LLC and Mis. Hum. Enterprises I work for a rather large corporation. My employer required everyone to work from home unless they were department managers and wanted to work from the office.
So the employer has come out with the following: You can return to work at the office as of July 1st if you have had been used as a guinea pig and have been vaccinated against the Kung Flu. However before entering the building you must complete a daily questionnaire and it has to be submitted to HR.
Let me describe our office, can you say open concept and cubicle farms? Sure I knew you could. The employer mandate says you do not have to wear a face diaper while at your desk. However, if you leave your desk you are supposed to follow CDC Guidelines including wearing that damn mask.
Hold on a minute, if I'm vaccinated and I answer the questionnaire that I'm healthy why in the hell should I wear a mask? Oh and by the way, should I stay 3' away from a co-worker or 6' away?

The Centers for Disease Control and Prevention (CDC) is updating K–12 school guidance to reflect the latest science on physical distance between students in classrooms. CDC now recommends that, with universal masking, students should maintain a distance of at least 3 feet in classroom settings. CDC has updated its operational strategy to say:

In elementary schools, CDC recommends all students remain at least 3 feet apart in classrooms where mask use is universal — regardless of whether community transmission is low, moderate, substantial, or high.
In middle and high schools, CDC also recommends students should be at least 3 feet apart in classrooms where mask use is universal and in communities where transmission is low, moderate, or substantial.
Middle school students and high school students should be at least 6 feet apart in communities where transmission is high, if cohorting is not possible. Cohorting is when groups of students are kept together with the same peers and staff throughout the school day to reduce the risk for spread throughout the school. This recommendation is because COVID-19 transmission dynamics are different in older students – that is, they are more likely to be exposed to SARS-CoV-2 and spread it than younger children.
The updated Operational Strategy for K-12 Schools through Phased Prevention is part of CDC's existing resources for K–12 schools to open and remain open for in-person instruction during the COVID-19 pandemic. Since release of the Operational Strategy on February 12, 2021, CDC has continually reviewed the evolving evidence on SARS-CoV-2 transmission in K–12 schools, as well as the latest science on the effectiveness of different prevention strategies within schools. The updated guidance complements CDC's existing guidance, resources, and tools for K–12 schools.

Three studies, published in today's Morbidity and Mortality Weekly Report (MMWR), also address spread of SARS-CoV-2 in schools. Taken together, these studies build on evidence that physical distancing of at least 3 feet between students can safely be adopted in classroom settings where mask use is universal and other prevention measures are taken.

"CDC is committed to leading with science and updating our guidance as new evidence emerges," said CDC Director Rochelle P. Walensky. "Safe in-person instruction gives our kids access to critical social and mental health services that prepare them for the future, in addition to the education they need to succeed. These updated recommendations provide the evidence-based roadmap to help schools reopen safely, and remain open, for in-person instruction."

These updated recommendations are specific to students in classrooms with universal mask wearing.

CDC continues to recommend at least 6 feet of distance:

Between adults in the school building and between adults and students.
In common areas, such as school lobbies and auditoriums.

Damn, I just want to get rid of a cup of coffee to get a new one. Lot of guessing what I should do on my way to the commons area.

But is the CDC to be trusted? Or do you trust an institution of higher learning who has been researching this social distancing Bull Shit? According to MIT being 6' away from someone may not be enough. You may need 60'.

The risk of being exposed to Covid-19 indoors can be as great at 60 feet as it is at 6 feet in a room where the air is mixed — even when wearing a mask, according to a new study by Massachusetts Institute of Technology researchers who challenge social distancing guidelines adopted across the world.

MIT professors Martin Z. Bazant, who teaches chemical engineering and applied mathematics, and John W.M. Bush, who teaches applied mathematics, developed a method of calculating exposure risk to Covid-19 in an indoor setting that factors in a variety of issues that could affect transmission, including the amount of time spent inside, air filtration and circulation, immunization, variant strains, mask use, and even respiratory activity such as breathing, eating, speaking or singing.
Our company's return policy is voluntary, at least as I write this. As we get closer to the opening date who knows.
It's time to return to normal and that means sucking it up buttercups and allowing employees to return to work not wearing face diapers. It means allowing people to travel for their jobs. Sure Zoom and virtual meetings are good substitutes but there is nothing better than face to face interaction in most business settings.

Oh and speaking of our great federal government and the Kung Flu vaccine. The resident of the White House and his band of grifters are considering f*cking over Big Pharma. Hey Pfizer, Moderna and Johnson & Johnson, you know those patents you have? Well, we want to suspend those.

As vaccinations continue to roll out around the world we've heard plenty of complaints about how some countries are lagging far behind the wealthier nations where most of these vaccines were developed and are being produced. This has resulted in understandable requests for countries like the United States to more quickly begin sending more doses to those nations that are in need. Unfortunately, we're cranking these vaccines out about as quickly as is physically possible already. One solution that's been proposed is to allow other companies around the world to start producing their own using the scientific breakthroughs achieved by companies like Pfizer and Moderna, but that would run afoul of their patents and intellectual property rights. Never fear, socialists. President Joe Biden is endorsing a plan put forward by the World Health Organization to simply "pause" those patents and let other companies run with the ball. The American pharmaceutical companies are not fans of the idea, to say the least.

Rule of law? Oh hell no. We are a global community and to hell with private property and intellectual property. Some might snicker about Big Pharma getting screwed over by the feds. Just remember if they can screw large corporations they certainly can screw you over.

Speaking of face diapers and virtue signaling. Fill in your own caption with this one. Perhaps, Mr. Kamala needs to block Willie breath.

posted by Misanthropic Humanitarian at
11:00 AM
|
Access Comments