« Daily Tech News 3 May 2021
|
Main
|
Mid-Morning Art Thread »
May 03, 2021
The Morning Report - 5/3/21 [J.J. Sefton]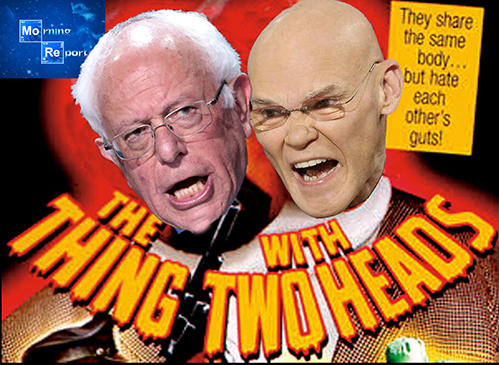 Good morning kids. Start of a new week and as is usually the case for a Monday, we're loaded with links so let's dive right into the sewer and unpack it. Certainly, the full frontal assault via the corrupted instrumentalities of government and law enforcement on Rudy Giuliani is indicative of the intimidation and persecution of anyone or anything that has opposed in the past or is perceived as a current threat to the Junta. At the same time, the Armed Militant Wing of the Democrat Party, BLM and Antifa are beating up, setting on fire and threatening death to their enemies, including erstwhile allies such as Ted Wheeler.
On a not unrelated note, the internecine struggle within the Party itself for ultimate control was on full display yesterday as farshimmelt crackpot Commie bull Bernie Sanders, ironically representing the Stalinist/Maoist contingent attacked the merely Trotskyite wing in the form of James Carville for his assertion that the party "can't be more liberal" than Joe Manchin. Skeletor was freaking out about the Woke-ster neo-Cultural Revolutionaries alienating even diehard Democrats and driving them away, if not into the arms of the GOP which couldn't attract flies if it were drowning in an ocean of Maxine Waters' ass-crack sweat, but that's beside the point. Let's face it, Skeletor and his ilk have no problem with the endgame; permanent power and control of the government and the economy. That's been their goal since at least 1913 and perhaps long before then. Their MO has always been via stealth; wrapping themselves in the flag and lying to the American people, and if we're perfectly honest, as history sadly shows us, it's worked. Until now. Or until President in exile Donald Trump's miracle win in 2016.
The problem though is the Democrats have always relied on a vast, discontented underclass, (which their policies created/exacerbated in the first place) sowing economic and especially racial animus while presenting themselves as the saviors of the poor, the non-white and the immigrant (legal or otherwise). In order to do that, it took over 60 years of brainwashing several generations of Americans via the classroom and the boob tube that the country they were born into, and those who support it, are not merely illegitimate but evil incarnate. So now, Gramsci's, Marcuse's and Ayers' chickens have come home to roost. For Carville et al, it's get woke or get out of the way. As for Joe Manchin or Kyrsten Sinema, if you think they don't understand the real meaning behind Derek Chauvin being found guilty or, less subtly, the message sent to Ted Wheeler, think again. The reign of the Clintonistas and their fellow travelers is over. The need to fake sincerity or to "feel your pain" is over. The Maoists are in the ascendency and they won't be faking sincerity because they'll be inflicting the pain on you. Assuming Biden, or more accurately Obama and Valerie Jarrett are the ones pulling the strings, how long before BLM/Antifa get tired of it? Perhaps we are heading for a Night of the Long Knives moment.
It sure seems that way, as Charlie Kirk warns.
Sometimes the most effective way to get what you really want is to tell people that you want the exact opposite. It is a subtle form of manipulation wherein you get the "audience" to hear you say you want one sort of extreme thing; they, in turn, express concern and objection, so you're able to then say, "I hear you. How about if we do this instead?"

That is exactly what is happening when Democrats and BLM leaders tell you that they want to defund the police. As lawlessness and violent crimes continue to escalate across the country, they are hoping that American citizens will speak out and make clear that they need and want police, but of course, they also want to have the imperfections of policing addressed. Once that happens, Squad-types like AOC, Pressley, Tlaib, Omar, and others can stand in front of a microphone and say to the people:

We hear you. That is why today, we are sponsoring legislation that will establish a national police force. This new force will take the place of smaller, ineffective, and poorly trained state and local forces around the country. Every person in every city and state will get the same high-quality, uniform service. All officers will be thoroughly trained in diversity, inclusion, and critical race theory. No longer will you have to fear chaos in your neighborhood. No longer will you have to fear those who are paid to protect you.

With that, they will have accomplished their true objective. They'll have the ability to direct a Gestapo-style law enforcement arm to help them fulfill their quest for complete and total control over every substantive act of American daily life. This is what they are hiding from you when they say, "defund the police."
Power and control. Who will ultimately wield it is another story. Remember that it was Obama and Holder that weaponized local police forces with military surplus gear and then, in the wake of Ferguson, started nationalizing them. Also, I seem to recall during those eight lost and horrible years federal agencies like the EPA and the Ed Dept. suddenly got SWAT teams under their aegises. I get the terrible feeling that there were a lot more guns involved in Fast and Furious and quite a few of them are in storage on this side of the border, just waiting to be accessed. By whom is the question. Looks like the coming shooting civil war will be a three way affair between the Junta, the BLM/Antifa axis and us in the middle firing in both directions.
But I digress...
Before my mind wandered, I wanted to segue from Carville vs Sanders to elections. While both of them go at each other about alienating or not alienating Democrat voters, yet again I have to pimp-slap those in the "we'll get 'em good in '22 and '24" crowd. Take for example the case of New York, both city and state, where people wonder how in the hell Angel of Death Cuomo and for sure Bill DeBolshevik can get elected and re-elected over and over again after destroying that city and state. We can for sure blame the well-documented fecklessness and uselessness of the state's GOP as well as non-Democrat voter apathy; DeBolshevik won his races with record low voter turnouts that IIRC were in the low double-digit percentages. But of course, maybe it was something else entirely that played a much bigger role:
Today, political candidates are blocked from even appearing on the ballot due to the nefarious machinations of political insiders.

This is not a Republican issue or a Democrat issue, but an American issue involving all political parties. It is about democratic participation in our political system. It is how potential candidates do not even reach the ballot box and are thwarted by entrenched political insiders in collusion with Board of Elections executives. Thus, the status quo is maintained. It is the undermining of the foundation of the democratic voting process that we the voters trust, which has been usurped by ten political "commissars" in a room.

The nefarious drama took place, as it always does, at 42 Broadway in Manhattan, in the bleak hearing room of the Board of Elections. In this room, the 31 Republican candidates knew their fate was already determined. This is the factual account of 31 Republican candidates, running for public and party offices in Queens, who were recently thrown off the ballot for meaningless technicalities, thereby denying 130,000 registered Republican voters in Queens County, NY a choice in the upcoming June 22nd Primary Election.

A former commissioner revealed some of the shocking details of the insider protection racket at the top tiers of the Board of Elections and party organizations. According to the former insider, the commissioners, general counsel, the party bosses all collaborate to pre-determine the approved candidates to get on the ballot and who they want to knock off. These private "horse-trading" sessions occur prior to the public commissioners hearings, which are carefully pre-scripted to make sure the insurgent candidates do not have ballot access in their party's Primary Election.
With Republicans like this, who needs Democrats, or an H.R. 1? We're not voting our way out of this.


ABOVE THE FOLD, BREAKING, NOTEWORTHY
CIVIL WAR 2.0: LEFTIST PERSECUTIONS, CAPITOL HILL BLACK WEDNESDAY PROTEST AFTERMATH, DEMOCRAT PUTSCH, AMERICAN DISSOLUTION
NOTE: The opinions expressed in some links may or may not reflect my own. I include them because of their relevance to the discussion of a particular issue.
ALSO: The Morning Report is cross-posted at CutJibNewsletter.com if you want to continue the conversation all day.
Follow us on Twitter: @CutJibNews
Follow us on Instagram:@Cutjibnewsletter

posted by J.J. Sefton at
06:57 AM
|
Access Comments