« Quarantine Cafe: The Bill and Melinda Gates Foundation for Melinda Gates' Yoga Instructor's Lambo Edition
|
Main
|
Daily Tech News 4 May 2021 »
May 03, 2021
Monday Overnight Open Thread (5/3/21)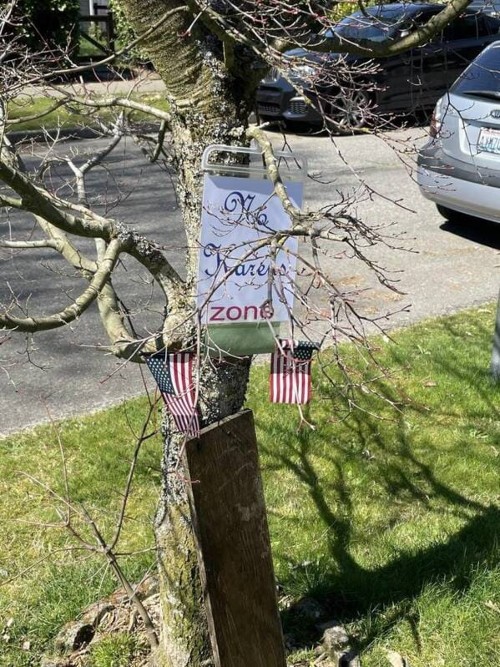 ***
The Quotes of The Day
Quote I

"There were no injuries to any employees, police, or patrons thanks to the swift actions of the store manager," Gloucester Township police said.
Quote II

"He was very lucky. It was a large tree, and it just missed striking him. It could have been very serious." Assistant Fire Chief Joe Robinson
*
The Boss covered the traitorous bitch Liz Cheney earlier today. The perfect response:
Quote III

"Liz Cheney participated in exactly ZERO of the legislative hearings, did not sign on to the Texas v. Pennsylvania suit, and never contacted us to learn the facts for herself."Trump Campaign Attorney Jenna Ellis
Quote IV

"It wasn't written anywhere that it's forbidden to bring a horse in. I couldn't leave it outside. It's an expensive horse and it would have been stolen from me." Unidentified Israeli horse owner
(H/T Isophorone Blog)
***

Isn't anything made in the USA anymore? Even SMOD is produced in China.

A 22.5-ton chunk of space debris from a Chinese rocket launch is expected to crash back to Earth in the next few days and is believed to be in danger of hitting an inhabited area.

SpaceNews.com reports Beijing launched the initial module in its permanent Chinese space station last week, which was carried by a Long March 5B, a variant of China's largest rocket, that detached successfully, but the 22.5-ton rocket is now expected to make an uncontrolled crash back to Earth in the coming days.

According to the website, the Long March 5B is designed to specifically launch space station modules into low Earth orbit by using a core stage and four side boosters to place its payload directly into low Earth orbit.

However, the core stage is now also in orbit, which is leading to a likely uncontrolled reentry toward Earth involving one of the largest uncontrolled reentries of a spacecraft that could potentially land on an inhabited area.

Most expendable rocket first stages take place prior to reaching orbital velocity and reenter the Earth's atmosphere and land in a set zone. Other larger, second stages perform deorbit burns to lower altitude, reduce time in orbit and limit chances of collision with other spacecrafts or immediately reenter the atmosphere.
***
I'm not sure what to say without shaking my head and cussing. The exceptional people of this country are becoming nothing more than laughing stock. (H/T Wyatt Earp)

Cicada anxiety: It's real, and here's how to cope
TriHealth: Noise and size of Brood X cicadas can make anyone anxious

CINCINNATI — In 2004, Michelle Dillingham was a young caseworker serving people with severe mental illnesses. During that spring 17 years ago, Dillingham had a severe anxiety attack of her own while doing home visits in Cincinnati neighborhoods.

"And I remember when this happened," Dillingham said. "I'm in my car and literally having to call my clients and say, 'I am too afraid to get out of my car; you're going to have to come to my car to meet with me today,' and feeling an extreme anxiety response."
***

I didn't realize he was that old. RIP Bobby Unser

Bobby Unser, a three-time Indianapolis 500 winner and part of the only pair of brothers to win "The Greatest Spectacle in Racing," has died. He was 87.

He died Sunday at his home in Albuquerque, New Mexico, of natural causes, the Indianapolis Motor Speedway said Monday. Unser won the Indy 500 in 1968, 1975 and 1981.

"He is part of the Mount Rushmore of Indy," said Dario Franchitti, another three-time Indy 500 winner.
***

First Jeff Bezos was available, now Bill Gates is soon to be unattached.

Bill and Melinda Gates have announced their divorce after 27 years of marriage, saying "we no longer believe we can grow together as a couple".

"After a great deal of thought and a lot of work on our relationship, we have made the decision to end our marriage," the pair wrote on Twitter.

They first met in the 1980s when Melinda joined Bill's Microsoft firm.

They have three children and jointly run the Bill & Melinda Gates Foundation.

The organisation has spent billions fighting causes such as infectious diseases and encouraging vaccinations in children.

I'm not judging, but shouldn't the Gates been working on saving their marriage instead of telling us all how to live?
***
The ONT Musical Interlude
Born on this day:3 May 1933
James Brown 'Soul Brother No.1', (1966 US No.8 and UK No.13 single 'It's A Man's World', 1986 UK No.5 single 'Living In America', 1963 album 'Live At The Apollo'). Brown demanded extreme discipline from his musicians and dancers, and had the practice of assessing fines on members of his band who broke his rules, such as wearing un-shined shoes, dancing out of sync or showing up late on stage. Brown died on 25th Dec 2006 at the age of 73. via thisdayinmusic.com
&&&
On this day:3 May 1986
The Art Of Excellence by Tony Bennett became the first album in the US to be initially released on CD instead of the traditional vinyl format. via thisdayinmusic.com
***
Lap dances are best not offered to the Po-Po when they are talking to you. Genius Award Winner.

APRIL 26--After offering "random citizens" lap dances, a tipsy Florida Woman asked police if they wanted to "bang" on the sidewalk and threatened to assault paramedics if they came near her, according to an arrest report.

Cops responding to a disturbance call Saturday evening encountered Olivia Taylor-Washek, 28, on the sidewalk outside a bar in St. Petersburg. Taylor-Washek, cops say, had been "stumbling on the sidewalk and attempting to give random citizens lap dances outside of a business."

The arrest paperwork does not indicate whether any lap dances were actually consummated.

Seen at right, Taylor-Washek was "highly intoxicated" and stumbling, prompting officers to call for a fire rescue team. However, Taylor-Washek was not evaluated "due to threatening to punch paramedics if they touched her."
***

I'm not certain if the following story falls into Tonight's Feel Good Story of The Day. But it is cute.

An elderly husband and wife duo living in an assisted living facility in Tennessee caused quite a stir last month after busting out of a secure unit using Morse code, The Tennessean reports. The pair, who has not been identified, suffer from dementia and Alzheimer's and were living in a part of the Lebanon facility with an electronic door lock. But they baffled staffers after vanishing from the premises, leaving employees wondering how they could have possibly gotten past the secure door with an electronic keypad. Documents from the Tennessee Department of Health show that after the couple was found wandering along a nearby road following their escape, the man confessed to staffers that he "previously worked with Morse code in the military" and had simply deciphered the door code by listening closely to the sounds it made when employees used it. The facility was hit with a $2,000 fine as a result of the couple's getaway, and it has since changed its door codes.

If the previous story isn't a Tonight's Feel Good Story of The Day, The next story definitely is.

An 8-year-old boy from Hazleton, Pennsylvania, is being hailed for saving his 20-month-old sister, Leila Dempsey, from choking.

The young man had seen an episode of Nickelodeon's "The Substitute" that featured wrestler and actor John Cena where he provided tips on how to save someone choking.
***

Tonight's ONT has been brought to you by Packaging.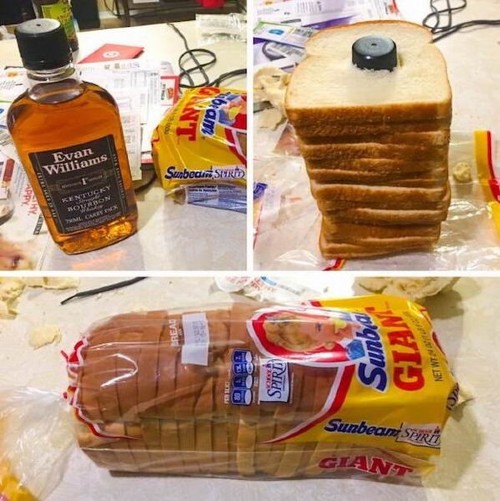 Notice: Posted with permission by the Ace Media Empire and AceCorp, LLC. Legal clearance from Dewey, Cheatem & Howe, S.C. And praised by 4 out of 5 Hamsters.

posted by Misanthropic Humanitarian at
10:13 PM
|
Access Comments