« More Asians Attacked in Hate-Crimes by Multiracial White Supremacy
|
Main
|
Quarantine Cafe: Broad Daylight Moonwalker Edition »
March 30, 2021
Matt Gaetz: I'm the Victim of an Extortion/Shakedown Plot Being Run by a Former Department of Justice Official
Raise your hands if you think that sounds crazy, given what you know now.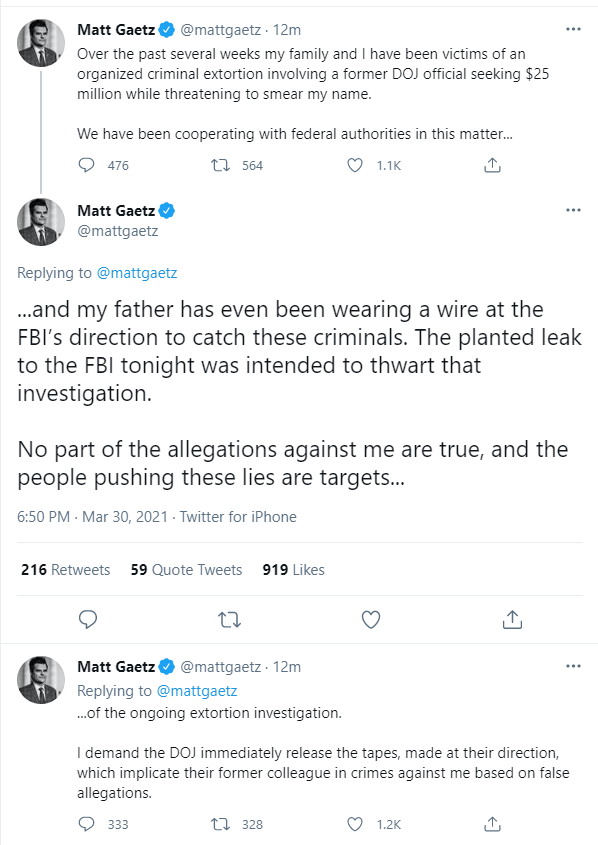 Apparently this shakedown (allegedly) involves Matt Gaetz paying for the travel expenses of young women he was dating. Gaetz admits that part.
Update: I want to stress, he's paying for these women's travel. I'm not saying he's paying them for sex. I don't believe he'd have to pay for sex.
But yeah, if you pay for a woman's travel, they tend to have sex with you. Women like hotels.
There's nothing wrong with that.
The way I phrased it with an "um" suggested that I think he was paying them for sex. I don't think that. I do think that when a man pays for airfare and hotel for a woman, she's likely to put out. But that is just how the world rolls.
But what they're trying to extort him on is the claim that one of the women he traveled with was 17.
What he's saying: "The allegations against me are as searing as they are false," Gaetz said in a 13-minute phone interview with Axios. "I believe that there are people at the Department of Justice who are trying to criminalize my sexual conduct, you know when I was a single guy."

Axios reported earlier Tuesday that Gaetz has privately told confidants he's seriously considering not seeking re-election, and possibly leaving Congress early for a job at Newsmax.

The big picture: Gaetz, 38, said the specifics of the allegations are "unclear," and he said he's been told "very little." But the New York Times reported late Tuesday afternoon that the Justice Department is investigating Gaetz "over whether he had a sexual relationship with a 17-year-old and paid for her to travel with him."

"The allegations of sexual misconduct against me are false," Gaetz told Axios. "They are rooted in an extortion effort against my family for $25 million... in exchange for making this case go away."

Gaetz sent Axios screenshots of text messages, emails and documents outlining the alleged extortion scheme, which he claimed was being run by a former DOJ employee. The Justice Department declined to comment.
I can easily see this being a scam. I could see a girl who's older than 17 claiming to be 17 for purposes of extortion.
The fact that these people immediately launched into a $25 million blackmail plot sort of damages their credibility.
And as for the Department of Justice -- guilty. Of whatever is being alleged.
My friends are concerned that the FBI, which has supposedly contacted Gaetz and his father to assist in the investigation of the blackmailers, is in fact targeting Gaetz.
That's about their speed. They pay an informer to set a target up at a dinner next to a Russian scholar, then they investigate that target for "Russian ties.
Russian ties that they corruptly engineered.
I'm going to stand by the presumption of innocence. Especially because I know the cops are filthy-corrupt.
Update: Story shopped around until the leakers found Axios a willing publisher, says Cernovich.
Mike Cernovich @Cernovich

The Matt Gaetz story must have been widely shopped around. I had it as did a few others.

An investigation of this nature usually wouldn't leak.

Highly suspicious.
This makes it seem much more like a hit.
And why did other leftwing papers refuse to run this ? Can't be because they were so convinced of the reliability of the accusers. I mean: Blackmailers.

posted by Ace at
07:30 PM
|
Access Comments