« Joe Biden's "Press Conference" With Five Or Six Handpicked Democrat Shills and Stooges
|
Main
|
Secret Service Intervened to Help Hunter Biden Out of Gun Jam »
March 25, 2021
Department of (In)Justice Admits That Maybe They Were Just Lying to Support The Next Democrat Propaganda Operation in Claiming There Was an Organized Armed "Insurrection"
The DO(In)J now admits that maybe the dog ate their homework.
...

But the Justice Department has since acknowledged in court hearings that some of its evidence concerning the riot -- carried out by a mob of supporters of former President Donald Trump to try to overturn his election loss -- is less damning than it initially indicated.

The department suffered another blow this week when U.S. District Judge Amit Mehta threatened to impose a gag order on prosecutors after Michael Sherwin, its former head prosecutor on the Capitol cases, told CBS's "60 Minutes" program that evidence pointed toward sedition charges against some defendants.

A charge of sedition -- meaning incitement of a rebellion -- has not been brought against any of the more than 400 people arrested to date. The most serious charges have been assault, conspiracy and obstruction of Congress or law enforcement.

...

[M]issteps by the government could harm its credibility as accused ringleaders begin asking courts to drop some of the most serious charges.

"They are trying to build the most horrendous cases they can because the public wants it -- and this is politicizing criminal justice," said Gerald B. Lefcourt, who for decades has represented high-profile defendants in political demonstrations, including Black Panther leaders and "Chicago Seven" trial figure Abbie Hoffman.

The Justice Department declined to comment, saying it cannot discuss ongoing cases.
Well, the lead attorney discussed it on 60 Minutes when he claimed he was about to start charging protesters with sedition.
But he can't comment on something that damages his Democrat Propaganda Lies.
Julie Kelly has been reporting on this thuggish, Third-World Banana Republic railroading of protesters and mere trespassers.

They have claimed that helmets were "weapons" to charge someone with being in possession of a weapon.
And to propagandize that the "insurrectionists" were armed.
And Kelly notes that prosecutors are now routinely taking people's political belief that the election was rigged as a valid reason to keep them in jail before a trial:
Further, Bruno's refusal to accept that Joe Biden fairly won the presidency is more proof he should stay in jail, prosecutors say. "The offenses committed by the defendant illuminate characteristics inconsistent with a person who could follow orders given by this Court, or indeed, any branch of the federal government. The defendant has espoused disbelief in the outcome of the 2020 Presidential election, and violently acted on that world view." (The government, both judges and lawyers, routinely cite a defendant's doubt about last year's election as evidence of wrongdoing.)
Is this America?
Is there an opposition party or not? Or is there at least a branch of the Uniparty willing to pretend to be an opposition party?
Has a single GOP office-holder, or a single paid commentator for Conservative, Inc., objected to this overcharging of Americans?
Pushed back at all against this rampant denial of due process?
Said a peep about a militarized police force holding protesters in jail without bail while convicted killers are set free?
Even mentioned the rampant abuse of wiretapping to go on fishing expeditions to see which Trump voters can be charged with some contrived crime?
Has a single elected official pointed out that it's unconstitutional to criminalize a political belief?
No, not a one.
They're all in on it.
I can no longer support a corrupt, cowardly party that only pretends to oppose the fascist socialists.
And now they're talking about putting Trump supporters who have committed no crime -- except to deny that the 2020 election was just and fair -- on a no-fly terrorist watch list!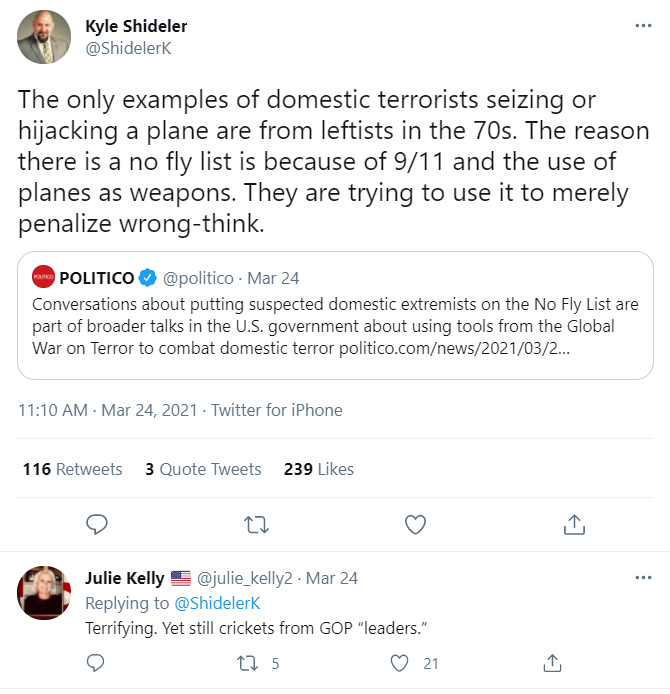 posted by Ace at
02:31 PM
|
Access Comments