« Gun Thread: Daylight Savings Time Edition! [Weasel]
|
Main
|
The Morning Report - 3/15/21 [J.J. Sefton] »
March 14, 2021
Sunday Overnight Open Thread (3/14/21)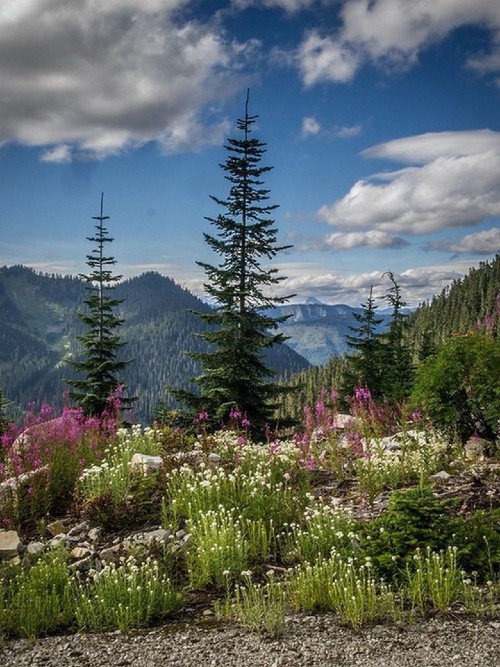 ***
The Quotes of The Day
Quote I

"While taking a subject into custody, officers were forced to utilize pepper balls to disperse members of the crowd who were disorderly and surrounding officers. Several subjects have been detained. Two officers were injured and have been transported to the hospital." Miami Beach Officer Ernesto Rodriguez
Quote II

"We will continue to cite, arrest, and confiscate these illegal vehicles. Our public streets are no place to ride these vehicles. It is illegal and you can get seriously injured or worse." Mayor Domenic J. Sarno
Quote III


"If he came out and said, 'Go and get vaccinated, it's really important for your health. the health of your family, and the health of the country,' it seems absolutely inevitable that the vast majority of people who are his close followers would listen to him." Dr? Anthony Fauci
Quote IV


"Instead of hanging us, they're shooting us">."Kia Shaw
Quote V

"There is no amount of money in the world that can take the place of the pain and the suffering that was caused emotionally, that was caused psychologically."Rev Michael Nabors, President of the Evanston NAACP
***
The Comment of The Week

***

ICYM Saturday's ONT........


Don't worry, this won't take away from the content...........
***
What does a death in Louisville, KY have to do with left coast cities? The justification to act like feral savages of course!!
Major cities on the West Coast were among those seeing riots and protests Saturday night as demonstrators marked the one-year anniversary of Breonna Taylor's death in a police raid in Louisville, Kentucky.

Several U.S. cities were beset by riots and protests on Saturday night as demonstrators marked the one-year anniversary of the death of Taylor in Louisville, Kentucky.

Los Angeles, Portland, and Seattle saw protests and clashes between crowds of people and police. Rioters threw rocks at police officers in Hollywood and smashed store windows, according to reports and footage published from the scene.

Videos showed riot police at the intersection of Hollywood Boulevard and Vine Street. A video uploaded to Twitter showed a demonstrator appearing to jump on a police car as it drove away.
***
***
A man's home is his castle, unless you are in Scotland.

The Bill, which passed what passes for a parliament on Thursday, is weaker than the one introduced but it is no less sinister. It is an authoritarian smash-and-grab on freedom of speech, extending the power of the state to regulate and punish expression far beyond consensus functions such as maintaining public order and deterring incitement to violence.

The legislation creates a sweeping new offence of 'stirring up hatred'. Liable for prosecution will be anyone who 'behaves in a manner that a reasonable person would consider to be threatening, abusive or insulting' — or communicates such material — if he or she 'intends to stir up hatred against a group of persons based on the group being defined by reference to race, colour, nationality (including citizenship), or ethnic or national origins', or if 'a reasonable person would consider the behaviour or the communication of the material to be likely to result in hatred being stirred up against such a group'.
***

The following is for managers who have to approve expense reports.

A local Toronto restaurant is making things easier for those looking to expense lunch by naming various menu items after office supplies.

Good Fortune Burger has begun offering #RECEATS, their renamed menu items disguised as a number of common office tools. Their Fortune Burger has become the Basic Steel Stapler and Parm Fries are also known as CPU Wireless Mouse.
***

My President raises money for rescue dogs. Unlike the current resident of the White House who has an attack dog.

Donald Trump has used a surprise appearance at a Mar-a-Largo dog rescue fundraiser to proclaim that his daughter-in-law Lara Trump will run for senate.

The former president delighted attendees at the event - held Friday night for Big Dog Ranch Rescue - as he took to the stage for an impromptu speech, which was shared to Twitter by journalist T.A. Walker.

'I didn't exactly prepare for this, but I was walking by, and I heard everyone screaming,' Trump was seen telling the crowd as they broke into rapturous applause.
***

Sure, sure. Blame it the Mrs.

A vicar has become an online sensation after a Zoom filter blunder accidentally turned him into one of the Blues Brothers during a live-streamed church service. Reverend Vaughan Roberts, 62, proved he really is on a Mission from God after the mishap left him resembling Joliet Jake Blues from the hit 1980 movie. Footage shows Rev Roberts welcoming the online congregation at St Mary's Church, Warwick, wearing a black fedora hat and sunglasses on his face. The video has been viewed thousands of times online, but Rev Roberts managed to see the funny side.
***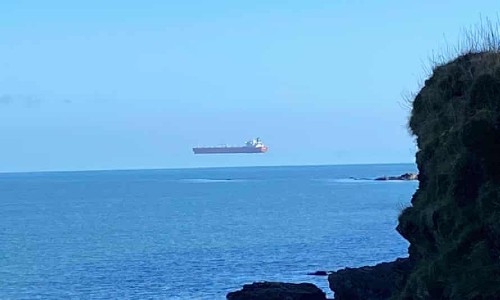 Imagine seeing this on a stroll. Pretty awesome.
H/T Hrothgar
There are only so many polite words that come to mind when one spots a ship apparently hovering above the ocean during a stroll along the English coastline.

David Morris, who captured the extraordinary sight on camera, declared himself "stunned" when he noticed a giant tanker floating above the water as he looked out to sea from a hamlet near Falmouth in Cornwall.

The effect is an example of an optical illusion known as a superior mirage. Such illusions are reasonably common in the Arctic but can also happen in UK winters when the atmospheric conditions are right, though they are very rare.
***

The old story of, "I have good news and I have bad news." The good news? Google may be slapped with a huge judgement. The bad news? Only the plaintiff attorneys will receive substantial compensation.

Google must face $5B lawsuit over tracking private internet use, judge rules
Judge finds tech giant didn't notify users their data could still be collected in incognito mode.
***

'To paraphrase Harry Truman, if you want a friend in politics, get a dog.'

We've all heard the phrase "rats jumping off a sinking ship." But it's rare we get a chance to watch the action in real time. As Cuomo's death march to political oblivion gains steam, a plethora of high ranking aides, many female, are still getting paid but are not bothering to show up for work. And they're not hiding the fact, but leaking it to friendly media. They don't want to get splattered with the gore of Cuomo's final days in office and are acting accordingly.
***

Let us take a look at the following. Currently slobbering, sun-setting, paste eating Uncle Joe Biden is the current White House resident. We all know that Kamala "The San Francisco Headhunter" is next in line to move in. So just why oh why is Meghan Markle making 2024 waves?
If you are going to grift, go big or stay home. I'm surprised she isn't leading Bill Kristol around by a leash.

Meghan Markle, the Duchess of Sussex, is reportedly "networking" with top leaders of the Democratic Party and mulling a run for U.S. president in 2024.

The report, which came in the Daily Mail, cites an unnamed British Labour Party official.

"The Blairite, internationalist and Democratic party networks are buzzing with talk about Meghan's political ambitions and potential backers," the anonymous source told the U.K. paper.

"During the US election last year they levelled a thinly veiled attack on Donald Trump by urging voters to 'reject hate speech,' which a spokesperson for the couple described as 'a call for decency.' Trump himself declared that he was 'not a fan' of Meghan, 39," said the paper.
Bring it Bitch.
***
My friend and fellow cob CBD had an interesting thread earlier today entitled 'Feelings Over Facts Have Helped Get Us Where We Are Today'
It doesn't matter how beautiful your theory is, it doesn't matter how smart you are. If it doesn't agree with experiment, it's wrong.-- Richard P. Feynman

Remember when anti-gun activist David Hogg woke up one day and decided to start a pillow company to keep up with Mike Lindell's popular MyPillow because Lindell supports Trump?

Or did you forget all about it?

If so, I'm sure you're not alone.

Watching Hogg try to launch his pillow company, called Good Pillow, was like being forced to watch a train wreck, as his public pleas for ideas and suggestions felt more like desperate cries for help than legitimate crowdsourcing. Yet the patheticness of it all didn't matter to the media. As PJM's Megan Fox reported last month, Hogg's pillow company, despite being in the embryonic stage of development, (they didn't even have a logo yet) was getting free publicity from the Washington Post.

In fact, Hogg's partner made a public appeal for a "top tier" graphic designer to design the company's logo for a mere $200 and in less than two hours for WaPo's forthcoming feature story, which was published February 9.
***
The ONT Musical Interlude
Born on this day: 14 Mar 1933
American record producer, composer and musician Quincy Jones. He is known for his 1962 tune 'Soul Bossa Nova' and later scored the 1978 US No.1 single 'Stuff Like That'. Jones has a record 79 Grammy Award nominations and was the producer of three albums by Michael Jackson, Off The Wall, Bad and Thriller which has now sold more than 65 million copies worldwide. via thisdayinmusic.com
AND
On this day: 14 Mar 2011
Ronnie Hammond, the lead singer of The Atlanta Rhythm Section, died of heart failure at the age of 60. He led the band to two Billboard Top Ten hits, 'So Into You' in 1977 and 'Imaginary Lover' in 1978. via thisdayinmusic.com
***

Not wearing a mask and the philosophy of "piss on it", earns a Genius Award Winner.


A Colorado man accused of disrupting an Alaska Airlines flight from Seattle to Denver by refusing to wear a mask and then standing up and urinating in the cabin faces a federal charge of interfering with a flight crew and attendants that carries a maximum term of 20 years in prison and a possible $250,000 fine.

The FBI arrested 24-year-old Landon Grier of Canon City after the flight landed March 9, according to an affidavit filed in U.S. District Court in Denver.
***

Tonight's Feel Good Story of The Day, helping out our animal friends.
How many of these stories are NSFW?

***
Weekly commenter stats for week of 3-14-2021

Top 10 commenters:
1 [432 comments] 'Sponge - Saying Ashli Babbitt' [60.64 posts/day]
2 [374 comments] 'Crazy Miklos' Tzampotli Family Fun Park and Contactless Endless Taco Bar'
3 [359 comments] 'garrett'
4 [333 comments] 'TheJamesMadison, paying for my sins on the Scorsese streets'
5 [325 comments] 'Skip '
6 [318 comments] 'Alberta Oil Peon'
7 [286 comments] '...'
8 [284 comments] 'clutch cargo - processed in a facility that may contain lead'
9 [279 comments] 'Christopher R Taylor'
10 [272 comments] 'Duke Lowell '
Top 10 sockpuppeteers:
1 [371 names] 'Crazy Miklos' Tzampotli Family Fun Park and Contactless Endless Taco Bar' [52.08 unique names/day]
2 [97 names] 'BifBewalski - '
3 [75 names] 'Duncanthrax'
4 [66 names] 'Bete'
5 [43 names] '18-1'
6 [36 names] 'Cicero (@cicero43)'
7 [32 names] 'Landofskybluewater'
8 [31 names] 'Notorious BFD'
9 [30 names] 'G'rump928(c)'
10 [25 names] 'pookysgirl, with a purring cat on her keyboard'
***

Tonight's ONT has been brought to you Time Well Spent.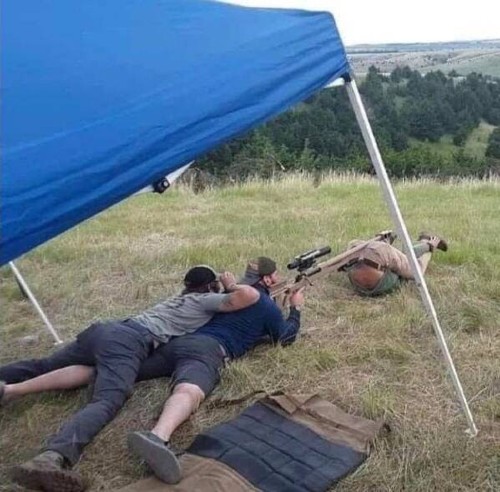 Notice: Posted with permission by the Ace Media Empire, AceCorp, LLC. and the Kamala "The San Francisco Headhunter" Pool. Guess when she takes over for the doddering fool in the White House. Entries petmorons at gmail dot com. One entry per Moron. Contest runs through March 31, 2021.


posted by Misanthropic Humanitarian at
09:50 PM
|
Access Comments