« GAINZZZ, BOOKZZZ, and PLANZZZ
|
Main
|
Quick Hits »
March 12, 2021
Amazon Announces That It Will Use Its Monopoly Power to Squelch All Thoughts Critical of Transgenderism;
Marco Rubio Says Amazon Can No Longer Count on GOP Help
MoNoPoLiEs ArE oUr FrEnZ.
The Chamber of Congress and AEI and the tech monopolies themselves pay Conservative, Inc., to say that.
So they do. Their "principals" demand that they deliver for every check they cash.
By the way: You'll almost never hear anyone in Conservative, Inc. even mention the world "monopoly," except to deny that any exist, or, if they exist, that they're bad.
They do not mention the word because even to mention the word "monopoly" would remind readers that there is a category of business practice which is not economically virtuous, which is not due to the free operation of the markets, and which is not in consumer or national interest.
And: Which has been subject to legal challenge for a century.
Weird that Conservative, Inc. bases things on claims of "tradition" but seems persistently ignorant about the tradition of opposition to anti-competitive monopolies enshrined in US law.
Conservative, Inc. likes talking about the "Free Market" and using that as a general Magic Word to propagandize for its donors, and therefore does not like to admit there exists a thing called a "monopoly" which thwarts the operation of the free market.
It will take you a lot of searching to even find the word "monopoly" in National Review's and Heritage's articles about actual monopolies.
The first rule of Monopoly Club is: Never admit there is a Monopoly Club.
So the monopolist online bookseller Amazon has decided to rig the marketplace of ideas to enshrine transgenderism as protected by the blasphemy rules usually only applicable to Muslim terrorism.
Blessings of Liberty (TM) for everyone!
Amazon.com Inc. said it recently removed a three-year-old book about transgender issues from its platforms because it decided not to sell books that frame transgender and other sexual identities as mental illnesses.

The company explained its decision in a letter Thursday to Republican Sens. Marco Rubio of Florida, Mike Lee of Utah, Mike Braun of Indiana and Josh Hawley of Missouri, which was reviewed by The Wall Street Journal. The senators had written last month to Chief Executive Jeff Bezos requesting an explanation of why "When Harry Became Sally: Responding to the Transgender Moment" was no longer available on Amazon nor on its Kindle and Audible platforms.

"As to your specific question about When Harry Became Sally, we have chosen not to sell books that frame LGBTQ+ identity as a mental illness," Amazon said in the letter, which was signed by Brian Huseman, Amazon's vice president of public policy, referring to sexual identities that include lesbian, gay, bisexual and transgender, among others.

'When Harry Became Sally," written by the conservative scholar Ryan T. Anderson, was published in February 2018. The book focuses on a variety of issues including gender identity.

'Everyone agrees that gender dysphoria is a serious condition that causes great suffering," said Mr. Anderson and Roger Kimball, the publisher of Encounter Books, the New York-based nonprofit that published the book, in a statement Thursday in response to Amazon's letter.

"There is a debate, however, which Amazon is seeking to shut down, about how best to treat patients who experience gender dysphoria," they added, calling their book "an important contribution" to that conversation. "Amazon is using its massive power to distort the marketplace of ideas and is deceiving its own customers in the process," they said.

..

The senators in their letter had also asked Mr. Bezos whether Amazon had changed its content guidelines since 2018. In Thursday's response, the company said it had indeed changed its guidelines since that year, without providing further details.

Not directly related to this -- but directly related to the tech monopolists' relentless war on half the fucking population of the United States -- Marco Rubio, of all people, made an actual stand.
For the past several years, Amazon has waged a war against working-class values. The Silicon Valley titan uses anticompetitive strategies to crush small businesses, bans conservative books and blocks traditional charities from participating in its AmazonSmile program. Not surprisingly, it has also bowed to China's censorship demands.

Amazon may be headquartered in America, but it considers itself a citizen of the world.

Now, the company is facing a unionization effort at its warehouse in Bessemer, Alabama.

The move comes after a banner year for Amazon thanks to the COVID-19 lockdowns. But even after historic market gains, its corporate leadership fears the prospect of its workers having an increased say in working conditions, so it's looking to crush the union vote.

For decades, companies like Amazon have been allies of the left in the culture war, but when their bottom line is threatened they turn to conservatives to save them.
Republicans have rightly understood the dangers posed by the unchecked influence of labor unions. Adversarial relations between labor and management are wrong. They are wrong for both workers and our nation's economic competitiveness.

But the days of conservatives being taken for granted by the business community are over.

Here's my standard: When the conflict is between working Americans and a company whose leadership has decided to wage culture war against working-class values, the choice is easy -- I support the workers. And that's why I stand with those at Amazon's Bessemer warehouse today.

Uniquely malicious corporate behavior like Amazon's justifies a more adversarial approach to labor relations. It is no fault of Amazon's workers if they feel the only option available to protect themselves against bad faith is to form a union. Today it might be workplace conditions, but tomorrow it might be a requirement that the workers embrace management's latest "woke" human resources fad.

It isn't clear whether the union effort is primarily driven by complaints from its workers, agitation from Democratic operatives, or just the fact that Jeff Bezos has now become the first person in history worth $200 billion. But Amazon should understand that waging a war on small businesses and working-class values has burned bridges with former allies.
I expect Marco Rubio, previously the Golden Boy of NeverTrump Establishment Corporate Shills, to decide that this Radical Rubio isn't their boy any longer.
Speaking of the paid corporate whores at National Review, let's check in to see what they're babbling about today: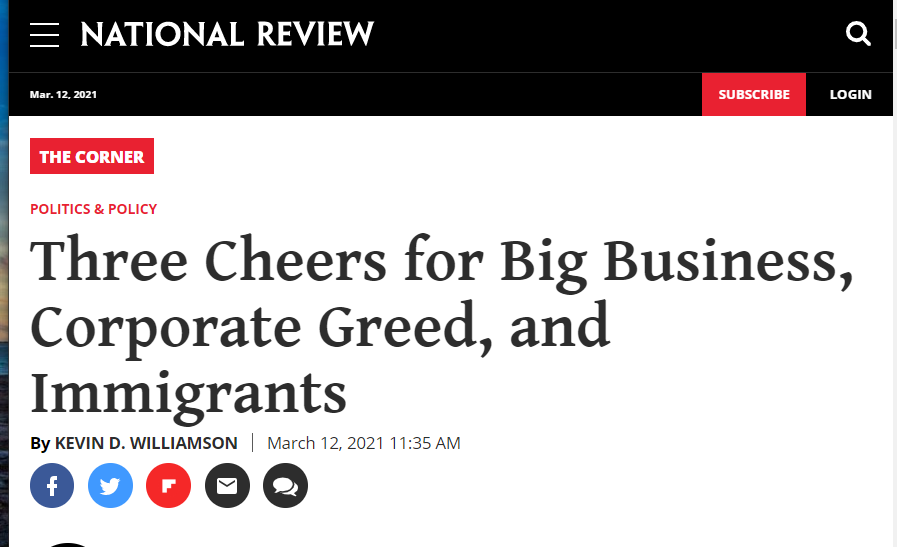 Ah, perfect. Never change, National Review. Just keep repeating the corporate propaganda your paymasters tell you to repeat.
(No, that article isn't about Amazon. But it did run as all this was happening.)
Related:

posted by Ace at
06:05 PM
|
Access Comments