« Antifa Attacks Cops As It Tries to Smash Through Barricades to Destroy Federal Courthouse
|
Main
|
Andrew Cuomo Vows He Will Not Resign, But Will Fight... "Cancel Culture;"
Guy Who's Father Was a Governor and Who Married a Kennedy Claims "I'm Not Part of Any Political Club" »
March 12, 2021
Governor Murder T!t5 Calls 1PM Press Conference After a Dozen Congressional Democrats, Including Jerry Nadler and Donkey-Chompers, Demand His Resignation
SEVENTH ACCUSER COMES FORWARD
Jesse McKinley @jessemckinley

BREAKING: @NYGovCuomo announces a 1 PM presser after a dozen Congressional Dems call for his resignation.
I held off on this post thinking that the press conference would start shortly, but I see zero other people even reporting on a press conference. I think this report may just be false.
Update: Maybe this is why the 1pm press conference isn't happening.
A female reporter has claimed New York Gov. Andrew Cuomo, D., touched her inappropriately and made her feel uncomfortable in an attempt to impose his power on the young journalist, making her the the seventh accuser to come forward with claims of sexual harassment against the governor.

"I never thought the governor wanted to have sex with me. It wasn't about sex. It was about power," Jessica Bakeman wrote. "He uses touching and sexual innuendo to stoke fear in us. That is the textbook definition of sexual harassment."

The New York magazine piece written by Bakeman, titled, "Cuomo Never Let Me Forget I Was a Woman," offered a first-person account of sexual harassment allegations against the embattled governor, who is now facing calls for his resignation by high-profile Democrats.


"Andrew Cuomo's hands had been on my body -- on my arms, my shoulders, the small of my back, my waist -- often enough by late 2014 that I didn't want to go to the holiday party he was hosting for the Albany press corps at the executive mansion," Bakeman wrote.

She was a 25-year-old statehouse reporter for Politico New York at the time and attended a party thrown by the governor despite being hesitant because of his constant touching.
He makes me ashamed of my Gender Identity as a SuperStraight.
There is new news on his sexual harassment of his employees: per New York magazine, Cuomo "told aides to track down attractive young women he met at parties and offer them jobs."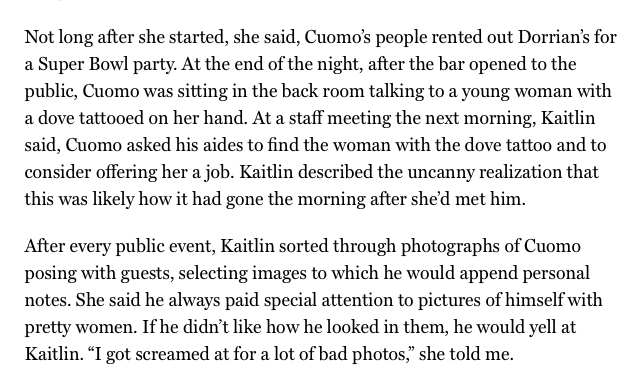 Just who in the hell does this guy think he is, Joseph Williams, frontman of American rock group Toto?
That'll be a hard one to explain away.
Donkey-Chompers' and Naddles' press releases are below.

Also below: a flashback to the day after Governor Murder T!t5 gave his deadly order to pack the nursing homes with covid patients.

posted by Ace at
01:50 PM
|
Access Comments