« Quick Hits
|
Main
|
Democrats in New York State's Assembly Give Green Light to "Impeachment Inquiry" Into Murderous Actions of Andrew "Governor Party Tits" Cuomo »
March 11, 2021
SuperStraight: The Newest Sexual Category That's Taking The World By Storm!
97 Us superstraights are just living our truth.
Posted by: Broseidon
155 Born a Crime.
Posted by: SuperStraight
So, trannies have been claiming for a little while now that if straight men don't have sex with trans "women," that must mean the straight men are really gay, because a real straight man would want to have sex with a woman.
A woman with a penis, mind you.
Lesbians have been having to deal with this stupidity for longer, as Men In Party City Wigs keep joining lesbian dating apps trying to get women to have sex with them: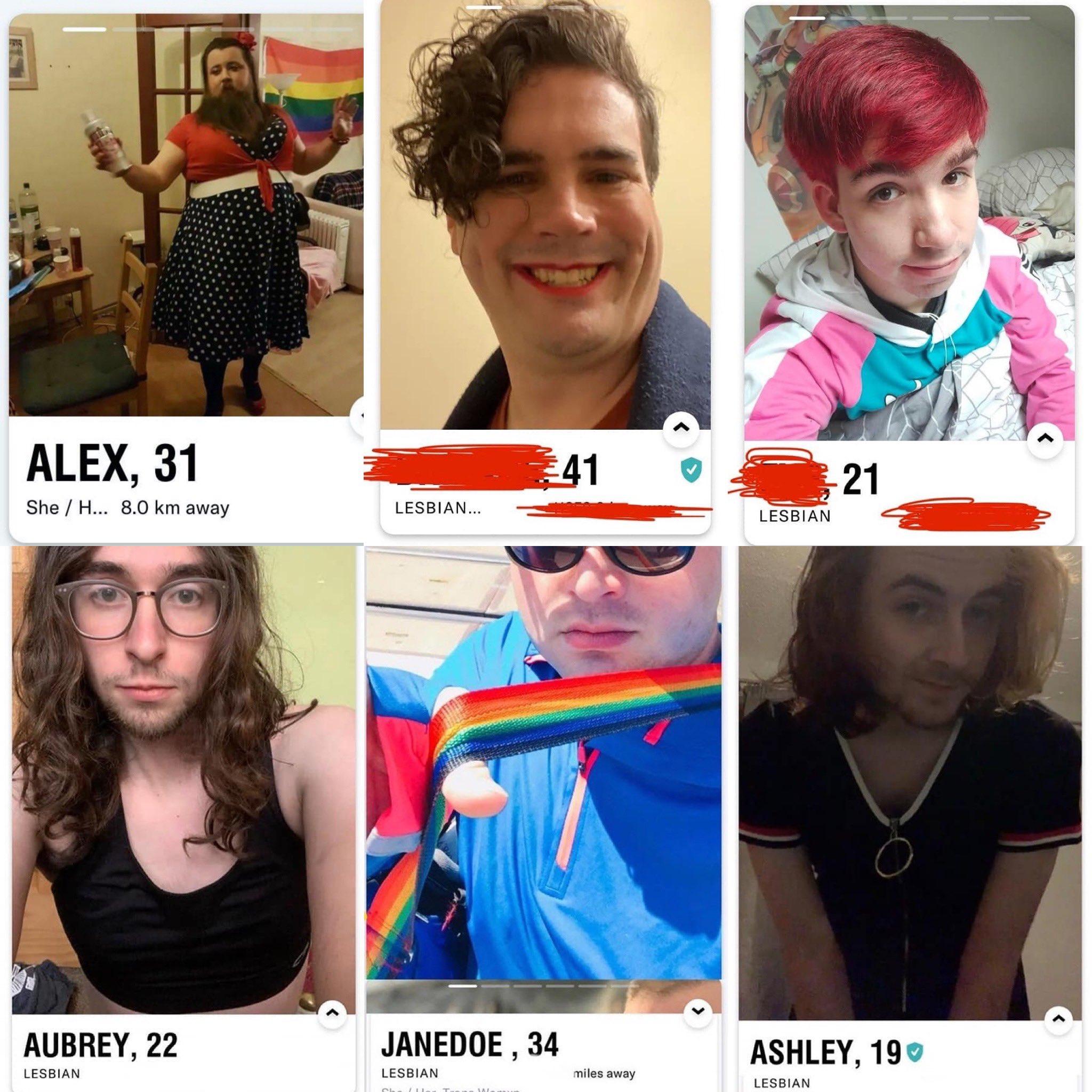 When the lesbians state that they don't date men, the trans "women" call them bigots, haters, and transphobes.
Some guy on TikTok decided to do something about this.
What he did was to invent the newest LGBTQ+ identity, called "Super Straight."
"Super Straight" is a gender identity we are born into -- which we cannot choose to be, or choose not to be -- that makes us only attracted to real biological members of the opposite sex.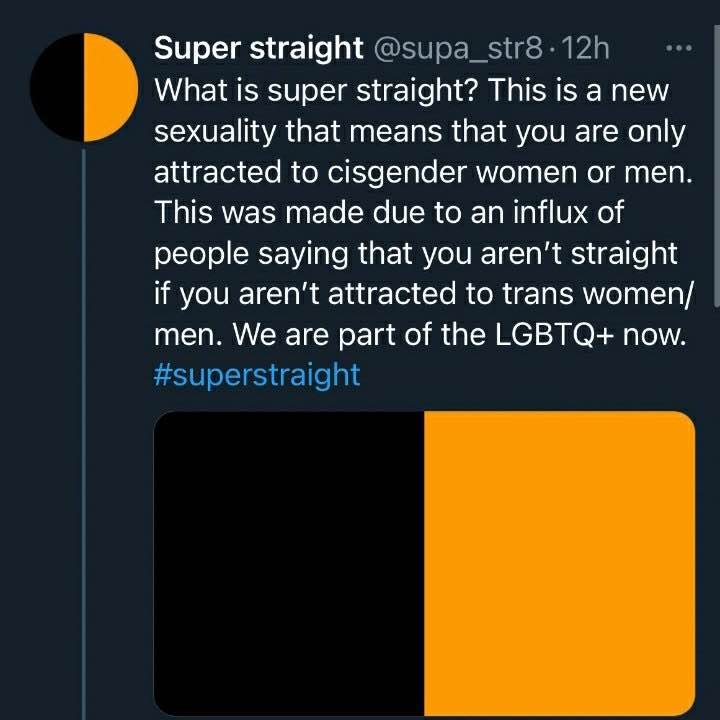 They made up their own LGBTQ+ flag and everything.
I also see people now saying they're members of the "SSLGBTQ" coalition.
Do you see what they did there? They put "SuperStraight" in front of the other Alphabet Identities.
Now that's Dudes Posting Their W's Online right there.
The beauty of this is that you can't argue with someone who has his own official SSLGBTQ identity hashtag.
We're born this way.
If you attack us, you're a phobe. In this case, a "superphobe," someone who hates and fears the SuperStraight gender identity.
You also might be accused of "Super Erasure," that is, attempting to "erase" the Super identity from existence.
Sexuality is a spectrum, girlfriend! And we are on the very very ends of the spectrum.
You're not an End of the Spectrum Denier, are you?

By the way:
Lesbians have been putting up with this bullshit for decades, but it took just one straight dude to finally sort shit out.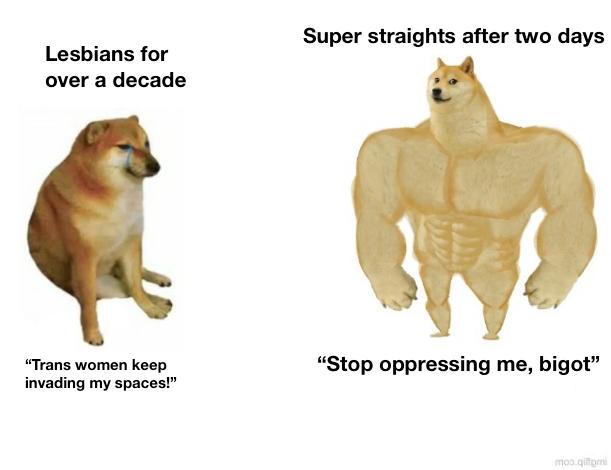 Below: Video of people "coming out" as Super Straight.
By the way, you can also be "Super Gay" or "Super Lesbian," meaning that you are born with an attraction only to members of the opposite biological sex, and not people dressing up in a game of Genital Cosplay.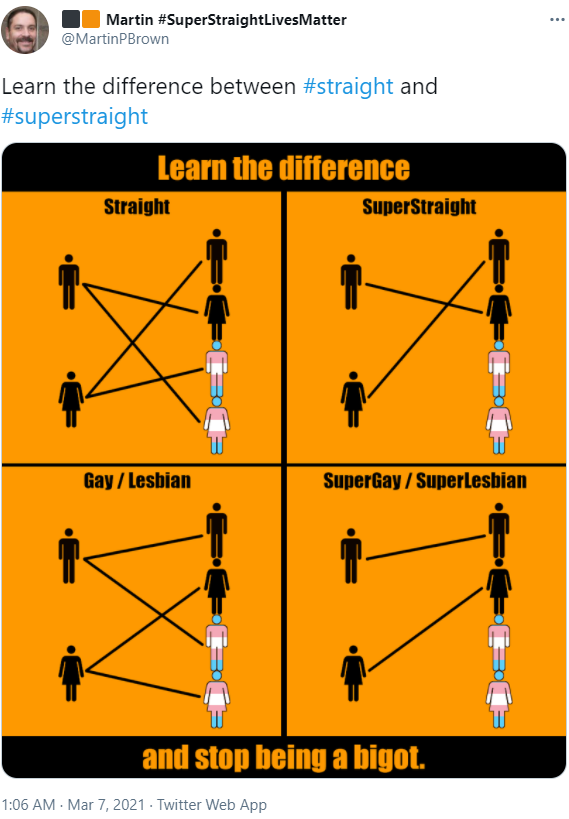 It's time to #DecenterTransgenderism.
SuperStraightism exists. Deal with it, bigots.

PS, yes, this is already being censored, throttled, and reply-limited on TikTok and Twitter.
But we in the tiny, tiny minority of 95% of humanity will not allow ourselves to be repressed by bigots and haters who are scared of our very normal sexual urges.
No H8 4 SuperStr8
Because "love" shouldn't be a four-letter word.

Love Has No Gender
Except for the two real ones.

posted by Ace at
05:18 PM
|
Access Comments