« David French Unmasks Himself as a Simp for Bill Kristol
|
Main
|
Democrat Sits Bravely on Capitol Steps to "Send a Message" to QAnon and Various Other Groups Which Are Not Planning an Armed Insurrection »
March 05, 2021
Cuomo Accuser: Cuomo Quizzed Me About Whether My Previous Sexual Assault Made It Hard for Me to Have Sex With Men, and If I Ever Had Sex with Older Men

A friend speculates that this Late Hit on Cuomo -- the hit should have come in freakin' May, of course -- is being coordinated by Kamala Harris, who knows Biden will die in office and that she herself has very little affection among Democrats. She is therefore, per this theory, taking out the man most likely to challenge her in 2024.
That's why the media is now reporting on this. Not because they're honest, not because they're brave.
But because a Democrat gave them their marching orders. As usual.
That sounds right to me.
Andrew Cuomo asked a 25-year-old advisor whether she had trouble being intimate with men as a survivor of sexual assault and quizzed her on whether she had sex with older men, according to one of the three women who accused him of sexual assault.

Charlotte Bennett, 25, spoke out on Thursday night in her first televised interview.

She said the powerful three-term governor, who was giving daily televised briefings in the midst of the pandemic and was receiving a rapturous reception, 'felt like he was untouchable in a lot of ways' when he 'propositioned' her.

...

On June 5, she was asked to take a dictation and at the end he asked her to turn off the tape.

'He asked if I had trouble enjoying being with someone, because of my drama,' she said.

'The governor asked if I was sensitive to intimacy.'

Bennett claimed Cuomo, 63, told her he would consider dating 'anyone above the age of 22'.

She felt it was clear the he was propositioning her.

...

Asked by O'Donnell why she thought that, Bennett replied: 'Without explicitly saying it, he implied to me that I was old enough for him and he was lonely.'

Bennett texted her friend, detailing the encounter.
Related: This video breaks down Cuomo's "Eat the whole sausage" pick-up line. It's actually worse when you see more of it.
John Sexton quotes a Gothamist interview with a Cuomo staffer: "We're all kind of waking up to the fact that we were in a cult."
Um, yes. Half of the country went mentally insane -- for real, not hyperbole; they had mental breakdowns -- in 2015 and we've had to suffer with their lunacy ever since then.
Most of these people are Very Online Twitter Addicts who were neurotics addicted to neuroticism -- they went on Twitter every day to be Outraged and Scandalized. It was not long before their mentally-broken meltbrains began longing to feel Outraged and Scandalized. It was... a weird sex-cult thing. (Almost all of them were basically celibate through Trump's term; their sexual energy was being used for freaking out three times a day.)
One could almost sympathize with these insane weirdoes except for two things: Rather than avoid the drug that sent them over the edge every single day (social media, especially the lunatic-making Twitter), they used the drug to wretched excess; and also, because they made -- and continue making -- the lives of the mentally sound a living hell, having to put up every single day with their hysterias, tantrums, and hallucinations.
And their meltbrain breakdown caused them to create cults around anti-Trump heroes like Andrew Cuomo, Anthony Fauci, Michael Avenatti, and even Eric Swalwell.

Below: The media's Cult of Cuomo.

And this just came over the transom: Mr. Expertise himself, Tom Nichols, says that the "elites," of which he considers himself a member for some reason, have achieved a Perfect Victory in the past three months.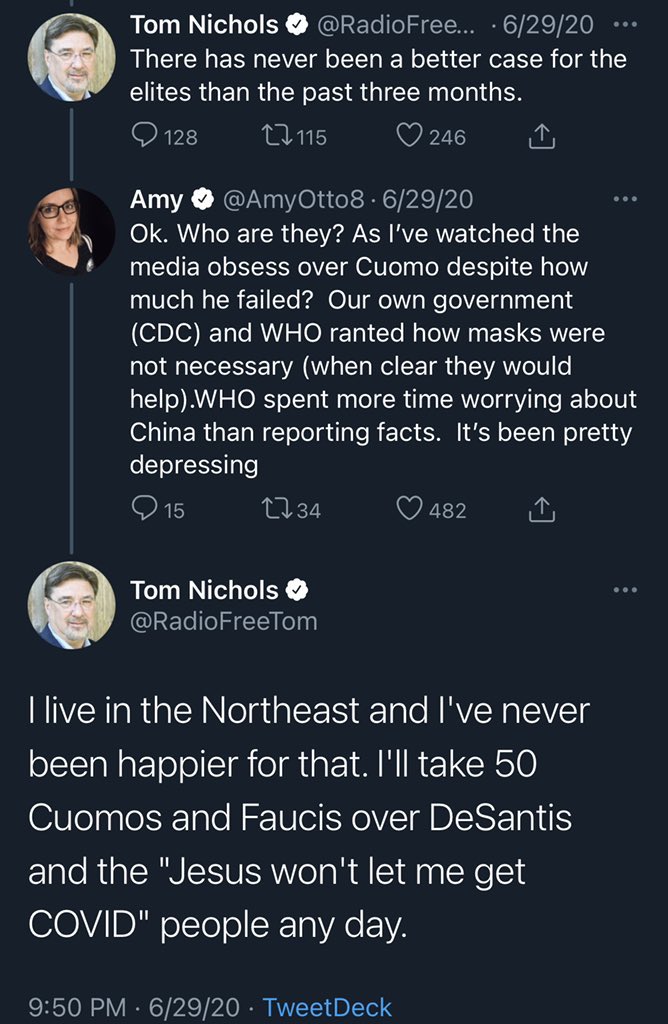 Notice -- he dates this from the transition period. Because this Man of Science and Expertise doesn't want to give Trump credit for the, you know, vaccine that is curing the plague.
Do you think there's a kind of old-man gay porn that features Bill Kristol, Tom Nichols, and David French?
Or is that just Twitter?


posted by Ace at
03:16 PM
|
Access Comments