« New York Assemblyman: Sonny Cuomo Threatened to "Destroy" Me and Ruin Me When I Pushed Him for Answers on the Nursing Home Murders
|
Main
|
Revealed: Grinning Idiot and Partisan Hack Troll Anthony Fauci Used to Lurk in Gay Bathhouses, Conducting an "Undercover" Investigation Into Gay Sexual Practices »
February 18, 2021
National Review's Snotty No-Accounts Double-Down on Haughty Self-Regard They By No Means Have Earned
Michael Brendan Dougherty @michaelbd

TIL non-readers who like shock-jock radio dislike writers. Shocking stuff.
Sean Davis @seanmdav

In addition to radio, Limbaugh sold millions of books, had two #1 best-sellers, authored kids' series, and wrote/edited a newsletter for decades. If only he had dedicated all that ink to whining about his daddy issues, he could've amounted to something.
I'm very, very tired of the Snob Jocks.
This is a claim these Twitter Intellectuals make -- they read and you don't. They write and you don't.
And yet, they seem to spend all of their time "reading" and "writing" on... Twitter.
Which is not generally considered a medium of belles-lettres.
Incidentally, I don't know what the Twitter abbreviation "TIL" means. But I see this Intellectual Titan is au courrant with all the hip lingo of a website designed for teenagers.
Update:
15 TIL means today I learned, I believe. Posted by: charlotte the sailor RIP Mr. Limbaugh
Oh great, cute little twitter-abbreviation jokes...! I can see why this prissy femme is so high and mighty about his work as "A Writer."
This guy hits Michael Dougherty where he lives -- on twitter.
But he makes this great point about the Fussies -- fake conservatives who are always virtue-signaling to their leftwing Twitter pals that they hate conservatives, too -- have elevated taste -- itself a very class-centered marker -- as supreme in matters of ideology, politics, and policy.
"Be like water..." @thekahoona

This is an example of how the current culture has raised "matters of taste" to the apex of decision-making.

Silly. Childish. Shallow.

The Romans were right: "De gustibus non est disputandum." (Matters of taste are not to be disputed.)
It's not about Trump's policies. Why no, my dear boy. It's about his Mean Tweets.
Matters of taste are first and foremost class markers, and as I've said many times, the greatest fear of these pencil-necked weaklings is to be mistaken for one second, even if it's just online, for a member of the (shudder) working class.
So they spend almost all of their very-limited brainpower trying to think of new ways to insult the, ahem, lower orders, thereby conveying not-to-subtly that they are above the lower orders, for behold, they are looking down upon them.
More "mean tweets" type stuff from this sitz-pisser:
@justin_hart

More fabulous belittling. Keep digging. Every true conservative comes out of the womb quoting Russell Kirk per Michael.


@michaelbd

Right, I missed that true cons make fun on Parkinson's disease.
I think that's referring to a compendium of Rush's "cringe" moments from... The Bulwark, naturally.
National Review's sister-publication "The Bulwark" is all-in on celebrating Rush's death the same way that any deranged openly-leftwing mag is doing: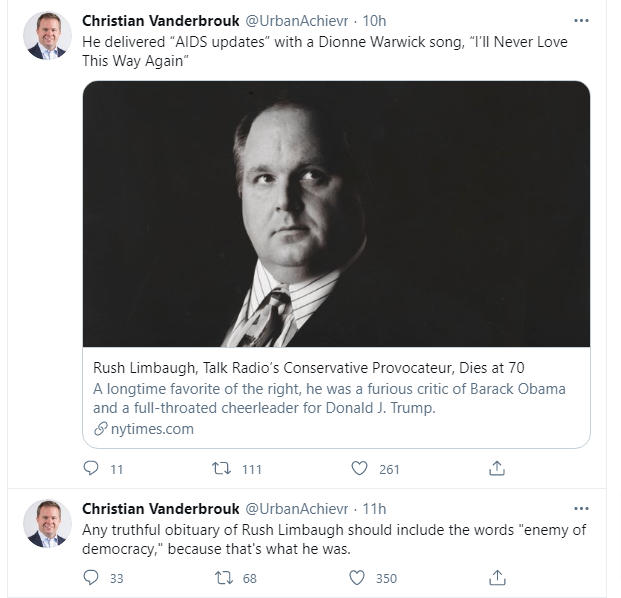 Rich Lowry has ended all pretense that there is some distinction between National Review and the gonzo-Democrat Bulwark a couple of weeks ago, when he linked this same scumbag:
Remember, this is the grifter who, when Trump was president, wrote a book called The Case for Nationalism.
Does anyone think this pudgy pussy is actually in favor of nationalism?
Does anyone suspect, on the other hand, that he wrote a quickie grifter book to capitalize on the hot new thing and make some grifter-money?
@KurtSchlichter


You need to understand that Conservative Inc. has always been upset with outsiders like Rush Limbaugh and Andrew Brietbart who dared interrupt these bow-tied losers' insular circle jerk.

posted by Ace at
01:13 PM
|
Access Comments