« EMT 2/21/21
|
Main
|
Trump For Congress? Um...Cute, But Dumb. »
February 21, 2021
Sunday Morning Book Thread 02-21-2021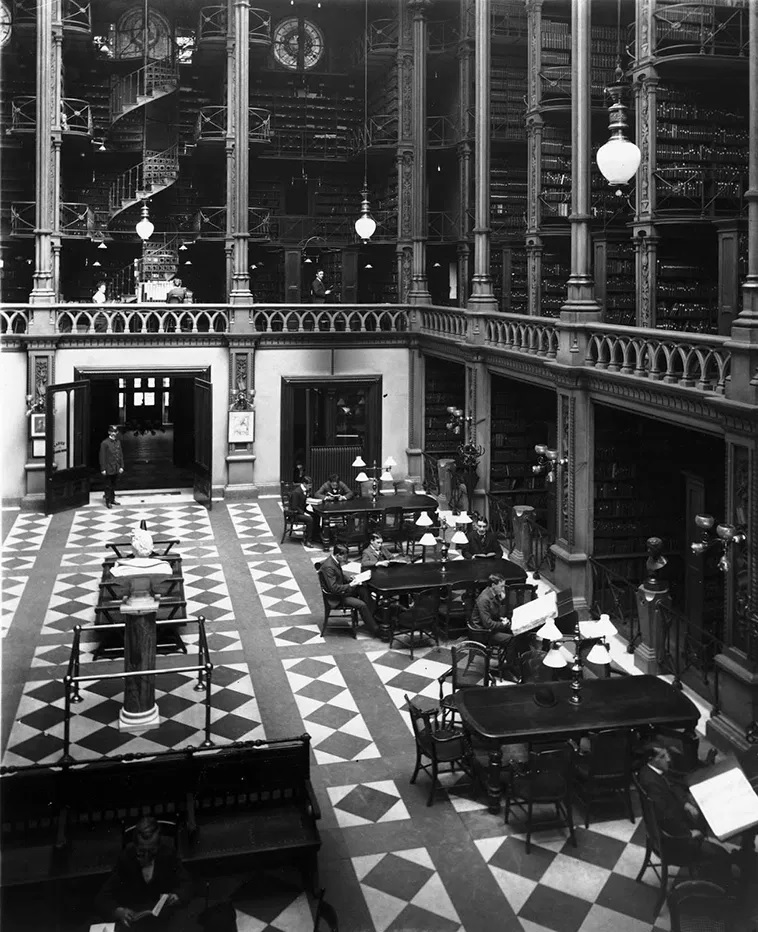 Another View of the Old Cincinnati Public Library
Good morning to all you 'rons, 'ettes, lurkers, and lurkettes, wine moms, frat bros, crétins sans pantalon (who are technically breaking the rules). Welcome once again to the stately, prestigious, internationally acclaimed and high-class Sunday Morning Book Thread, a weekly compendium of reviews, observations, snark, witty repartee, hilarious bon mots, and a continuing conversation on books, reading, spending way too much money on books, writing books, and publishing books by escaped oafs and oafettes who follow words with their fingers and whose lips move as they read. Unlike other AoSHQ comment threads, the Sunday Morning Book Thread is so hoity-toity, pants are required. Even if it's these pants, that were rejected by the Festrunk Brothers for being way too dorky.


Pic Note:
I have featured the magnificant old Cincinnati Public Library in previous book threads (see here and here) but never knew much about it, other than it was just an old building that is no longer standing. But wait, there's more:
First constructed in 1874, Old Cincinnati Library was built on a site intended for an opera house...

From the gorgeous chequered marble flooring to the massive arched skylight ceiling, the library was a feat of architectural beauty. Cast iron shelves teeming with books spread across the four-story main hall, creating a labyrinth of literature that was a sight to behold for patrons.

The huge glass ceiling flooded the library with natural light, providing ample illumination for those searching through the endless catalogue of books -it's though the total capacity was an incredible 300,000!
This is from Photographs of the Enchanting Old Cincinnati Library from 1847-1955, which, as the title suggests, includes more great photos.


It Pays To Increase Your Word Power®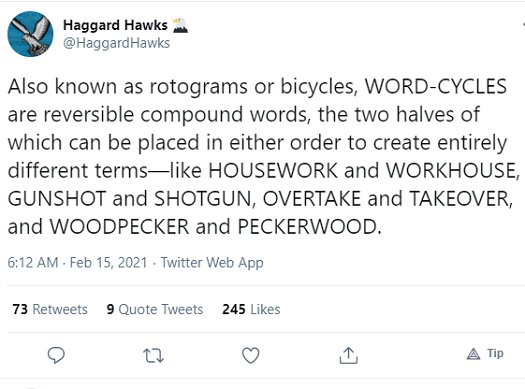 I came up with OVERPASS and PASSOVER. Also BACKTRACK and TRACKBACK. Let's see what you morons can do with this.


1984 Knocking On Your Door...
You all remember Mark Judge, right? He was the guy whom the MSM thought could deliver the goods on the depredations of Brett Kavanaugh and his gropey rapey pirate ship that terrorized the eastern seaboard for years and nobody ever knew about it, certainly not anyone at any of Kavanaugh's previous confirmation hearings -- until Doctor Christine Blaisey Doctor Ford ratted him out. Only Judge says he doesn't remember any of it, wasn't even there and was certainly never aboard Kavanaugh's rape boat, so they had to see if they could find someone else to bear false witness to Ford's lies.
Anyway, Mr. Judge is a writer of books and commentary, such as this piece 'They Were Relentless': How I Learned Respect for Our Communist Media, which is a review of a book written by Father Walter Ciszek, a priest who spent 20+ years in the Soviet gulag because he was "convicted" of being a spy for the Vatican. At first, he did not take his captors seriously and the psychological pressure they could bring to bear. But that changed when
...he realized what he was dealing with. The Russians were not about to stop asking him the same questions over and over again for days on end. They were not going to listen to facts or reason. "They were relentless, and they were thorough, and they were good at their trade," Ciszek notes.
Judge then relates this to his own experience with having to deal with the character assassins of the MSM:
The reporter who has just called you with a list of personal questions might be a goofball — or a trained and skilled interrogator. Assume, to be on the safe side, that he is very likely a deeply damaged, ideologically obsessed and angry human being. One who cares nothing about you, fairness, or even your life. Just like the Russians who tortured Fr. Ciszek.
The book is He Leadeth Me: An Extraordinary Testament of Faith, wherein Father Ciszek relates how he endured the prolonged ordeal:
Only through an utter reliance on God's will did he manage to endure the extreme hardship. He tells of the courage he found in prayer--a courage that eased the loneliness, the pain, the frustration, the anguish, the fears, the despair. For, as Ciszek relates, the solace of spiritual contemplation gave him an inner serenity upon which he was able to draw amidst the "arrogance of evil" that surrounded him. Ciszek learns to accept the inhuman work in the infamous Siberian salt mines as a labor pleasing to God...

He Leadeth Me is a book to inspire all Christians to greater faith and trust in God--even in their darkest hour. As the author asks, "What can ultimately trouble the soul that accepts every moment of every day as a gift from the hands of God and strives always to do his will?"
The Kindle edition is $11.99. Judge's review comes complete with a 3 AM knock on his door. I almost wish he had answered it. Let me rephrase that: After reading his review, and how the MSM treated him, I almost wish he had opened the door and then shot the guy in the face.


Who Dis:

(click to enlarge)
(Last week's 'who dis' was actress
Sarah Michelle Gellar
, back when she was very young and some vampires needed killin'.


Moron Recommendations
14 I read To Sleep in a Sea of Stars by Christopher Paolini. In 2257 exobiologist, Kira, finds an alien relic. This sets off a series of events which lead to the Earth and its colonies to the brink of annihilation. An interesting, exciting story populated by strange, alien life forms. Also of interest is the afterword in which Paolini describes the long road taken to get this book to print. Not a road for the lazy or easily discouraged.

Posted by: Zoltan at February 14, 2021 09:07 AM (qb8uZ)
To Sleep in a Sea of Stars is listed on Amazon as an "Editor's Pick"
___________
33 Just for fun, I'm reading "The Talented Mr. Varg," by Alexander McCall

Posted by: Ladyl, Insurrectionist at February 14, 2021 09:14 AM (TdMsT)
The Talented Mr. Varg appears to be the third in a series. It sounds like some comedy or some sort of farce:
In the second installment in the best-selling Detective Varg series...
Like I said, second in a series.
Ulf and his team investigate a notorious philanderer—a wolf of a man whose bad reputation may be all bark and no bite.

The Department of Sensitive Crimes, renowned for taking on the most obscure and irrelevant cases is always prepared to dive into an investigation, no matter how complex. So when the girlfriend of an infamous author who insists her bad-boy beau is being blackmailed approaches Ulf Varg, the department's lead detective, Ulf is determined to help. It's rather difficult to determine what skeletons hide in the hard-living Lothario's closet, though. And while Swedes are notoriously tolerant . . . well, there are limits. Even for the Swedish.
The first is called The Department of Sensitive Crimes:
In the Swedish criminal justice system, certain cases are considered especially strange and difficult, in Malmö, the dedicated detectives who investigate these crimes are members of an elite squad known as the Sensitive Crimes Division.

These are their stories.
BONG! BONG!
What kind of cases we talking about here? Cases like these:
The first case: the small matter of a man stabbed in the back of the knee. Who would perpetrate such a crime and why? Next: a young woman's imaginary boyfriend goes missing. But how on earth do you search for someone who doesn't exist? And in the final investigation: eerie secrets that are revealed under a full moon may not seem so supernatural in the light of day. No case is too unusual, too complicated, or too, well insignificant for this squad to solve.
The author, Alexander McCall Smith, has written a ton of books, including The No. 1 Ladies' Detective Agency series.
___________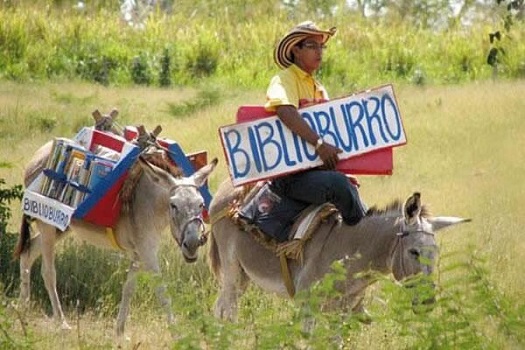 Here's a freebie for you Harry Potter fans. A lurking moron e-mailed me to tell me about an online book that I guess could be described as HP reimagined:
Harry Potter and the Methods of Rationality is the story of Harry Potter as it would have been if his "mom" (Aunt Petunia) had received a major beauty upgrade from Harry's real mom and went on to marry an Oxford Professor. Harry is raised with two people who care for him, in a home filled with science and tutors. Instead of going to Griffendor, he ends up in Ravenclaw (with Hermione, after Harry blows off Ron). From there on it, the story escalates as Harry applies the scientific method to magic, and begins to understand its foundations the way the Magical World never did. All while the Defense Professor (Quirrell) takes way too great an interest in Harry, befriending him and training his raw young intellect. This is Harry Potter done right, and in a fashion that doesn't drag through seven years and too many innocent deaths from secrets kept. Well recommended (and apparently it was authorized by JK Rowling, although not for [the author] to make money).
You can go to the hosting site and read it online or download it in various e-book formats.
This reminds me of the magic/computer mashup books I read a number of years ago wherein a computer geek gets sucked into a magic-rich universe where the magic is powerful, but flakey, unpredictable, and not easily controlled. Nobody knows why he's there until he learns how to make a magical equivalent to "1" and "0", and from those binary digits, he proceeds to use his nerd/geek skills to construct spells like writing computer programs that work reliably well all the time. The author's name is Rick Cook and his books are available as inexpensive, DRM-free e-book compilations here, here, and there was even an additional installment I never got to, here. I found the writing to be a bit amateurish, but nonetheless entertaining.
___________
'Prince Ludwig the Deplorable' e-mails:
I thought I'd pass along a recommendation for The Long Moonlight by Razörfist. To my knowledge, it's the first ever fantasy-noir novel. Think Tolkien meets The Maltese Falcon, with strong Robert E Howard/Walter B Gibson pulp serial influence. It was a fun read.
Something is poking me way, way in the back of my brain telling me that this is not the first time I've heard about a sword-and-sorcery/noir mashup, but I just can't recall. Oh well, it will probably come to be days from now. Anyway, here is the blurb:
MENUVIA

A sparkling gem made rough stone, the seat of political power in the Kingdom of Vale. Revolt foments among the patrician class and open gang war looms on the horizon. As the Argentine Tower plots revolution, a lone thief with a past as dark as Menuvia itself picks the wrong lock and opens the wrong door. Shadows still cast in the dark of night, underneath THE LONG MOONLIGHT.

Featuring a series of original illustrations.
And to buy this novel, you don't have to give Jeff Bezos any money. Here is the publisher's link to the $4.99 DRM-free e-book. You can also spend a little more for one of the dead tree editions.
___________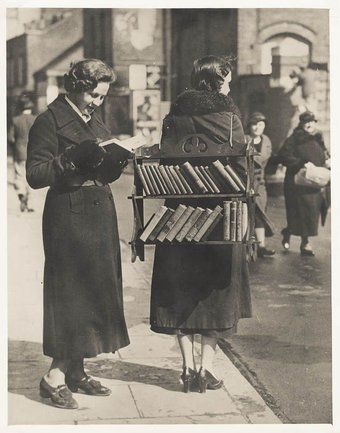 Books By Morons
Moron author Max Cossack has a new novel out. According to the e-mail he sent me:
There's a new Max Cossack novel out this week, number 5 in the "Wilder Bunch" series beginning with "Khaybar, Minnesota," and including "Simple Grifts." It's "Where There Is No Man", in which Sam Lapidos and his Mauritanian-born law partner Jacob Laghdaf take on a series of new Arizona clients, each one plunging their lives into ever more violent turmoil, and each new day bringing their clients and themselves closer to destruction. It's "suspenseful, action-packed, sometimes moving, often laugh-out-loud funny, and always PC-indifferent."
Where There is No Man is $2.99 on Kindle and $12.99 for the paperback edition. In fact, all five installments of the Hack Wilder series are priced at $2.99 Kindle/$12.99 paperback.

___________
So that's all for this week. As always, book thread tips, suggestions, bribes, insults, threats, ugly pants pics and moron library submissions may be sent to OregonMuse, Proprietor, AoSHQ Book Thread, at the book thread e-mail address: aoshqbookthread, followed by the 'at' sign, and then 'G' mail, and then dot cee oh emm.
What have you all been reading this week? Hopefully something good, because, as you all know, life is too short to be reading lousy books.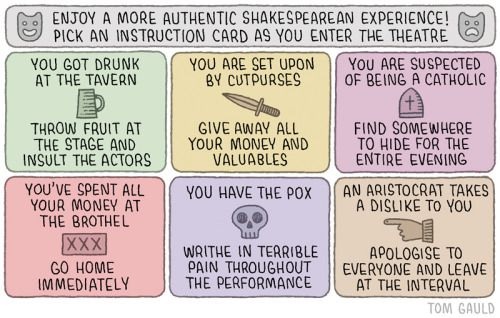 posted by OregonMuse at
09:00 AM
|
Access Comments