« Biden Claims The Government Had "No Vaccine" When He Took Office;
Partisan Democrat Anthony Fauci Refuses to Comment on Andrew Cuomo's Murder of the Elderly
|
Main
|
Joe Biden Straight-Up Recites Communist China Propaganda in Explaining That He Will Never "Speak Out About" What the Chinese Are Doing to Hong Kong, to Taiwan, and to the Uyghurs »
February 17, 2021
Where Is Rick Wilson's Movie? The One He Fundraised $65,000 For?
Rick Wilson, co-founder of the anti-Trump Lincoln Project PAC, raised nearly $65,000 for a film called "Everything Trump Touches Dies" that has yet to be released.

Wilson raised $64,766 from around 1,400 donors for the film -- based on his book under the same title -- on the crowdfunding platform GoFundMe, though donations have since been paused for the project.

The GoFundMe page initially claimed the feature-length documentary would premiere in January 2018. But a January 2018 update from Wilson said filmmakers were still working on its "first round of interviews" and asked people to give more money to the project.


"Team Trump won't like this, but we're in the home stretch in this fundraising effort for [the film]," Wilson wrote. "Your support is more vital and appreciated than ever."

Wilson provided no updates for nearly two months, when he said in March 2018 that the film was in "final production" and again asked for more money.

Nearly a year later in February 2019, Wilson insisted that the project was "still happening" and that he needed to "expand the scope of the project to truly tell the story."

"We will endeavor to keep our community more informed as the project goes forward," he wrote, but no update has been posted to the page since then.

Wilson did not immediately respond to email inquiries from Fox News.
"Wunderkind" film-maker Ben Howe claims this "film," consisting entirely of talking-head interviews with NeverTrumpers he sees like every week, plus some cheap B-roll of Washington DC you can film in half a day, is somehow "still in production" after over two years.
I'm sure this "film," by Wunderkind Director Ben Howe, is a masterpiece. Epics are frequently plagued by delays. Why, it's a regular Anthony & Cleopatra.

Meanwhile...
Wanted: One "pirate." Last seen on Twitter. Always seen on Twitter.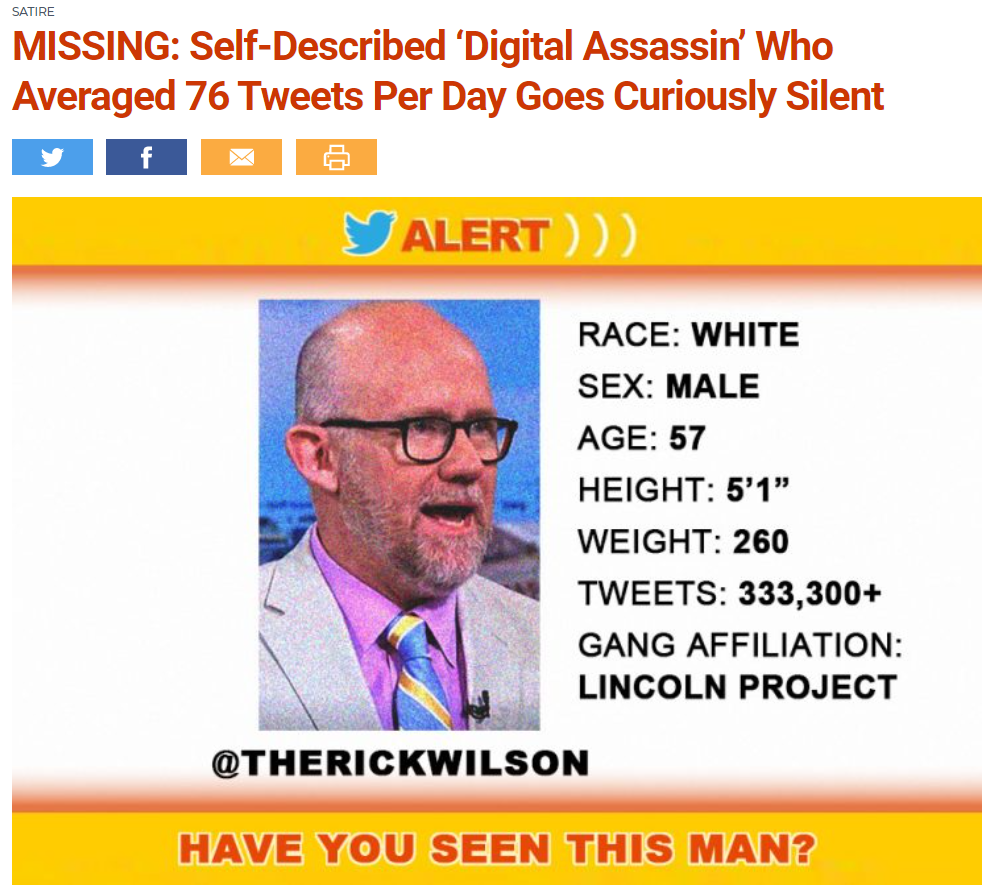 Wilson, a self-described "digital assassin," has tweeted more than 333,300 times since joining the popular social networking website in January 2009, which works out to an average of about 76 tweets per day. For the sake of context, individuals who are mentally and emotionally stable typically tweet zero times per day on average.

In recent days, however, Wilson has all but disappeared from Twitter. He has not composed an original tweet since Abraham Lincoln's birthday on Feb. 12, when fellow Lincoln Project cofounder Steve Schmidt resigned from the board of the scandal-plagued super PAC. "Oh good Lord. lol," Wilson tweeted, without providing additional context.

Wilson's last known use of the Twitter website took place on Monday, when he retweeted a Lincoln Project statement announcing that the law firm Paul Hastings would conduct a "comprehensive review" of the organization's "operations and culture." As it turns out, several senior partners at the firm are Lincoln Project donors. LOL.
Linked in JJ Sefton's Morning Report: You know that "outside law firm" hired to conduct an "independent review" of what the Lincoln Project knew, and when they do it...?
Surprise! That law firm has donated thousands of dollars to the National Man-Boy Lincoln Association.
Paul Hastings, the law firm hired to conduct a "comprehensive review" of the Lincoln Project's "operations and culture," could be hard-pressed to deliver a credible result given several of its senior partners have donated to the scandal-plagued super PAC.

Greg Nitzkowski, the firm's managing partner of more than two decades, donated $3,000 to the Lincoln Project in 2020, according to federal election records. Elena Baca, who chairs the firm's employment law department, has donated almost $2,000 to the Lincoln Project.

posted by Ace at
05:01 PM
|
Access Comments