ę Judge Rules That LA's Soros Prosecutor Is Acting Illegally When He Refuses to Enforce the Law Against Criminals
|
Main
|
Rashid "Impeach the Motherf*cker" Tlaib Literally Cries About Conservative Rhetoric Ľ
February 08, 2021
Woke Corporations and Corporate Media Put On Super-Woke Super Bowl
49 I work at a somewhat woke company. While talking about some projects we were working on the new guy asked me "hey why isn't anyone talking about the superbowl?" and I remembered that even last year everyone was talking about the superbowl none stop the monday after.


Well you've finally done it lefties you've killed the NFL.
Posted by: 18-1
Would you like some football with your perpetual IV drip of leftwing propaganda?
The day got off to a #Woke start with Mariah Carey and other leftwingers proclaiming that it was "National Colin Kaepernick Appreciation Day."
Former ESPN anchorracist Jamelle Hill couldn't stop talking about a washout and quitter who was mediocre at best, at his peak:
@jemelehill

In that Inspire Change commercial, the NFL forgot to show the part where they blackballed Colin Kaepernick, have only 3 black NFL head coaches and no majority black ownership.
Tom Brady wound up winning his seventh Super Bowl, at the age of 43 no less, and his achievement was immediately denigrated by Woke worms on Twitter claiming it was only his "white privilege" that allowed him to win.
The Super Bowl organizers themselves set the stage early for that kind of unhinged divisive venom, starting the night with a divisive identity-politics kick, by featuring the so-called "Black National Anthem," announcing -- or confirming -- that America is helplessly, violently divided into two separate ideological nations with no common bonds between them.
Remember, you couldn't just say, "Let's unite behind the National Anthem." Because the National Anthem -- along with every single thing our Millennial retards didn't make (or pirate) -- is now racist.
So instead, the game was begun with this explicitly political, divisive message.
We've come to expect a nonstop barrage of Woke Propaganda from our increasingly political corporations.
Even nastily-leftwing Teen Vogue -- which is constantly selling deviant sex to middle school girls -- got sick of the Woke Capitalism on display, back in 2018. Even the far left knows that Woke Capitalism -- using MLK to sell sneakers, beer, and trucks -- is a sick joke.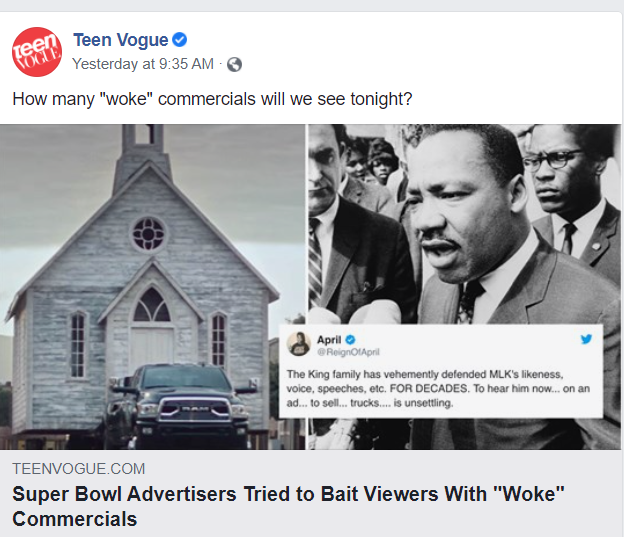 Even the professionally-unfunny staffers at SNL made a joke about Woke Corporate commercials.
America's Woke Corporations did not disappoint this year, using untaxed money (money spent on advertising is an expense and deducted from income) to push political propaganda on America.
It's woketopia! Don Jr. leads charge against 'soft' Super Bowl ads - as Springsteen calls for 'unity' on behalf of Jeep and Lenny Kravitz claims we 'are all billionaires' for Stella Artois

'One comercial [sic] in and itís already woketopia,' Don Jr. tweeted, along with an eye roll emoji and the hashtag for the game


It's unclear which of the ads Don Jr. was referencing, but Sunday's event featured a host of celebrity-filled ads, centered on themes of national unity

Hundreds of other disgruntled viewers appeared to agree with Don Jr., blasting what they perceived to be highly politicized or 'too woke ads'

Others suggested political messages have no place in sport

A poll released by Morning Consult on Sunday found that the majority of Americans don't like to see political statements made by brands
The most ostentatiously left-wing expenditure on propaganda was made by Jeep, which used viciously partisan phony populist Bruce Sprinsteen to call for "meeting in the middle."
Note that context tells us that Bruce Springsteen considers the far left of the Democrat Party to be "the middle."
Also notice that when Republicans win elections, the message pushed by the corporate and media class is #RESIST. #FIGHT.
When Democrats win, the message is #UNITE, by which they mean: #SUBMIT.

21 Bruce looks like that Indian who beat the drum in the Covington kid's face. Posted by: x4
Question: Should the tax code be reformed so that corporate money spent on political messaging is no longer considered a valid business expense, and thus, not deductible as such? This wouldn't strip corporations from engaging in rank partisan political messaging, but it would mean the money they use for such political messages is taxed, and that the American taxpayers aren't required to make up the difference in federal takings with their own taxes.
These expenditures are considered "business expenses" because, supposedly, they're buying the nontangible asset of "goodwill," which would be a legit business expense.
But if you're alienating half the country and losing goodwill to buy goodwill from the other half, how can it be said you're buying goodwill? You are, at best, "goodwill neutral."
Any corporate foray into divisive politics should be done on their own dime, with no deduction as a business expense.
Such a reform might also spark some useful internal corporate debates and shareholder complaints about ultra vires spending by corporations -- spending corporate resources to chase goals which are not part of the corporate charter.

The WallStreetBets guys put a bit for five seconds of a Super Bowl ad, and got a short little message broadcast out to millions. So that's something.

posted by Ace at
04:22 PM
|
Access Comments