« Mask-Fanatic Comorbidity Karen Attempts to Intimidate Veterans, Telling Them She Has "70,000 Followers on Twitter" and Will Shame Them
|
Main
|
Political Open Thread »
January 06, 2021
While Dallas Eliminates Policing Of "Minor" Felonies, Texas Gov Abbott Steps-Up Recruitment of Californians
[Buck Throckmorton]
The City of Dallas distributed an internal memorandum on January 1 advising that police were no longer to respond to "minor" crimes such as car thefts and criminal mischief.
It was quickly rescinded when the public found out that criminals now had a green light to steal cars and destroy property in Dallas.
Although conversations have been held on this topic, the memorandum was sent prematurely. The department is still in the evaluation phase on this item and will have further dialogue on recommendations and next steps. Therefore, the actions set out in the memorandum have been rescinded at this time."
Governor Greg Abbott responded by promising to aggressively recruit even more radical left-wing techies to relocate from California to Texas. OK, I'm exaggerating, he publicly objected. Good for him. I guess.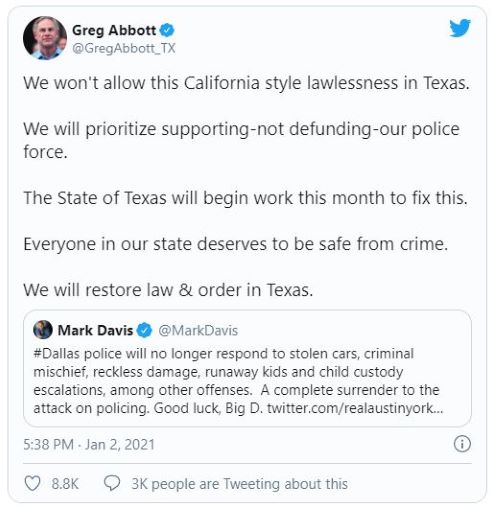 But if you don't want Texas to devolve into "California style lawlessness" then why are you trying to bring all of California to Texas? Just because they soiled their old nest and turned it into a lawless latrine, doesn't mean they won't do the same thing to Texas. In fact, they are doing the same thing to Texas.
Oracle joins Tesla founder Elon Musk and Hewlett Packard in moving from California to Texas as the Silicon Valley exodus continues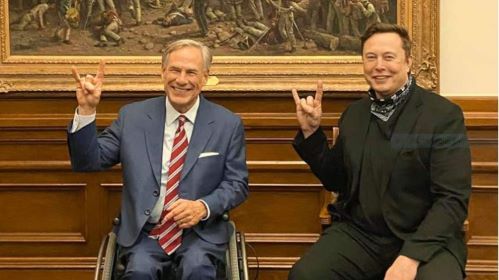 Let's face it, Greg Abbott is the Angela Merkel of Texas. Frau Merkel invited millions of "refugees" into Germany – refugees who were hostile to German culture and civilization, choosing to quickly impose the culture of the failed lands they emigrated from. Gov. Abbott is doing much the same in Texas. He is strangely proud of importing millions of people who are actively hostile to Texas's culture and conservative governance.
Even worse, the California tech bros that Abbott is importing tend to be downright religious in their devotion to environmentalism. Their religion, The Sustainable Organic Church Of The Carbon Apocalypse, seeks to outlaw oil production and cattle ranching, which you may have heard are kind of a big thing in Texas. And unlike oil and cattle, which put a lot of wealth into the hands of the working class, tech jobs tend to concentrate a lot of wealth into the hands of tech bros, rather than disperse it to the working classes.
Gov Abbott's California techies are coming to Texas to vote Democrat, phase out cattle ranching, ban oil production, implement an income tax, incentive homelessness, eliminate policing, and accuse every bit of Texas culture of being racist. Austin is already a lost cause. Dallas is now lost. We're all going to miss Texas.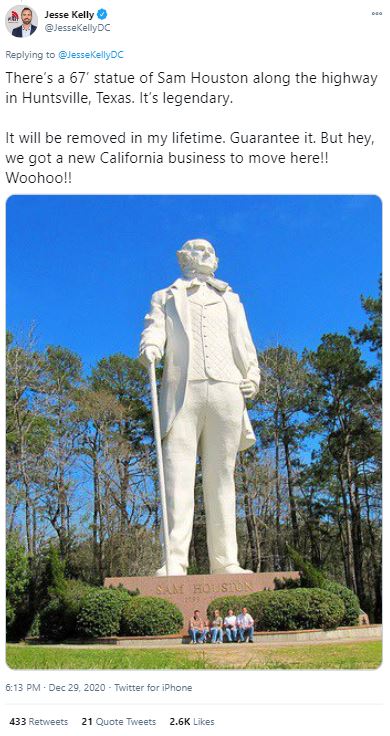 (buck.throckmorton at gmail.com)


posted by Open Blogger at
06:57 PM
|
Access Comments