« First-World Problems...Part Nege En Dertig
|
Main
|
Gun Thread: Sunday After Christmas Edition! [Weasel] »
December 27, 2020
Food Thread: Festive Hunks Of Flesh And Cookies From Our Youth!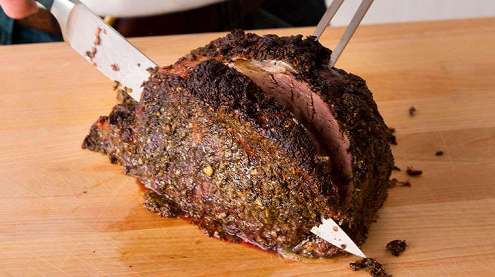 Remember the standing rib roast I didn't write about last week? Well, I'm not going to write about it this week either, but I am definitely going to show you a picture of a nice looking one!
This one looks like a wee tike...just a two-bone roast maybe? But that crust looks divine, and it is leaking enough juice that I suspect it is not overdone.
Anyone have a resounding success with a rib roast? Or even better for humor's sake...a resounding failure? I promise we won't poke fun at you.
******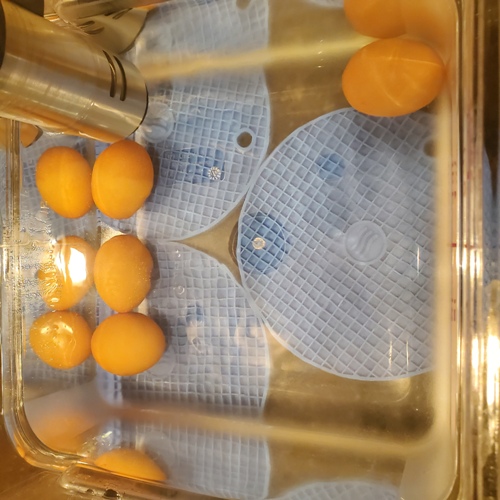 What? No! I am not obsessed. I can quit any time i feel like it.
But in case you are curious...don't bother with sous vide hard-boiled eggs. They turn out...fine. Nothing special, and certainly not worth the effort unless you are making lots and lots of them for deviled eggs or some other dish.

******
Misanthropic Humanitarian sent me a recipe for
"Little Debbie"
cookies. so of course I had to try it, and they were spectacular! They call them "Oatmeal Cream Pies," but they can't fool me, they are Little Debbies, even though the company makes other stuff.
One cautionary note: the cookies are quite large, so the next time I make them I will make them smaller and also form the dough into discs rather than mounds to make the finished cookie a bit flatter. And the cream filling is quite sweet, so if you know what you are doing and want to temper that somewhat, go for it, but please share with the class if you are successful.

******
Sam The Cooking Guy is loads of fun, and well worth a watch. I might have posted one of his videos recently, but commenter "Kevin" sent a link to his channel, and I found his smash burger video, which is excellent!
The vermouth in the onions is a weird touch, but one I think I will try. Anyone ever do that?

******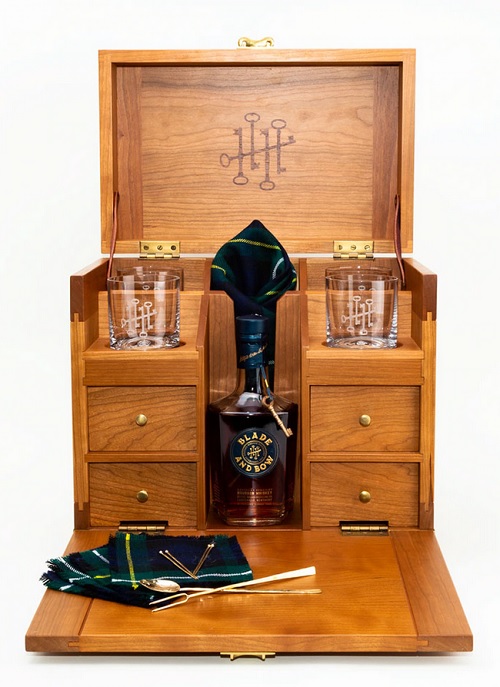 This thing is gorgeous. And stupidly expensive. If I want a drink I'll bring a flask. Unless I win the lottery, in which case I will buy one of these! Field Bar

******
Here is "Lurker Lou here for Five Minutes'" entry in the world famous
Holiday meal On A Budget Contest.
Unfortunately she didn't provide a recipe for the Beef Rouladen, so I had to look it up. And I approve! looks like fun! And of course anything with spaetzel is going to be wonderful.
Faux-Toberfest (no brats) $62.22

Appetizer: beer pretzels with hot beer/cheese dip $12.18
Main Dish: Mom's beef rouladen with gherkins $24.34
Side: herbed farmer style spaetzels $6.65
Veg: rosemary pan-caramelized Alaskan carrots $3.59
Dessert: home made Bee Sting Cake $15.46


ASSUMPTIONS:
* The theme kept me away from adventurous spices and dishes and kept me on a "likely in your pantry" track. I'm way more adventurous than this but this is "soul food" for the in laws so I make it for 'em. They also take it with salad but there is no way I'm getting dinged for the cost of salad in this competition.

* All but the spaetzels are either make or prep ahead and leave the majority of time to socialize. I prefer my rouladen as leftovers anyway so this is forgiving menu for the non-retired. Also leaves a lot of time to socialize for the meal-maker (who is exempt from dishes thereafter)

* I used on-hand know-how and then checked pricing against the local values published for Kroger (our local chain and this mattered because Alaska prices!). This also means that this meal may be much cheaper where you live.

* No pricing for herbs and spices, but yes pricing for condiments used (e.g. mustard and gherkins) and for ingredients commonly on hand like flour, butter, eggs. Delete this pricing and the meal price goes down $7.95.

* I assumed 5 lbs top round for the rouladen. If you want to increase your price point, add bacon which we do not usually do because we follow the ma-in-law recipe.

* Nobody but maybe five of us morons (?) can get their paws on Alaskan carrots (and we ain't sharing), but you could sub these and always dream of a day you travel here to try them. No lie; it may look like a simple side but I've made 2 lbs of carrots for four people and nothing left. For pricing I used 3 lbs "normal" carrots because Alaska carrots are sold out at the moment; usually if I have to sub I use "baby" carrots because you simply slice them down the middle and they are easier to caramelize.

* Other than in recipes, beer pricing not included. But Expect It.

* Most pantries should have this on hand or close to it (egg noodles for spaetzels, might have to buy the sliced almonds for the cake). Sliced almonds are scandalously expensive ($7.99).
What the hell is an Alaskan Carrot?
******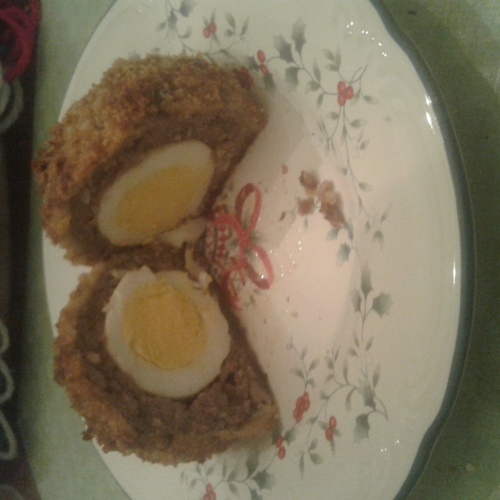 Hopefully Skip is a better carpenter than he is a photographer, but it looks like he is a pretty good cook. Scotch Eggs are grand, but I have made them and sometimes they don't turn out as nice looking as Skip's did!

******
Well, this is the last of the Food Threads for 2020, and I realize that I have been writing them for a bit more than seven years! I think the first one was a last-minute thing because there was a gaping hole in the posts that day, and I figured I could sneak one past Ace and The Humped One, who scared the hell out of me until I actually met her a few years ago.
I hope you all have enjoyed them as much as I have, and hopefully you will keep reading until I succeed in my ultimate goal of getting all of you (especially nurse ratched!) to make Sous Vide beef short ribs.
Merry Christmas, and Happy New Year!

******
Food and cooking tips, Large-breasted Muscovy ducks, young wild pigs, bartenders who use vermouth in Martinis (but not too much), pork belly that doesn't have 5-spice, low-temperature-roast chicken, and good tomatoes that aren't square, pale pink and covered with Mestizo E.coli:
cbd dot aoshq at gmail dot com
. Any advocacy of French Toast with syrup will result in disciplinary action up to and including being
nuked from orbit.
And yes, shaking a Manhattan is blasphemy...it's in the Bible!

posted by CBD at
04:00 PM
|
Access Comments