« On The ONT Peace, Good Will Toward Men
|
Main
|
Mid-Morning Art Thread »
December 25, 2020
The Morning Report - 12/25/20 [J.J. Sefton]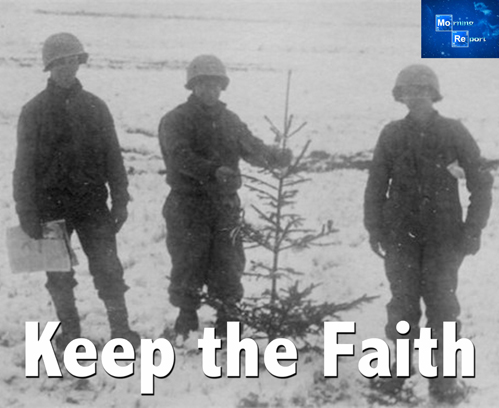 Good morning, kids. The weekend is here as is Christmas day. It certainly is a Christmas like no other that I can remember. As the song goes, "you don't know what you've got 'til it's gone." The naked evil inflicted upon us this past year has stripped us of our rights, our dignity, and our sense of security. All of these things that we took for granted have been shown to be so incredibly fragile. Worst of all is our sense of hope, which (to my non-Christian way of thinking) is one of the things this day represents. Given everything we've endured and perhaps are about to endure come January 20th, it's kind of hard to see a future worth living for. Yet hope is what kept those in the gulags, the death marches and the political prisons going for one more day, one more mile, even one more hour.
Since Election Day, I've closed this column with the words "keep the faith." Today more than ever I really mean it. If we're relying on President Trump or Rush Limbaugh, or our elected officials, or whoever to deliver us from this looming catastrophe, we're wasting our time. We're going to have to find an inner strength to keep on going, to fight on no matter what is thrown at us, to live our lives and find happiness in family, friends and the things that give us joy. That is what they can never take away from us. That is how we ultimately triumph.
I wish you all a very Merry Christmas. Keep the faith.

THE 2020 DEMOCRAT ELECTION HEIST
NOTE: The opinions expressed in some links may or may not reflect my own. I include them because of their relevance to the discussion of a particular issue.
ALSO: The Morning Report is cross-posted at CutJibNewsletter.com if you want to continue the conversation all day.
Follow us on Twitter: @CutJibNews
Follow us on Instagram: @Cutjibnewsletter


posted by Open Blogger at
05:54 AM
|
Access Comments