« Rush Limbaugh Wishes Listeners Merry Christmas, Says He Wasn't Even Expected to be Alive At Christmas
|
Main
|
Quarantine Cafe: Christmas Eve With Billy Squier Edition »
December 24, 2020
Grinch Karens Try to Shame Nurse Out of Putting Christmas Lights On Her House
This is from December 9th.
COVID nurse whose Christmas lights were slammed as a 'reminder of systematic biases' says decorations cheer her up after a long hospital shift - as its revealed THREE other neighbors also received nasty notes

COVID-19 nurse Kim Hunt decorated her St. Anthony home with Christmas lights in order to bring festive cheer to their community

She was left 'bewildered' when she received a letter from a neighbor who was offended by the display

The anonymous letter writer claimed that the lights 'harmful' to people who don't celebrate Christmas or cannot afford decorations of their own

Hunt told DailyMail.com that three other residents on her street also received the same letter after they put up decorations

The letter has been met with widespread backlash on social media

Supporters have now decided to deck out their own homes with lights in a show of solidarity

...

The Minnesota woman who was blasted for her 'harmful' Christmas light display is a nurse on a coronavirus ward - who says the festive decorations help cheer her up.

Kim Hunt, who resides in St. Anthony, put up simple string lights outside her home last weekend before she received a nasty letter from an anonymous neighbor who railed against the festive decorations.

'I couldn't help but notice your Christmas light display,' the letter read.

'The idea of twinkling, colorful lights are a reminder of divisions that continue to run through our society, a reminder of systemic biases against our neighbors who don't celebrate Christmas or who can't afford to put up lights of their own.'

Speaking with DailyMail.com, Hunt said she has been left 'bewildered and sad' by the note, and has no idea who the author could be.

'My simple light display gives me joy when I come home from working on the Covid unit at a local hospital,' she stated.

'I think it's sad we can't all appreciate diversity and celebrate traditions of all people. '

She and other residents responded by putting up more lights.
This was the extent of her lighting that drew the nasty threats from the Karens. It's... barely decorated.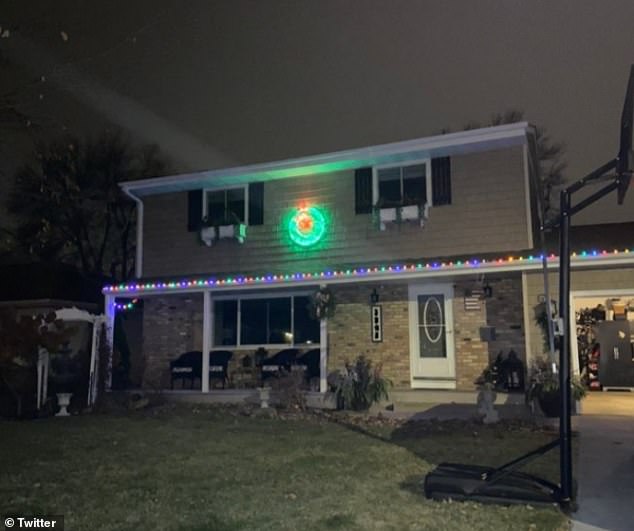 This is her house after having received the threats:
Okay no that's just the video I link every Christmas. But supposedly the neighbors did put up more lights.
Via Yellow Flash.


posted by Ace at
07:00 PM
|
Access Comments