« Quarantine Cafe: Cats and Things Which Are Not Cats
|
Main
|
The Morning Report - 12/23/20 [J.J. Sefton] »
December 22, 2020
Tuesday Overnight Open Thread (12/22/20) Quoteaplaooza Edition
(Photo H/T Nurse Ratched)
***
The Quotes of The Day
Quote I

Every one of the mandates — and you look in country after country, state after state — you look at when the mask mandates went in — the incidents went up exponentially after the mandates. Restaurants, nobody can eat in a restaurant, there's no science behind any of that. Middle seat missing on the airplane, you really think you're like 12 inches from the other guy instead of six inches, it really makes a difference? None of it really makes any sense, Sen. Rand Paul (R-KY)
Quote II

It is all very familiar, and very depressing. Find me a man so vast an imbecile that he seriously believes that this prohibition would work. What would become of the millions of revolvers already in the hands of the American people if not in New York, then at least everywhere else? (I own two and my brother owns at least a dozen, though neither of us has fired one since the close of the Liberty Loan drives.) H.L. Mencken
Quote III

'It is my honour on behalf of the president of the United States, to announce that henceforth the men and women of the United States Space Force will be known as guardians. 'Soldiers, sailors, airmen, marines and guardians will be defending our nation for generations to come.' Vice president Mike Pence

Quote IV

Losing your life is not the worst thing that can happen. The worst thing is to lose your reason for living. Jo Nesbo
Quote V

"We can't go anywhere — any of us. We're landlocked on this island, and it's lots of Canadians who are affected." Mark Sultana, Canadian Entrepreneur
Quote VI

"I will have to say, as a civil servant, I will be helpful through a period of time, and then I will have to say, this experience has been a bit overwhelming. It has been very difficult on my family … I think what was done over the last week to my family."
Dr. Deborah Birx
Overwhelming? You wouldn't know overwhelming if it hit you up alongside the head. Dumb bint Now I'm giving dumb bints a bad name.
Quote VII

"When you vote to pass out free money, you lose your soul and you abandon forever any semblance of moral or fiscal integrity," Sen. Rand Paul (R-KY)
Quote VIII

"A Nobel Prize laureate, Bob Dylan, and they call him a hate speech monger. This is amazing to me," Alexander Gendler, a Chicago book publisher
***

Walmart is known for "Roll back pricing". The DOJ says they were pushing other things besides the pricing.

The Justice Department on Tuesday announced it is suing Walmart, accusing the company of helping to fuel the U.S. opioid crisis by unlawfully distributing controlled substances at its pharmacies around the country.

The department's lawsuit alleges that for years, Walmart's pharmacies unlawfully filled thousands of prescriptions for opioids without required care and investigation, including prescriptions pharmacists knew were suspect.

MORE: Purdue Pharma Sacklers face 1st public hearing on role in opioid crisis
The lawsuit also accuses Walmart of failing to detect as many as hundreds of thousands of suspicious orders of opioids and report them to the Drug Enforcement Administration, even as the company allegedly knew that its internal monitoring systems were "grossly inadequate" for years.

In a statement responding to the lawsuit, Walmart accused the Justice Department's investigation of being " tainted by historical ethics violations" and that the lawsuit "invents a legal theory that unlawfully forces pharmacists to come between patients and their doctors."
***
My oh my. We have nothing to fear but fear itself Run, run, run, the sky is falling per Uncle Paste Eatin' Joe.
***

Social anhedonia. Or why some people are happy that many Christmas parties this year have been canceled.

'So people who are not feeling happy may think that they are failing, and that there is something profoundly wrong with them, rather than just seeing it as a manifestation of a disorder that is not their fault.'

Medically defined as an inability to find pleasure in normally pleasurable experiences, there are two forms: social and physical. Most of those with the condition have both.

Social anhedonia involves not wanting to spend time with others because it is not enjoyable. It is distinct from social anxiety, which is driven by a fear of social situations
***

I guess I lead a sheltered life. I never get to see this kind of excitement.

Two women got high on synthetic heroin, went to McDonald's to demand free food – then bared their backsides at staff when they were refused, police say. Jessica Harvey and Jasmine Parker, both 28, are said to have exposed themselves at a McDonald's in Roanoke Rapids, North Carolina, on Sunday night. They allegedly showed up at the restaurant's drive-thru asking for a freebie. But when staff said no Harvey and Parker decided to flash 'their rear ends to the employees as they road around the business,' it is alleged. Police were called, with one officer noticing that Harvey – who was driving the car – appeared to be under the influence of drugs as she stepped out of it.
***
***

Where does the ACLU stand on handguns? Just ask
American Civil Liberties Union of Utah attorney Aaron Kinikini .

All of that makes this story all the more interesting. It seems an ACLU attorney was arrested based on his actions with a firearm.

Just one day after the American Civil Liberties Union of Utah announced it had hired Aaron Kinikini as its new staff attorney, Salt Lake police arrested him after they say he fired a gun at a car in which his children were riding.

The mother of at least three of Kinikini's children arrived to pick them up at his residence Friday evening. The woman and three children were inside the vehicle when Kinikini "stood behind the vehicle, preventing the victim from leaving," according to a police booking affidavit.

Kinikini told police that the woman "drove at him at a high rate of speed," the affidavit states. Police say he then produced a handgun and fired at the vehicle, hitting the "driver side front and rear tires."

The report does not indicate whether anyone in the vehicle was injured by the gunfire.

Kinikini was booked into the Salt Lake County Jail for investigation of aggravated assault, three counts of domestic violence in the presence of a child, unlawful detention, criminal mischief and illegal discharge of a firearm.

…

A spokesman for the ACLU of Utah declined to comment Saturday about Kinikini's arrest.
***
***
The Great Reset, I can hardly wait.
World Economic Forum is coming! And eating bugs, fungus, drinking sewage too!

The World Economic Forum unveiled a preview of The Great Reset for its Davos 2021 Agenda. Just so you know, the Biden administration is all in on this. John Kerry, a climate czar, was lauding it just last week.

The meeting of elites from corporations and the political sphere around the world will be digital due to COV.

This is not a conspiracy theory. The Great Reset is an actual movement. It's real. The globalists are excitedly using COV, in their own words, as an excuse for the launch of globalist hell.
***

Speaking of resets........Racine, Wisconsin has gone all Woke.

Police Reform Panelist in Racine Is An Ex-Con—Who Shot At Racine Officers
***
On December 22, 1808, Ludwig van Beethoven—by then an established composer and a renowned piano virtuoso—conducted a concert of his own works at the Theater an der Wien in Vienna. The program included the premiers of Beethoven's Fifth and Sixth symphonies, his Fourth Piano Concerto, an improvised fantasy for piano performed by the composer himself (which was transcribed later and published as the Fantasia in G minor, Op. 77), and a concluding piece for piano, orchestra, and chorus (the Choral Fantasy) that Beethoven barely finished in time for the concert. Also on the program were Beethoven's concert aria Ah! perfido and the Gloria and Sanctus sections from the composer's Mass in C.

Do not ask who are you and what did you do to Mis. Hum.?
***
In tonight's interesting tidbit column: You can make your vinyl gloves into grape soda. Ah, no thanks.
***
The ONT Musical Interlude
&&&
***

Had he used his magical reindeer he wouldn't have been a Genius Award Winner.

RIO LINDA, Calif. (AP) — Santa found himself a little more tied up than usual this time of year.

A Northern California man impersonating Santa Claus and flying on a powered parachute was rescued Sunday after he became entangled in power lines, authorities said.

The incident happened shortly after the man took off near a school in Rio Linda to deliver candy canes to children in his community. He flew into a maze of power lines and wound up suspended in them, a Federal Aviation Administration spokesman told KCRA-TV.

No wonder why Rush Limbaugh discussed Rio Linda over the years.
***

Disabled and now a model. Tonight's Feel Good Story of The Day.

About 1 in every 700 babies in the United States are born with Down syndrome. Down syndrome is a condition where a person is born with an extra chromosome. This extra chromosome can cause complications in the development of the babies' bodies and brains during pregnancy. Even though people with Down syndrome might struggle more than those without it, their condition doesn't stop them from being strong and successful.

One inspiring success story is that of Kennedy Garcia. We at Bright Side admire her tenacity and what she's done in her life. So we decided to get in touch and ask her mom for an interview so that we could share her inspirational story with you, and a photo gallery of the beautiful Kennedy.
***

Tonight's ONT has been brought to you by Christmas Ornaments.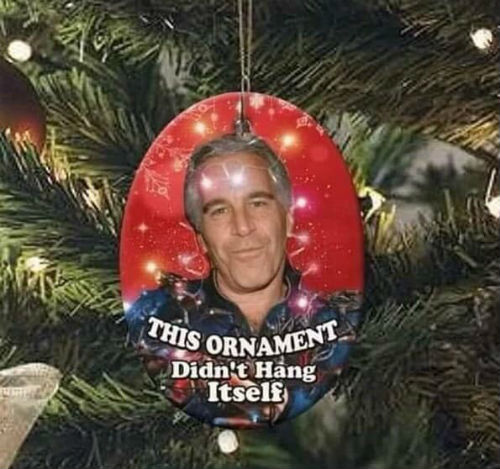 Notice: Posted with permission by the Ace Media Empire and it's brain thrust AceCorp, LLC. No shoes, no shirt, no lingerie, no problems.

posted by Misanthropic Humanitarian at
10:00 PM
|
Access Comments