ę Mid-Morning Art Thread
|
Main
|
Court Rules That Minneapolis Residents Have Right to Sue the Leftwing City Council Over Harms Suffered Due to Defunded Police Ľ
November 25, 2020
The Morning Rant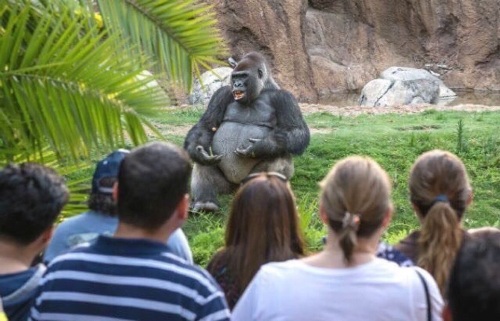 GRATITUDE
We live in tumultuous times. I feel that I'm living in a machine that is in the process of shaking itself to pieces. Search YouTube for videos of what happens to a clothes dryer when you throw in a brick or cinder block and start the spin cycle if you want to know how I'm visualizing what our country is like right now.
Gratitude is an important aspect of mental health. This is why progressivism is big brick to throw in the clothes dryer of life, as it makes outrage a virtue and anger a requirement. Or, and don't forget the flip side of anger, depression, and you have a sure-fire recipe for mental illness. So it's no wonder that the progressive movement is filled with bitter, angry, miserable maladjusted perverts.
But I digress. Here is a good, 2-minute video on gratitude from PragerU:
Anyway, here are some of the things I am grateful for:
1. I am grateful to God the father of our Lord Jesus Christ for pulling me out of the muck when I was 22 years old, miserable, and had just spent the entire summer smoking as much marijuana as I possibly could, all day, every day, in an effort to -- oh, I don't know, some sort of self-negation. Like the guys who drench themselves with gasoline and then strike a match, only in slow-motion. Anyway, He picked me up and showed me a better way to live. He took away my despair and self-destruction and filled my life with blessings and contentment.
2. Mrs. Muse, my wife, who has been my constant companion, lover, and best friend and who has put up with me for 35 years. I can't imagine living life without her.
3. My health. Yeah, my body is banged up pretty good, but all things, considered, my health, at age 64, is really quite remarkable. Here some of the blessings I mentioned in #1:
3-1. I have a family history of depression and alcoholism, but both of these maladies seem to have passed me by. I don't really like to drink all that much, and, as I've already mentioned, my life is filled with contentment.
3-2. I do not remember ever having a headache in my life. Seriously. I've heard horror stories of migraines and even regular headaches that some people suffer frequently, but this is something I've never experienced.
3-3. I think I must have a beefy immune system. I've never had to take a single day off from work because of colds or flu. Sometime in December 2019, Mrs. Muse picked up some nasty bug that lasted for about 10 days and eventually settled into her lungs. She then went to the doctor who diagnosed it as bronchitis and prescribed antibiotic. She got better, but it took her about a month before she was really feeling normal again. Now we're thinking this might actually have been covid-19. We don't know for sure, of course, but maybe. But, here's the thing: I never got it. And this despite us being together all of that time and having all sorts of daily and nightly contact.
4. I am grateful that I get to be a part of this great blog. And for all of your morons, which is one of the reasons why it's so great. I mean, not only do we talk every day, but sometimes groups of us get together in various parts of the country for real-life meetings, for drinkin' and laughin' and shootin' and whoopin' and hollerin' and all sorts of carryin' on. How fun is that?
So I'm inviting any and all of you, if you feel so moved, to enter in a comment one or more things in your life you are grateful for this holiday season. Let's go into the holiday on a positive note.
And while we're at it, here's another PragerU 5-minute video about Thanksgiving: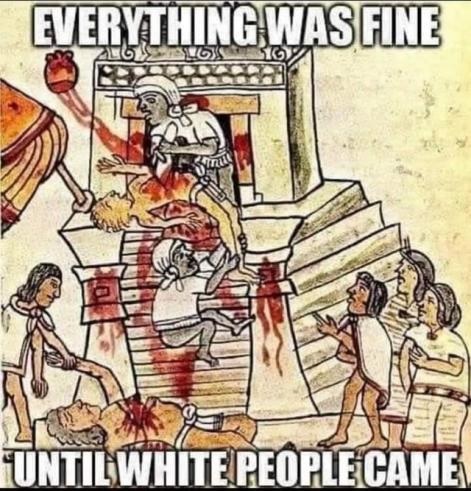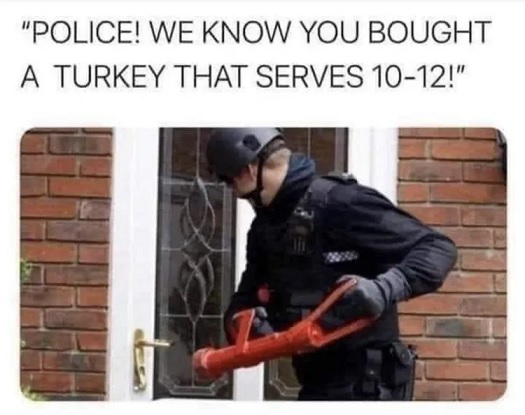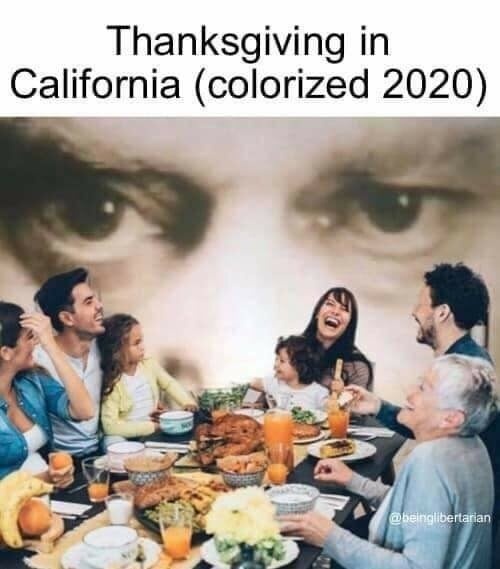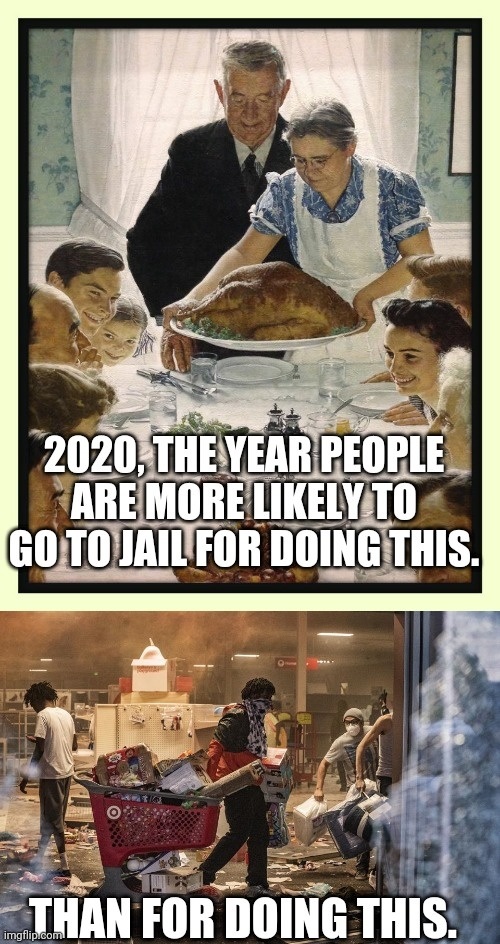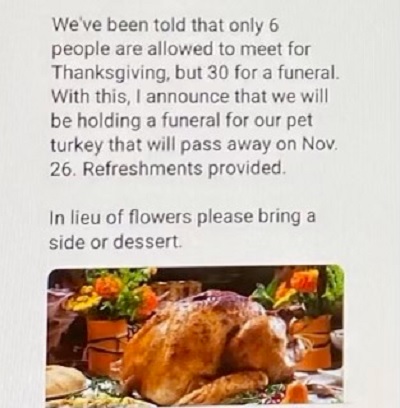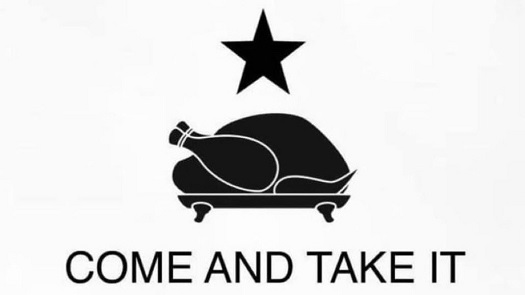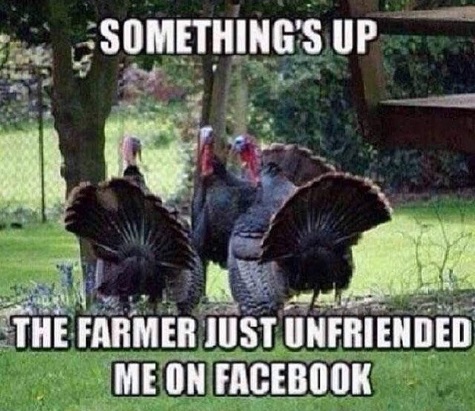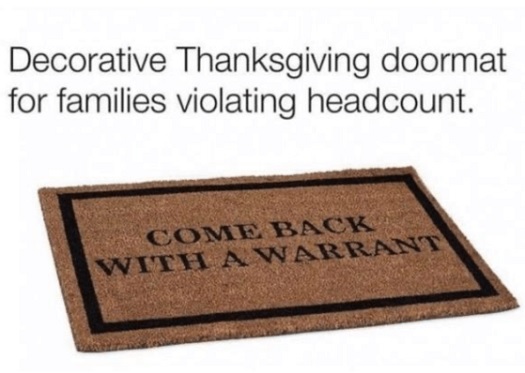 Thanksgiving 2020: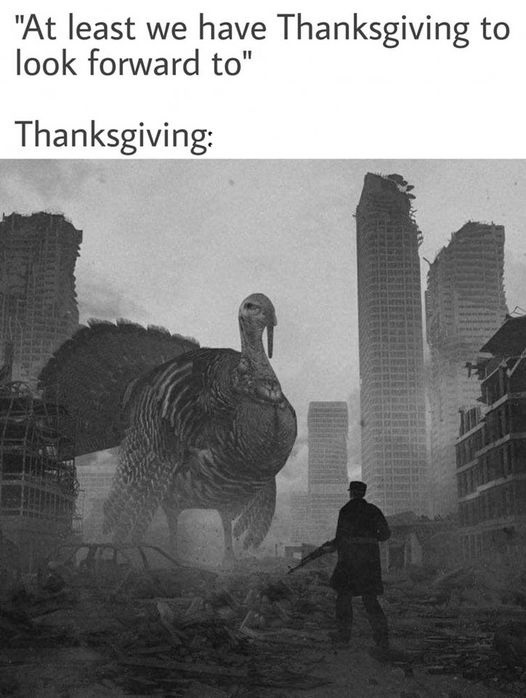 AoSHQ Weekly Prayer List
Please submit any prayer requests to "Annie's Stew" at apaslo atsign hotmail dot com.
Prayer Requests:

10/7 – Lee Also requests prayers for her good friend who needs a lung transplant. He's been on the list for a while, but it's getting to the point where he needs it sooner than later. She also would like prayers for the family of the person whose untimely death will give life to her friend. They have lost someone they love. But their generosity will help her friend.
11/18 Update – Her friend has moved closer to the hospital, which means he's up higher on the list. He's getting rehab in preparation for the transplant, so keep praying for him, please. And prayers also for the family who lost a loved on and allowed their loved one's organs to give new life to people like her friend.

10/21 – Muley, the Duchess requests prayers for her late husband's mother, who is being taken out by bone cancer at 91. For peace and fortitude. She hasn't seen any family since March.

10/28 – redc1c4 said Resident 3vil lost her job a week ago. She's been hoping to retire in the near future, and this puts a hold on those plans. Prayers are requested for gainful employment soon so she can finally retire and enjoy the fruits of her years of hard work.
11/17 Update – She got a new job last Friday. The downside is it's 290 miles away. The upside may allow for a transition to partial retirement as a consultant. Prayers of thanks for a possible way forward!

11/1 – Hrothgar requested prayers for his elderly sister-in-law, who suffered a head injury in a fall. Thanks to the Lord that the injury wasn't too severe, requiring only stitches, but she tested positive for Covid at the hospital, and her family will need to quarantine. Prayers are requested that it all turns out okay for everyone.

11/10 - Doof requests prayers for Donna&&&&&V, who is depressed to the point of being suicidal.

11/11 – Central Scrutinizer requests prayers for his buddy Don, who was just admitted to the hospital with Covid. He is 74 years old, and his wife is freaking out.

11/16 – Adriane the Critic requests prayers for her friend "D". He is fighting a very aggressive brain cancer and the doctors' prognosis is horrifically short. Prayers are also requested for his exhausted wife and young children, and strength for his sister and family, who are doing a great deal of travel to try and be with him in the little visits they are allowed.

11/17 – redc1c4 has an aunt, Anisa, with bone cancer, and she wants him to be her patient advocate. Redc1c4 asks for prayers for strength and healing for her, and insight for her doctors, and safe travels for him, as she lives at the bottom of California, and over 100 miles from the treatment facility.

11/18 – OurCountryisScrewed asks for prayers for his mom, who passed away very early in the morning of Nov. 11. Please pray for the repose of her soul. Also, a prayer for his father and siblings as they adjust to the loss of the heart and soul of their family. He'd also like a prayer of thanksgiving for the nursing staff at a certain upstate NY hospital who were absolutely fantastic caring for all of them.


For Healing:

9/23 – Dr_No requests continued prayers for his daughter Megan. She had surgery for cancer earlier, and now has had the 2nd of 12 FOLFOX chemo treatments for her Stage III-C cancer. It's been rough – fatigue, weight loss, cold sensitivity, jaw pain. She's losing an average of 6.5 pounds per week now and has lost approximately 25 pounds since her surgery and beginning chemo. Her attitude is terrific despite what she's going through, but it'll be a rough slog between now and January.
10/8 Update – Megan was admitted to the hospital for bi-lateral pulmonary embolisms. Luckily, the embolisms responded to treatment. Dr_No says thanks again for sending words up for Megan!
11/18 Update – Megan has had the 6th of 12 chemo treatments. She is still having the symptoms above and reactions to the FOLFOX series. Her mom bought her a pair of Neuropathy gloves, and those seem to help reduce the pain and tingling in her hands. She is still losing 3-5 pounds per week. Dr_No thanks the Horde for the prayers for her.

10/21 – Lady in Black requests prayers for her stepmom, who fought breast cancer 7 years ago, and now it's back. She will be having surgery for a double mastectomy, followed by chemo. She'd appreciated any prayers to help her get through this surgery and contain this cancer.

10/24 – Kerncon requests prayers for his wife. His wife is currently in the ICU following a massive kidney infection, which resulted in the removal of one of them. She is currently stable and slowly recovering. They hope to be able to get her out of ICU in the next few days. Her remaining kidney hasn't resumed functioning, and it could take weeks to recover, if at all. Please keep them in your prayers for a swift recovery, and for regaining full function to her remaining kidney.
11/24 Update – Kerncon says his wife will be leaving inpatient care on Sunday, and her remaining kidney function is near normal. Please keep praying for healing and strength as they transition from hospital/rehab to home care. She especially needs healing for her right foot now, as there is some muscle damage which could lead to a big quality of life impact if it doesn't return.

10/27 – Caiwyn requests prayers for his father, who has been battling pancreatic cancer for 3 years. His chemotherapy treatments are no longer effective enough to justify continuing with them, and they are being discontinued. Prayers for him, and for whatever more time God could possibly give him with his family.

11/16 – Hrothgar received a very recent and completely unexpected diagnosis of a non-trivial (and rather rare) cancer. He is in the very initial phase of surgery, tests, diagnoses, and evaluation of treatment options, so at this stage, he knows just enough to be concerned, but right now has no idea how this will roll out. He would greatly appreciate prayers from the Horde for skilled doctors/staff and recovery if that is in God's plan.

11/18 – Agamemnon requests prayers for a colleague who has Wuhan19 and is hospitalized on oxygen. The staff is having trouble controlling her fever and she has some co-morbidities that exacerbate her condition.

For submission guidelines and other relevant info, please contact Annie's Stew, who is managing the prayer list. You can contact her at apaslo at-sign hotmail dot com.
If you see a prayer request posted in a thread comment, feel free to copy and paste it and e-mail it to Annie's Stew. She tries to keep up with the requests in the threads, but she's not here all of the time, so she may not see it unless you e-mail it to her.
Please note: Prayer requests are generally removed after five weeks or so unless we receive an update.
Please remember the Prayer of St. Francis:
http://www.prayerguide.org.uk/stfrancis.htm
Keep calm and pray on!


Who Dis: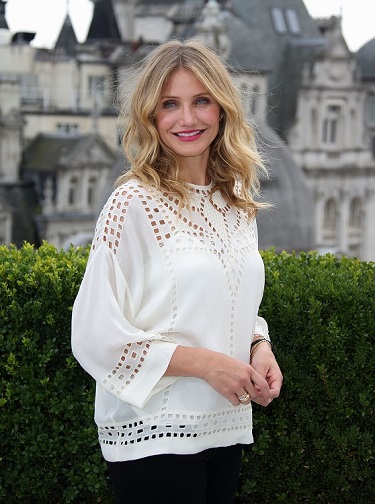 Photo 2
Photo 3
(leggy!)
Photo 4
Photo 5
Photo 6
Photo 7


For the 'Ettes: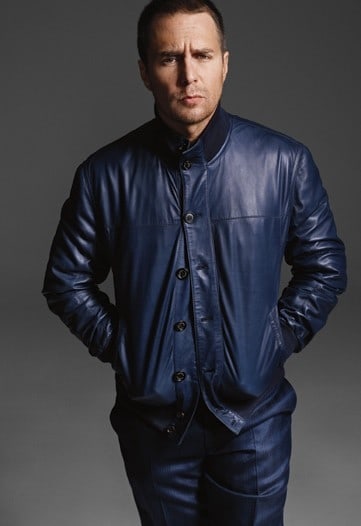 Photo 2
Photo 3
Photo 4
Photo 5


Monday Who Dis: I did not know that the Argentina-born actressLinda Cristal passed earlier this year. She retired from acting in 1988, made a ton of money as a realtor, and also ran her own import/export business. She is best known for her work in the TV series High Chapparal, a TV western from a time after TV westerns had mostly fallen out of favor. The 'star' in that series was Leif Erickson, who was a combat photographer in WW2 and who survived being shot down twice while in aircraft.


Today's Edition Of The Morning Rant Is Brought To You By Kielbasa and Potatoes: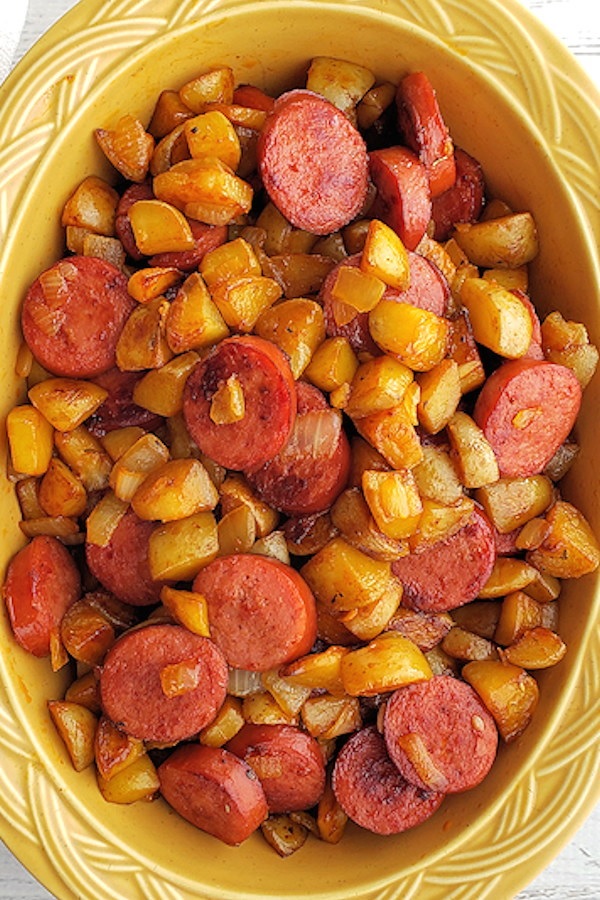 Kielbasa and potato recipe here.

posted by OregonMuse at
11:17 AM
|
Access Comments