« Blue Tick Media Leftist Wants to Know How He and His Fascist Socialist Friends Can Go About "Deprograming" Us
|
Main
|
Giuliani Highlights Vote Fraud as Well as Corporate Media Corruption in Fiery Press Conference »
November 19, 2020
Fox News Launches New PR Campaign as Final Fuck-You to Former Conservative Viewers: "Fox News, Standing Up for What's Right"
Don't blame Tucker for this -- he doesn't control the branding on the channel.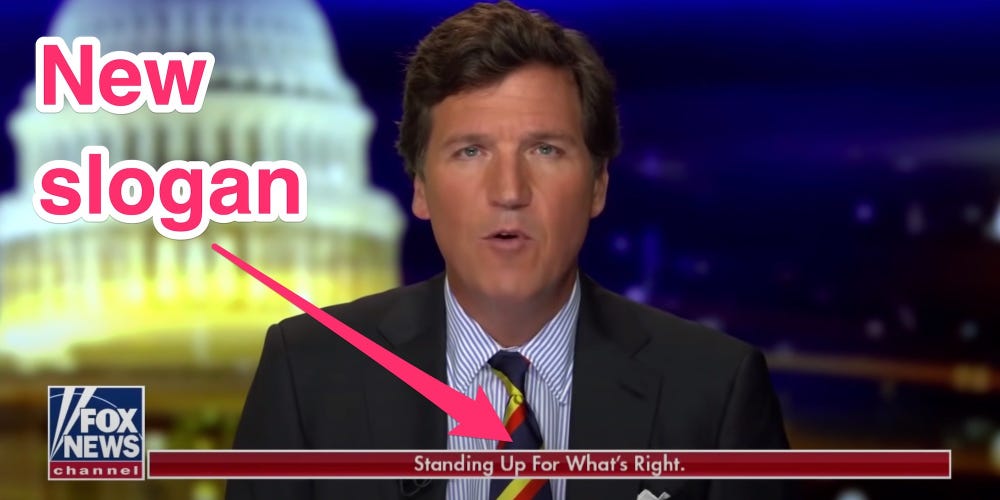 They might as well say what they really mean:
The New, Improved Fox News
Fuck you, Deplorables.
Fox News has updated its network marketing campaign to "Standing Up For What's Right" following President Donald Trump's Twitter tirade against the cable news channel.

The new verbage appears on primetime chyrons, and comes soon after Trump went on a retweet spree against the network, making sure his 89 million followers saw the statement "#foxnews is dead."
Don't click on the link -- it's more prog bullshit about how the Democrats never, ever commit voter fraud and to even suggest they do is tantamount to doing a Holocaust.
Meanwhile:
@RealMattCouch

Dana Perino is now urging Dominion to sue Sidney Powell and Rudy Giuliani in the latest edition of "Watch our Ratings Burn"

Hey man she's just "standing up for what's right."
@EmeraldRobinson

Right now @FoxNews is in a death spiral like nothing I've ever seen.

They lost HALF their audience in the last TWO WEEKS.
I can't confirm that, but looking at yesterday's ratings, I sure am seeing an awful lot of Fox shows far, far lower on the list of the top 150 cable networks than I'm used to seeing.
And I'm seeing CNN and MSNBC beating Fox. Even Hannity and Ingraham are now falling down the list. Ingraham's primetime show (although late prime at 10 pm) is now barely ahead of Jake Tapper's 4pm show. And Tapper was notoriously low-rated.
Tucker is the only one holding his ratings.
Remember the days when Fox News would account for half of the top twenty highest rated shows on cable?
Well dem days is done.
Speaking of Tucker: this video of Tucker Carlson blasting the social media monopolies forming a Censorship Cartel, and basically making the case for an uprising against the ruling class, is great. Give it a click if you don't mind putting a tiny amount of money in Lachlan Murdoch's pockets.
(I'm pretty sure you're hurting him enough by boycotting Fox.)

posted by Ace at
06:24 PM
|
Access Comments