« Biden Covid Advisor: We Need a Fresh 4-6 Week Lockdown
Anthony Fauci: America's "Independent Spirit" Must End, "Now Americans Must Do What You're Told"
|
Main
|
President Trump's Remarks on Operation Warp Speed »
November 13, 2020
"Male Feminist" Is Just Another Term for "Unconvicted Sex Pest:" A Case Study
"MovieBob" is a fat neckbeard leftist. I don't know much about him, except that all of the people I read or watch hate his guts.
He is of, of course, a Male Feminist.
Now, I don't really like dogpiling and mobbing up on someone.
But this guy's a real asshole. From what little I've seen of this guy, he's an egotistical loser who just can't shut up about his nasty politics on the internet, and he pretty much deserves whatever abuse he might get.
This is an example of his stupid twitter ranting: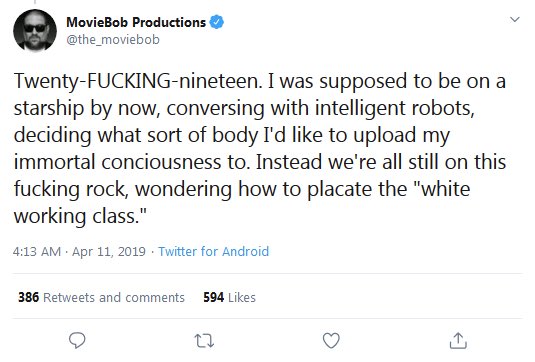 Just a sterotypical angry, spastic Twitter leftist.
Below, annoying ultrapolitical hysterical feminist Lindsay Ellis has an exchange with another lefty, and Moviebob decides this is a good time to interrupt and post a picture of himself and Ellis together at a convention.
Cringe warning.
But cringe in a good way.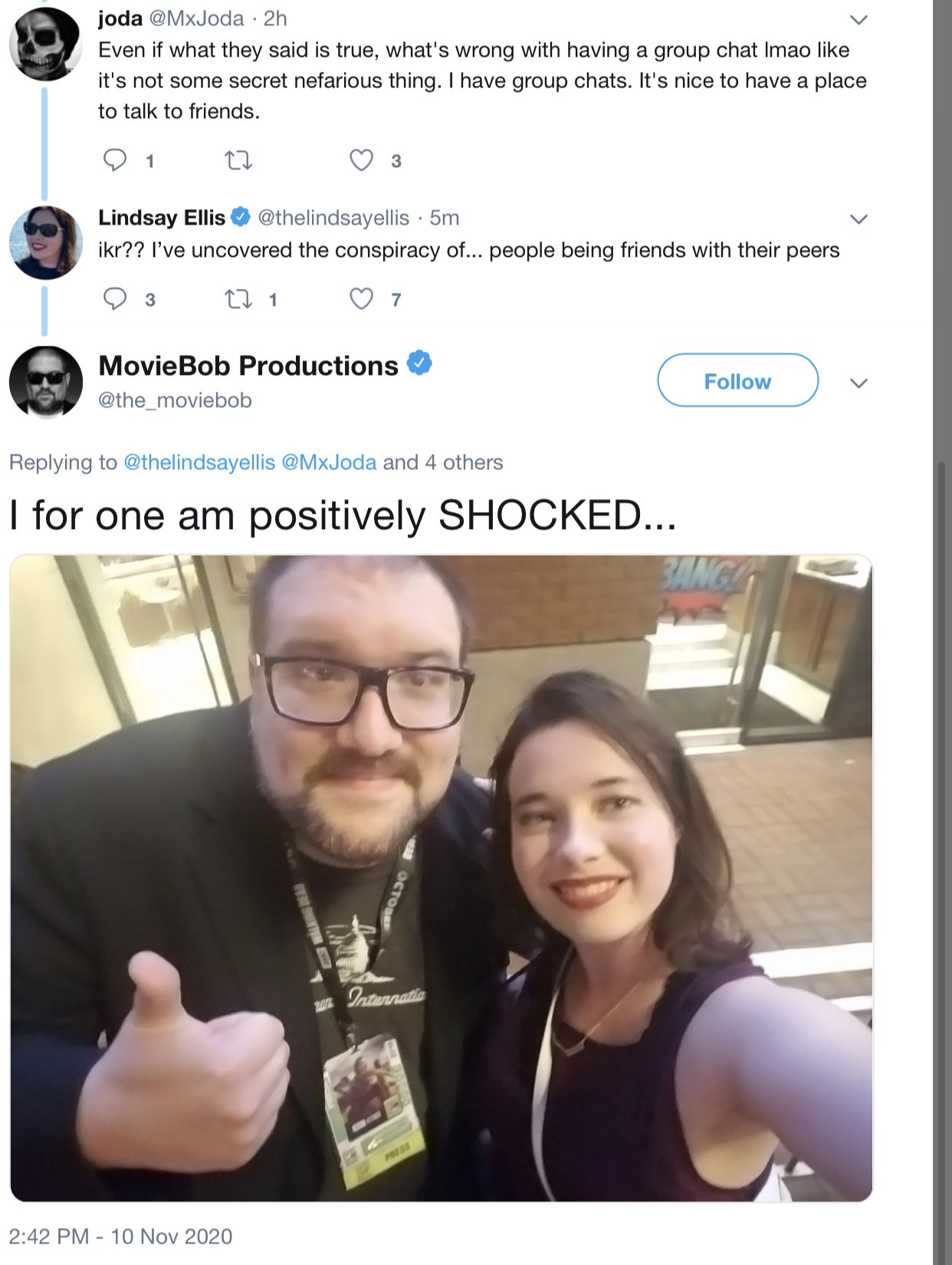 This is not appreciated by Lindsey Ellis -- who tells Moviebob, essentially, to stop cyberstalking her: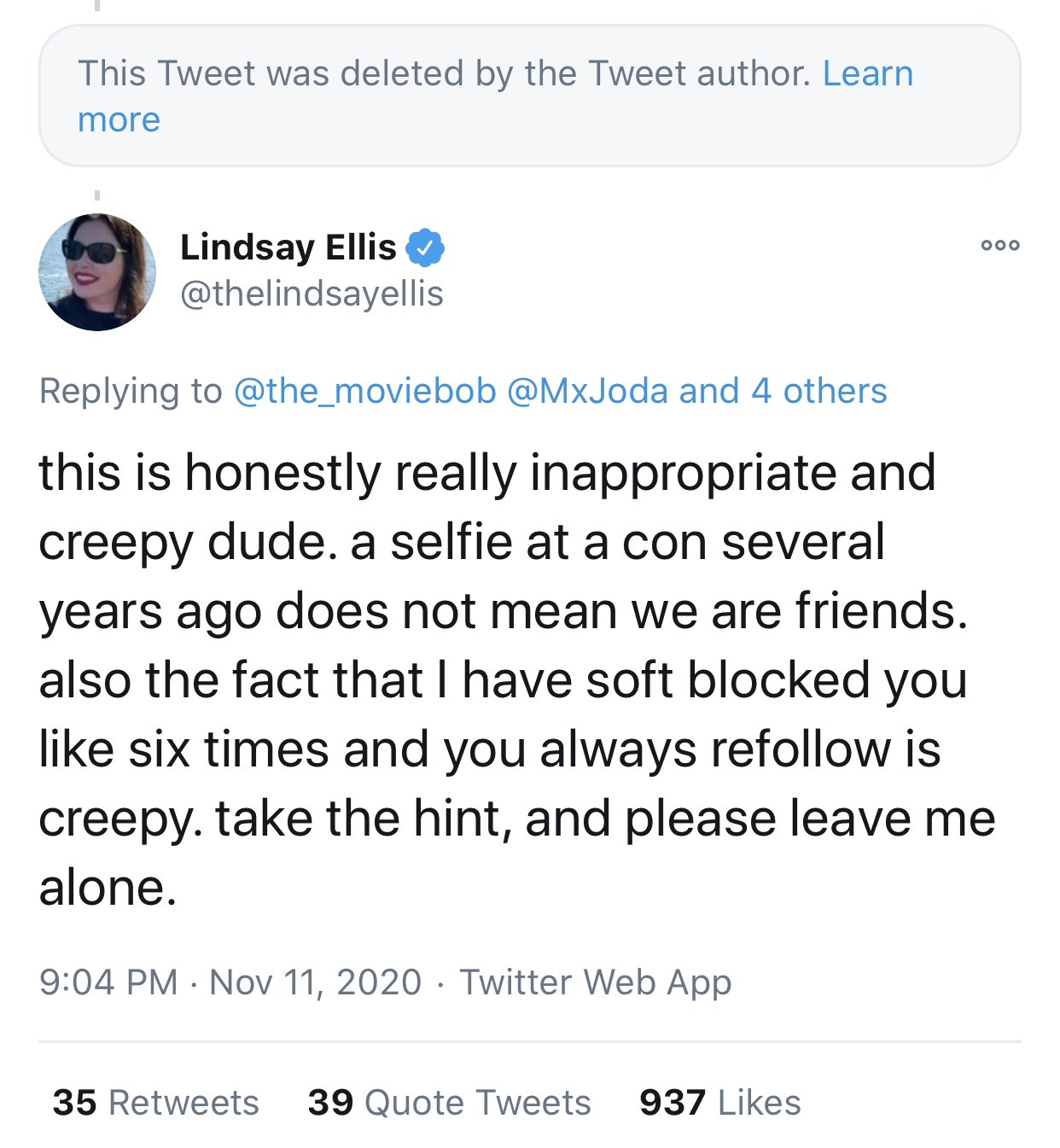 A "softblock" is a passive-aggressive, feminine way of semi-confrontation. You block someone for one second, which forces them to unfollow you. Then you take the block off, so they can't see what you did.
This means that they see they're not following you now.
She's saying that he should have gotten the hint from her very very passive-aggressive and sulky form of confrontation.
I didn't know all that myself, and that seems like some super girly bullshit, but fuck this fucking fat neckbeard fuck anyway.
Apparently MovieBob then gets mobbed by feminists (and, I imagine, people who just hate his guts and are happy to see his comeuppance).
People ask Linsday Ellis: Aren't you being a bitch for causing this dogpiling on MovieBob?
She says: Nah, he's a creeper.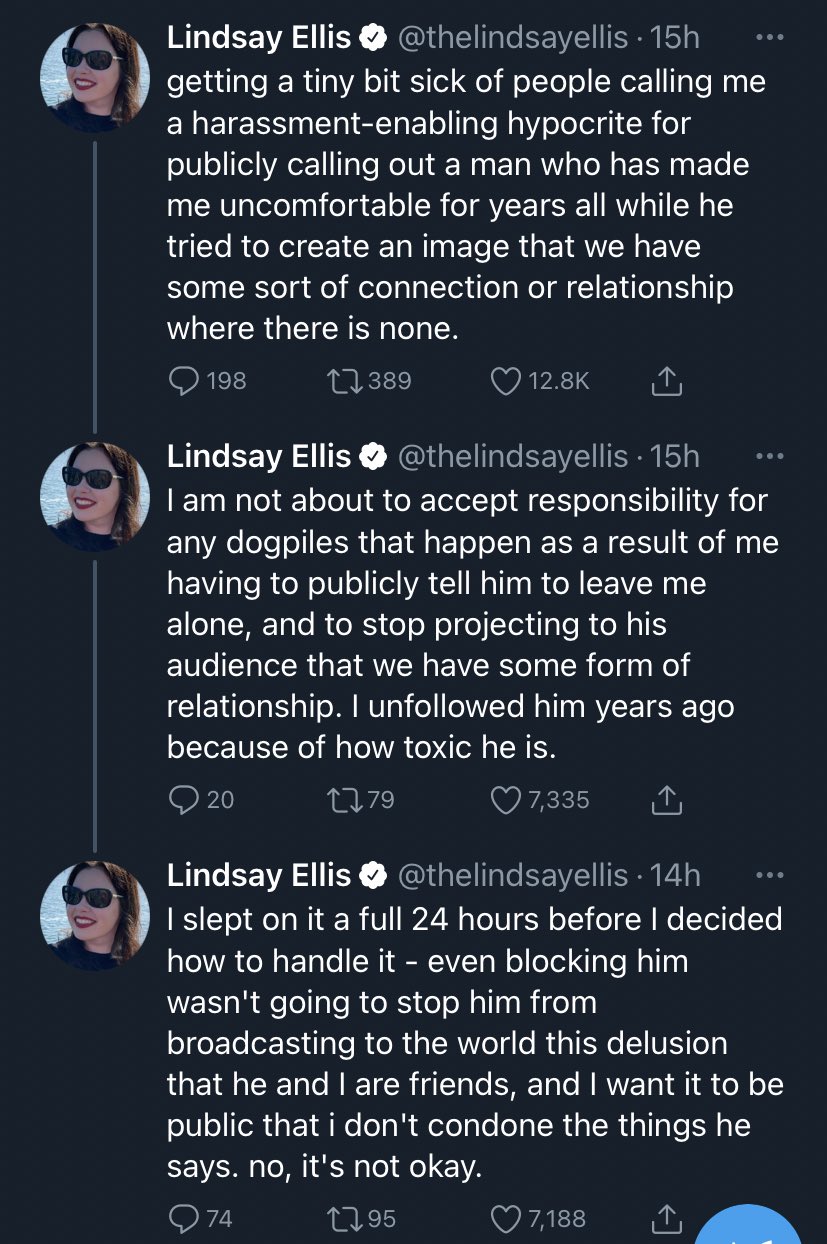 He tried to calm the feminist harpies down by simping and kneeling: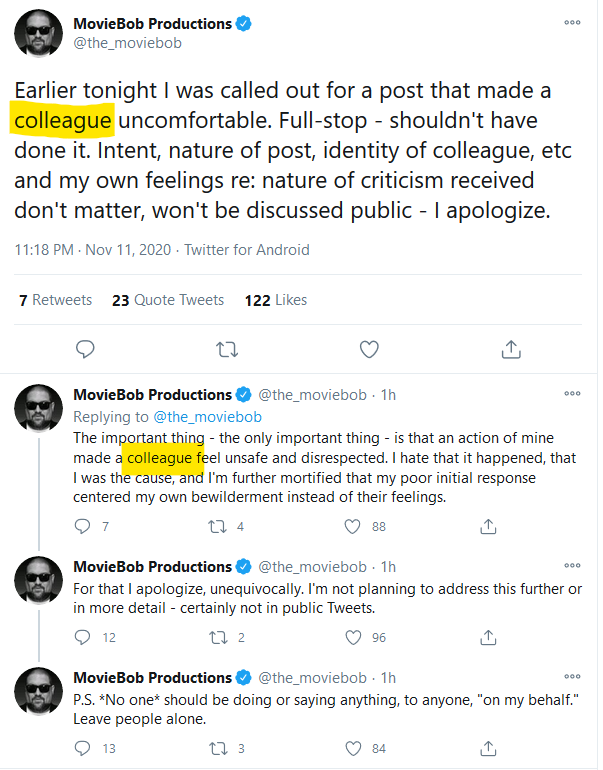 But this person, who I assume is also a feminist, points out that by repeatedly calling a complete strange "my colleague" he's continuing to insist upon a relationship that simply does not exist except in his fantasies:
@bored_emy

19h
Replying to @the_moviebob

The problem is that you were trying to seem like you were associated with them, when in fact they want nothing to do with you... and you're still doing it, *in your apology*.
He then takes the only remaining way out: Twitter Suicide.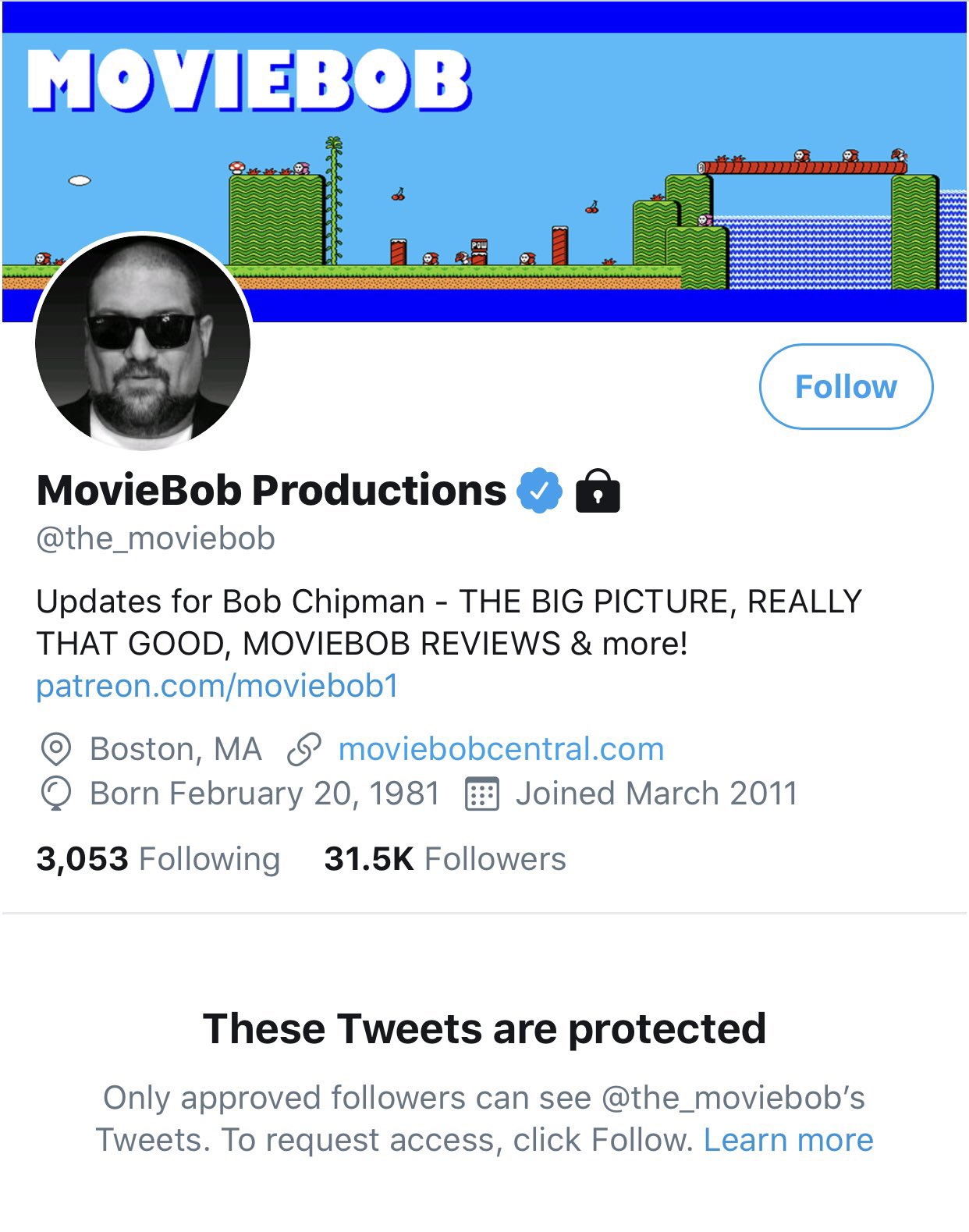 Update: Now other SJWs are calling Lindsay Ellis a racist.
Oooh, I love an SJW feeding frenzy when they're all attacking people I don't like.
Via The Critical Drinker's stream about the Rocky franchise, in which he commented about this exchange: "I thought Abraham Lincoln made it illegal to own someone this hard."

posted by Ace at
03:30 PM
|
Access Comments