ę Quarantine Cafe: Pigs and Koala Edition
|
Main
|
The Morning Report - 11/18/20 Ľ
November 17, 2020
Tuesday Overnight Open Thread (11/17/20)
***
The Quotes of The Day

Quote I

"Most people don't realize the dangers of swallowing magnets. It can happen to anyone and it can happen in a split second." Jessica MacNair, mother and science teacher

Quote II

..... "in view of the rapid spread of the virus even during lockdown, we consider it important to study the socio-demographic characteristics, habits, and comorbidities of the SARS-CoV-2 infection in order to implement effective prevention strategies." Cristina Sánchez González, a researcher at the UGR's Biomedical Research Centre

Quote III

I have found that if you love life, life will love you back. Arthur Rubinstein

Quote IV

Agriculture is a business that has been up to its bib overalls in politics since the first Thanksgiving dinner kickback to the Indians for subsidizing Pilgrim maize production with fish head fertilizer grants. P. J. O'Rourke

Quote V

There is no such thing as free college tuition for people. Yeah, as a bumper sticker, you know, it sounds like a good idea, I'd like free everything. I want free ice cream, I want free college, I certainly want free tuition for all of my children. Charlie Hurt

Quote VI

"With regard to the Thanksgiving Executive Order, the Fulton County Sheriff's Office will NOT be enforcing it against our County residents,"

"Frankly, I am not sure it could sustain a Constitutional challenge in Court for several reasons including your house is your castle. And as a Sheriff with a law degree I couldn't in good faith attempt to defend it Court, so I won't," Fulton County Sheriff Richard Giardino

Quote VII

"This show isn't going anywhere. It's getting bigger. The people who run Fox News want more of it, not less, and we're grateful for that." Tucker Carlson

Quote VIII

"This generous gift from the Bezos Earth Fund enables NRDC to move even faster on achieving the climate solutions we need at the federal, state and local levels to protect people's health, strengthen nature's ability to help fight climate change and grow the clean energy sector and all the jobs that come with it," Gina McCarthy, an Obama-era Environmental Protection Agency administrator
Cough....Bull....Cough.....Shit.......

***

Hmmm, what's the headline here? There are two sets of laws which rule us? Or...... Thug lady cop fired for belligerence?

PORTSMOUTH, Va. — A Virginia police chief was fired Monday after a black state lawmaker was cleared hours earlier in the vandalism of Confederate monuments over the summer.


Charges were dropped against Sen. Louise Lucas, the state's most senior Black legislator, at the request of Commonwealth Attorney Stephanie Morales after determining there was insufficient evidence to support the criminal allegation.


Lucas' supporters characterized her arrest as political and racist. A judge who dismissed the charges noted that Portsmouth police went around prosecutors to file charges and tried to prevent Morales from prosecuting the case by trying to subpoena her as a witness, The Virginian-Pilot reported.

Chief Angela Greene, who is black, was fired Monday, two months after being placed on leave by then-City Manager Lydia Pettis Patton. A city spokeswoman confirmed Greene's dismissal to Fox News without elaborating further.

"This is a confidential, personnel matter and no further statements or interviews will be provided," the city said
***

Quite frankly, I'm shocked at this outcome. Burning Koran NOT a hate crime, Swedish prosecutor says, after dropping probes into stunts that triggered rioting

Desecration of the Koran by burning or kicking the book is not a hate crime in itself, a Swedish prosecutor has said, as investigations into two anti-Islam protests, which had triggered Muslim rioting in Malmo, were dropped.
Swedish authorities have decided to close preliminary probes into the actions of a far-right Danish political party, which caused rioting in the city of Malmo in August. The members of Stram Kurs ('Hard Line') were suspected of inciting hatred against an ethnic group. But prosecutors said the burning and kicking of copies of Islam's holy book did not constitute a hate crime.

The two controversial stunts took place on Friday, August 28. The burning was staged and filmed in the Emilstorp neighborhood, while the kicking action, which organizers dubbed "Koran football," happened shortly afterwards in the Stortorget square. Swedish police eventually arrested three party members on suspicion of inciting hatred. The videos of the two protests outraged the local Muslim community, triggering rioting in the city.
***

As we approach the Holiday Season many of you are thinking, "What can we give Mis. Hum. for Christmas?" Here is an idea, not sure if it is subtle or not.

If James Bond was an American, he would probably want Rezvani's new Hercules 6x6 Military Edition at his disposal.

The souped-up supertruck is even more "extreme" than the Cali-based customizer's Tank X "Xtreme Utility Vehicle." Instead of combining a Jeep Wrangler body and a 1,000-hp tune of the Dodge Demon's 6.2-liter supercharged V8, the Hercules 6x6 gets the Jeep Gladiator's pickup-style body and even more power.
***

Black Angus steaks? Yummy. Hereford steaks? Delicious. Holstein steaks? Doable. Human steaks? Not so damn fast. I'm not a cannibal.

The subject in question is a product that may soon allow you to grow your own meat at home. Ouroboros Steaks are featured at The Design Museum in London. Those of you who love history may have a sense of where this is going because Ouroboros is an ancient symbol depicting a serpent eating its own tail. And these steaks are created using a process that starts with your own human tissue. But as Paul Seaburn points out at Mysterious Universe, you have nothing to worry about. The creators of this process want to assure you that this isnít cannibalism. Perish the thought.
***

Is this the goal of the Brown Shirt Governors of the US? Socialism and lock downs = HELL.

Eight months of COVID-19 quarantine have come and gone in the blink of an eye. So much for all that talk about only needing fourteen days to flatten the curve and whatnot. Onward to the ninth month of this new quasi-perpetual reality of ours.

What can I say? It's certainly been such a turbulent year for everyone. I'm worn, exhausted, and beyond tired of it. Time is such a precious resource that has become more ephemeral than ever before during this year, and I'm in such a crucial point of my life where I can't waste any of it, yet the circumstances of this pandemic force you to do so.

As this is a reality that I cannot affect or change in the slightest, all I can do is continue doing my best to keep going. Things have finally, after all these months, begun to slowly return to a modicum of that normalcy that we used to have before mid-March of 2020—too slow for my own comfort, though.

Every country has adapted and created their own routines, the current iteration of Venezuela's is called "7+7 Plus", as if it was some sort of promotional package of sorts; the gist of it remains as it has been: We undergo seven days of 'radical' quarantine, followed by a 'flexible' week that now lets some more sectors of the economy reopen its doors, such as banks, dentists, and liquor shops
***

For 8 years I heard protesters scream, "He's not my governor." For several weeks I put up with duly elected state senators fleeing the state to Illinois saying, "He's not my governor." Well then Tony Evers the walking clueless failed school teacher cadaver is not my governor and he can FOAD.

Wisconsin
Governor Tony Evers and DHS Wisconsin hope that residents will skip the in-person get-togethers entirely and follow the guidelines of his Executive Order on Thanksgiving as well as the rest of the month. They offered these alternatives.

Sharing meals with people who live in your household.

Preparing meals or treats and delivering to loved ones in a way that avoids contact.

Having virtual gatherings with friends and family.
Click and see if your state is governed by Fascist Thugs.
Speaking of Wisconsin............

Contrary to some of your belief systems. Sconnie residents do not have accents.
***
They already suffer from Martyrdom Syndrome. Let's not let them escape their "Civic Responsibility".

At a time when the US tax base is under stress, Blackstone CEO Stephen Schwarzman said there's one group of workers who shouldn't have to pay tax: teachers.

That would set teaching apart from all other types of employment as a "valued class," he said at the virtual Bloomberg New Economy Forum on Nov. 16. Beyond the societal statement it would make, a tax break would increase teachers' take-home salaries, and that would further attract "more of the best and brightest" teachers to the field, he said.
***

Sorry Zoom. We are living our life and having a house full of real live people over on Thanksgiving day.

Zoom is letting you use its video chat service for free on Thanksgiving Day. Better yet, Zoom is going to lift all video chat restrictions that day, too, so you can talk to your loved ones—remotely—all day if you want to. Of course, you'll still need to not blow past your ISP's data cap if you decide to have a huge catch-up session with your family on Zoom, but I wouldn't worry about it.

Normally, here's how much data your big day of calls will eat up, courtesy of Reviews.org:
***

Anyone who works retail has seen weird stuff. However, Walmart seems to be the center of attention for weirdness.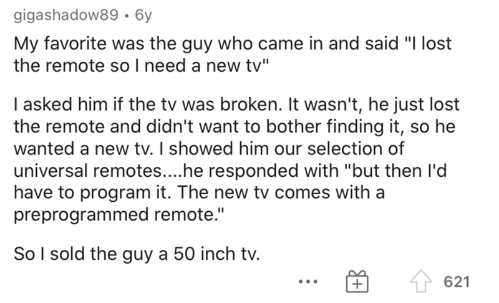 ***

So I wonder if these geniuses were originally from Florida? They sure sound like Florida Men.

NN ARBOR, Mich. – Spencer John Payne and Cedrick Michael Sims were arraigned Wednesday in connection to two violent home invasions.

According to authorities, the two men are accused of breaking into two houses, tying up and threatening the occupants.

Police said it happened between 3 a.m. to 4 a.m. Oct. 8 at two houses, one on Sharon Drive and one on Macomb Street. Police are still investigating who directed them to the homes as they believe the houses were targeted.

Police say in the home on Macomb Street, the family -- a single father with three children, ages 5, 13 and 17 -- were tied up with electrical cords and clothing around their hands and feet.

Authorities said the two men realized they were in the wrong house, made a phone call and then went to the house next door on Sharon Drive.

Police said the family was threatened with death if they called the police.

At about 4 a.m., police said they broke into the house next door, where they found nine people inside ranging from age 3 to 62.
***
A fun little video. My kind of Dad. What say you folks?
***

"We get all these vans driving around at the moment that are not self-contained, so if the driver or the passenger wants to go to the toilet – we all know examples of this – they pull over to the side of the road and they s... in our waterways."

Tourism Minister Stuart Nash says freedom camping in vehicles that are not self-contained will be banned as part of efforts to market New Zealand to super-wealthy overseas tourists.

Speaking on Radio NZ's Morning Report, the incoming minister said he planned to introduce regulations that ban the leasing or hiring out of vans that do not contain toilets to tourists.

He should come to Milwaukee and work on the "Deep Tunnel" when the Milwaukee Metropolitan Sewerage District dumps tons of raw shit into Lake Michigan.
***
The ONT Musical Interlude
Born on this day: 17 Nov 1946
English rock musician Martin Barre best known for his work with progressive rock band Jethro Tull from their second album in 1969 to the band's initial dissolution in 2012 via thisdayinmusic.com
&&&
On this day: 17 Nov 1979
Jethro Tull bass player John Glascock died at the age of 28, as a result of a congenital heart defect. Had also been a member of Chicken Shack. via thisdayinmusic.com
***

Penetrative acts and Genius Award Winners.

NOVEMBER 16--As motorists drove past them Saturday afternoon, a Florida couple engaged in a series of sex acts on the side of a road, a lewd display that landed them behind bars, police report.

According to a felony criminal complaint, "many drivers" observed Amber Gormley, 39, and Shawn McClelland, 30, as they trysted adjacent to a roadway in Largo, a city in the Tampa Bay area.

Gormley and McClelland were spotted, cops say, around 2:45 PM in an "open area location of a busy area where all drivers could see then having intercourse."

One motorist said he observed McClelland performing oral sex on Gormley, as well as certain penetrative acts.
***

Finder's keepers but not tonight. Tonight's Feel Good Story of The Day.

Honest Homebuyers Return Coins Worth $15,000 That Had Been Hidden and Forgotten
***

Tonight's ONT has been brought to you by an Enthusiastic Contractor.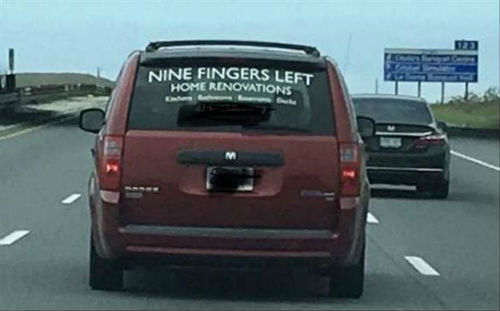 Notice: Posted with explicit permission of the Ace Media Empire and its legal counsel Dewey, Cheatem and Howe, S.C. Sleepy AceCorp, LLC put a lid on earlier today.


posted by Misanthropic Humanitarian at
10:05 PM
|
Access Comments