« Text Message Debunks "Burst Pipe" Excuse for Atlanta's Sudden "Pause" In Counting
|
Main
|
Only After Declaring that Sundown Joe is Commander in Thief Elect Does the New York Times Admit the Obvious: The BLM/Antifa/Democrat Riots Have Caused Incalculable Damage and People Have Been Wiped Out by the Rampages »
November 12, 2020
Garbage-Tier Woke Gaming Website Kotaku Shames Video Game Fans for Being Excited About the New Videogame Consoles, Because Orangemanbad
He shames people for being excited about the upcoming PS5 console... in a review of the PS5 console.
This isn't just some screed about consumerism. It's a review of the PS5, in which he shames the reader for being interested in review of the PS5.
Because Trump, man.
How dare you focus on anything but my own hysterical, neurotic preoccupations!

And declare your pronouns, Sir! Or Madam! Or Madamsir!
In an attempt to shame players excited for the upcoming release of the PlayStation 5, Kotaku concluded their review of the new console by asserting that "there's an irrefutable level of privilege attached to the ability to simply tune out the world as it burns around you."

...

Issues cited by Walker as reasons why players should not be excited for the next-generation system include "the weight of the covid-19 pandemic," how "more Americans out of work right now than at any point in the country's history," and the "inherently evil institution" that is the United States health care system.
In case you were wondering: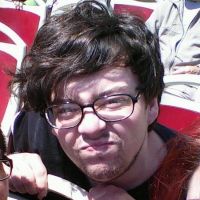 Yes, this "man's" face looks like an aircraft carrier landing deck for sperm.
What a femmy troglodyte pussy.
It appears that Walker's biggest gripe is with the recent presidential election, which media outlets have begun to call in favor of former Vice President Joe Biden despite an outstanding number of counts, questions, and issues regarding voter totals.
No shit really.
...


Walker then opted to shame and criticize those excited for the PS5, stating that "the harsh truth is that, for the reasons listed above and more, a lot of people simply won't be able to buy a PlayStation 5, regardless of supply."

...

"That's not to say you can't be excited for those things--I certainly am, on some level--but there's an irrefutable level of privilege attached to the ability to simply tune out the world as it burns around you," said Walker.
Now, let's see if my guess that this guy is an obsessive neurotic stressed out by what he sees on Twitter and TV is accurate.
Spoiler: It, of course, is.
...

However, he also asserts that he has "found it increasingly difficult to focus on video games amid our current situation."

As proof, Walker shares a personal anecdote and recalls how "many nights, it's all I can do to play a couple runs of [a gay-ass game] before collapsing into bed for a few hours of doomscrolling and restless sleep."
What a hero. Just like the men who stormed Normandy Beach.
Wow: Kotaku beats its own record for whiny neurotic mental fragility, now complaining that the new XBox X has... too many holes, which is triggering people who are triggered by holes.
This is apparently not a joke.
Thanks to Buzzion.

posted by Ace at
04:09 PM
|
Access Comments