« No Big Deal, Just Some Democrat Poll Workers Fillin' Out Ballots
|
Main
|
Quarantine Cafe: Take the Rest of the Week Off Edition »
November 06, 2020
The New York Times Has an Alternate Explanation -- Apart from Bias -- to Explain Why the Polls Were So Bad as to be Vote-Suppressing Propaganda.
That Theory? It Was QAnon's Fault!!!
The theory, I trust, is that QAnon makes people paranoid that someone in the media or their Democrat operatives is going to put them on the list if they say they're voting for Trump, so they refuse to answer poll calls.

Where would they get a paranoid idea like that from?
So the New York Times decides to clear itself of the charge of bias by claiming the second polling debacle in a row was all QAnon's fault.
Did QAnon cause the 2016 polling disaster? Before they even existed?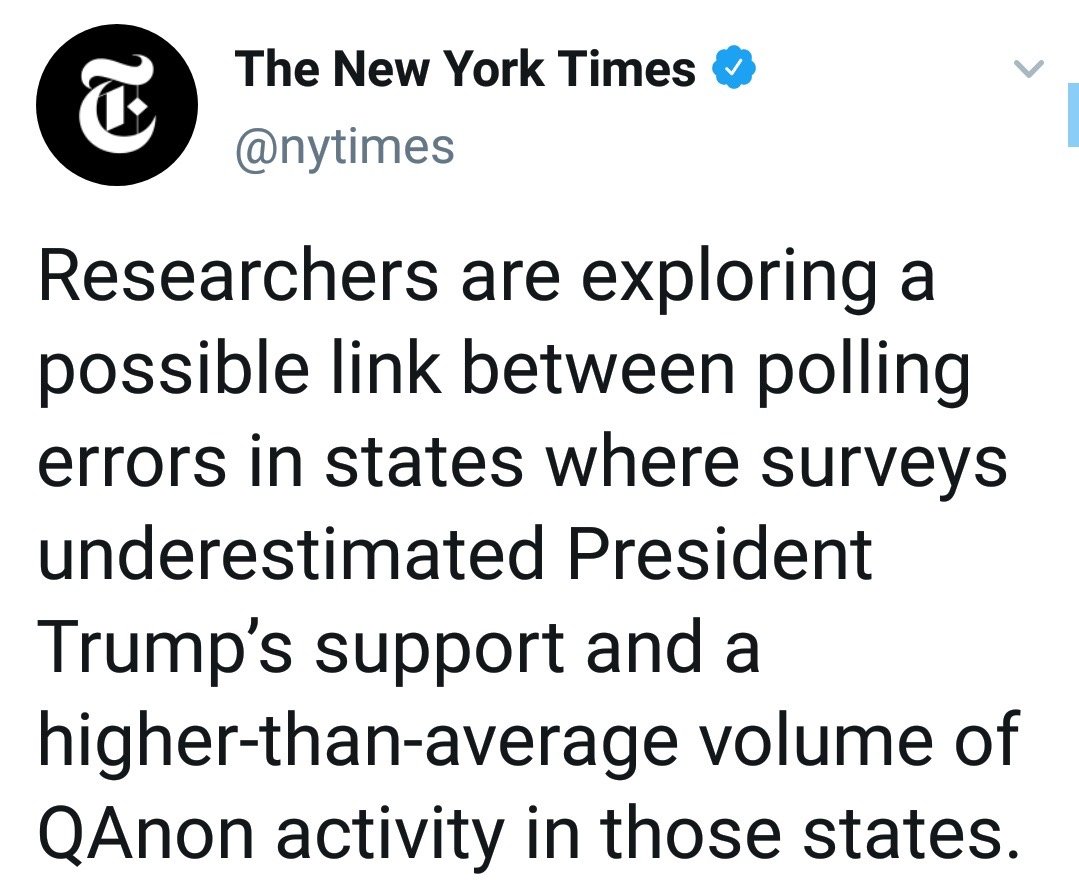 Mollie Hemingway introduced me to the term "BlueAnon." She didn't invent it, but I saw her using it.
"BlueAnon" is the Democrat Media version of QAnon, except that their conspiracy theories are ten times more degenerate and depraved. Blue for Democrat, and Blue for Blue Checkmark.
They spread their deranged conspiracy theories all day on Twitter and are never censored or cautioned for it.
They literally spent five years claiming the President was under the control of the Kremlin -- exactly as the John Birch Society claimed of Eisenhower.
The John Birch Society is held by the media to be ugly, hateful, crazy conspiracy theorists.
And yet "BlueAnon" is busy fabricating and then propagating the same sorts of conspiracy theories -- if not more degenerate in their lunatic thinking.

So is "MUH QANON!" now to take the place of "MUH RUSSIANS!" as an all-purpose get out of jail free card for the left?

Note: No one in the degenerate BlueAnon media has scolded AOC for demanding her creepy, threatening fascist list, nor has anyone in the BlueAnon media asked any of their Democrat Politician pals if they support AOC's call for a Maoist List of Those to Be Punished.
No one.
Not a single question. Not a single finger-wave.
Fuck you.
#War.rected at the right?

posted by Ace at
06:12 PM
|
Access Comments